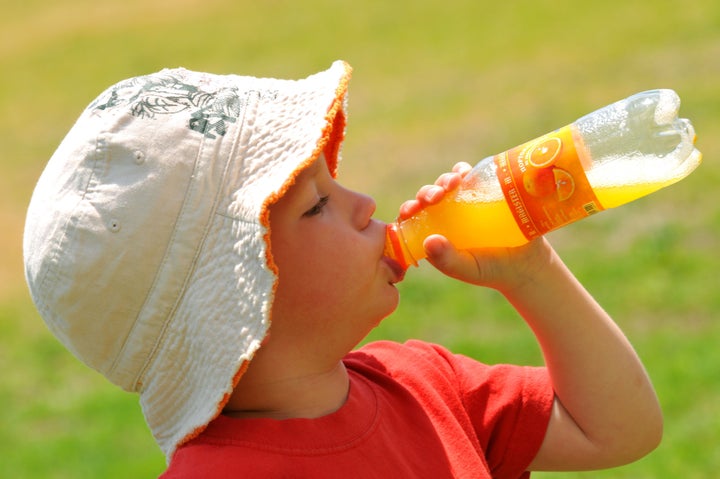 The U.S. Food and Drug Administration is expected to decide by Saturday whether to continue allowing bisphenol-A (BPA) in food and beverage containers, Americans' main source of exposure to the chemical implicated in everything from asthma to diabetes.
Studies show that developing fetuses and young children are most vulnerable to the risks. Impoverished kids, whose meals more often come out of BPA-leaching plastic packages and coated metal cans, may bear the brunt of the burden.
"Hormonally active chemicals such as BPA have no place in our kids' life," Sarah Janssen, senior scientist with the Natural Resources Defense Council, told reporters last week.
The impetus for the FDA's pending action is a 2008 petition filed by the NRDC. In December, a court ruled that the agency had to answer the NRDC's request for a ban on BPA by March 31. Other environmental groups and individuals, including Rep. Ed Markey (D-Mass.), have since submitted their own petitions seeking similar action.
The chemical industry, however, maintains that BPA is safe.
"We have and will continue to rely on the experts at FDA to evaluate the safety of BPA, and respond on the basis of all the available scientific data," said Steven G. Hentges of the American Chemistry Council, a lobbying group for the plastics industry. "BPA is one of the most thoroughly tested chemicals used today and has a safety track record in food contact of over 40 years."
As NRDC lawyer Nick Morales noted to reporters last week, the FDA approved the use of BPA in the 1960s, long before studies began to show that the chemical could harm humans. He suggested that the FDA is now "obligated by law" to review the substantial new evidence and prove the chemical is safe. If it cannot, he argued, the agency is obligated to impose a ban.
"There is a very large research effort under way," Douglas Karas, an FDA spokesman, told The Huffington Post. Although Karas couldn't say when the decision would be announced, he confirmed that it would come by the Saturday deadline.
Bruce Blumberg, a BPA expert at the University of California, Irvine, is concerned that the agency may not be considering all of the relevant research on BPA's effects as it weighs its decision. "They tend to rely on their own stuff," he said, adding that he doesn't always agree with the scientific methods used by FDA scientists. "I just hope they say that, while the evidence isn't all in yet, they will take interim steps to protect the public."
Because of the widespread use of the chemical in consumer products, nine out of 10 Americans carry BPA residues in their bodies. While the primary exposure comes from food and beverage containers, BPA-infused cash register receipts, dental sealants and toilet paper are among other products likely contributing to the body burden.
The NRDC's Janssen expects levels of BPA to drop quickly and dramatically if the FDA does impose the ban and remove BPA from the food packaging market.
Such a move would be especially good news for poor families, who tend to rely on more canned goods and other packaged foods than well-to-do families. A new study by scientists from Boston University found a strong link between the burden of BPA and poverty.
"People with lower incomes, who may be more likely to suffer from other disparities in health and exposures, have a greater burden of exposure to BPA," wrote the study authors. "The results for children are especially troubling."
"This is almost certainly coming from packaged food," said Blumberg, who was not involved in the Boston University study.
Since the NRDC filed its FDA petition, Janssen said there have been hundreds more published BPA studies that point to a "wide variety of effects," as well as "evidence of harm at low levels of exposure."
In fact, minute amounts of the chemical may be even more potent than larger quantities as an endocrine disruptor, scrambling human hormones and causing a host of health problems. "We found that doses regulatory agencies have calculated to be safe are, in fact, not safe," said Laura Vandenberg, a postdoctoral fellow in biology at Tufts University and lead researcher on another study published this month.
The FDA could decide on a partial ban of BPA, according to Morales, the NRDC lawyer. Use in infant products, for example, might be all that is addressed. But Vandenberg doesn't believe that would go far enough. "To protect a fetus," she said, "we need to remove BPA from products used by pregnant women -- and that's pretty much everything."
"We've never had a chemical with more scientific evidence around it. It's overwhelming the studies that find an effect, and it's overwhelming the number of endpoints affected," Vandenberg added, noting that heart disease and behavioral problems, too, are linked to BPA. "In my opinion, the evidence is tipped completely in one direction."
As The Huffington Post reported last month, calling a product BPA-free does not mean it is safe. Further, the chemical is just one of many endocrine disruptors -- including phthalates, dioxin and arsenic -- that are commonly used in everyday items.
Support HuffPost
The Stakes Have Never Been Higher
Related
Popular in the Community