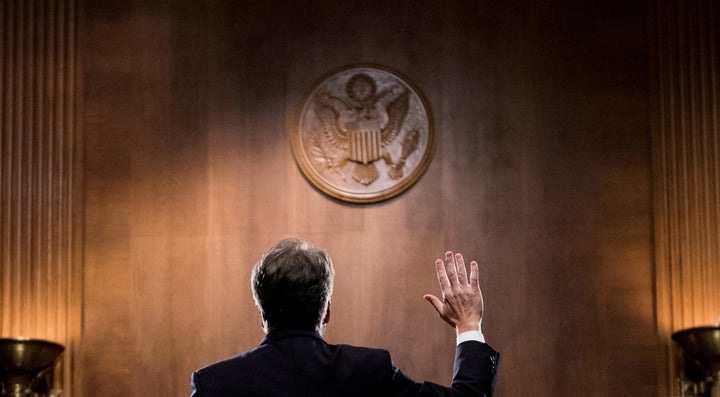 A wave of new polls followed Brett Kavanaugh's ascension to the Supreme Court last weekend, and the numbers make a few things clear.
Two: For the duration of the hearings, his confirmation managed to cut partially through the noisy chaos of the Trump-era news cycle, drawing sustained media coverage and public attention.
What the results don't yet do, unfortunately, is lend themselves especially well to an unambiguous narrative about whether the fight to confirm Kavanaugh has affected current enthusiasm about the midterm elections next month, let alone influenced their possible outcome.
Surveys, to quote a favorite polling adage, are snapshots, not predictions. And even as a snapshot, the latest round of numbers is a little blurred.
Initially, there was some reason to think the fight could help the GOP. An NPR/PBS NewsHour/Marist poll released before the Kavanaugh vote last week concluded that Democrats' enthusiasm advantage had "disappeared" with the confirmation battle and that "the Kavanaugh confirmation fight has apparently had the effect of rousing a dormant GOP base."  
In the week since, however, several polls have also suggested that Democrats' failure to halt Kavanaugh's confirmation may have fired up the progressive base. Democratic enthusiasm ratcheted notably upward from September in the latest CNN/SSRS survey, giving the party a double-digit edge on the generic ballot, while the GOP's numbers remained largely flat. Another national poll, conducted for Politico by Morning Consult, also concluded that "it's Democrats who appear more energized by the nomination fight."
There's also a possibility that the episode didn't have any single tangible, overarching effect at all. For one thing, neither political party exactly won plaudits for the episode ― majorities of Americans disapproved of how both Republicans and Democrats handled the hearings, with few believing either side was making a good-faith attempt to get to the truth of the matter.
For another, although the confirmation hearings drew significant attention, it's far less clear whether the Supreme Court showdown will be enough of a priority to motivate voters who'd otherwise stay home or move the needle in any other way.
In a HuffPost/YouGov survey conducted Oct. 1-2, at the height of the debate over Kavanaugh, about one-fifth of registered voters said the Supreme Court was among their top two election issues, ranking it modestly behind perennial issues like health care, immigration and the economy. But even at that time, voters were considerably more likely to say Democrats in their state were focusing on health care, and Republicans on economic and immigration issues.
Advertising from both Democratic and Republican candidates has been focused largely elsewhere, and especially on health care. That's apparently fine by most voters ― just 26 percent said they wanted to see candidates spending more time talking about the court, compared to the 47 percent who said they wanted to hear more about health care.
More recent polling has also found voters' interest in Kavanaugh's confirmation overshadowed by other concerns.
"The tendency to draw dramatic conclusions from fragments of data, whispers of alleged movement in polling or supposed anecdotes from a particular campaign is almost uncontrollable in the final few weeks before an election," forecaster Stuart Rothenberg warned Tuesday, declaring himself "skeptical the Kavanaugh fight will fundamentally change next month's outcomes."
Perhaps the biggest unanswered question of all is how much voters will still be thinking about anything that happened last week by the time Election Day rolls around. Nov. 6 is looming closer than ever, and a few early voters have already cast ballots. But trying to predict what will dominate Election Day headlines is more or less a wonk's version of musical chairs: Remember when the big issue of the day was tax reform? Immigration? Russia? Bob Woodward's new book? Omarosa's?
In the past week alone, the repercussions of Kavanaugh's confirmation have been partially eclipsed in the news by Nikki Haley and Kanye West, and even more so by Hurricane Michael. And during the commercials, Democratic candidates are still probably talking about health care.
Calling all HuffPost superfans!
Sign up for membership to become a founding member and help shape HuffPost's next chapter