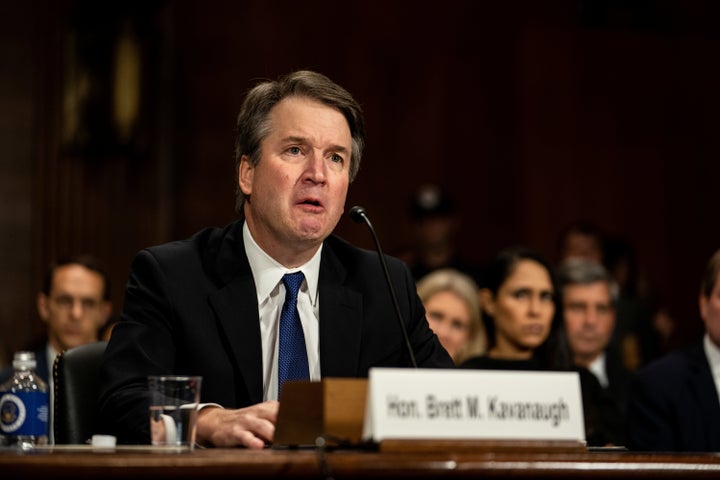 Christine Blasey Ford, as part of her extensive effort to convince lawmakers she is telling the truth about her allegation that Supreme Court nominee Brett Kavanaugh sexually assaulted her when she was 15, voluntarily submitted to a polygraph exam in August. The results, released publicly on Wednesday, showed her answers were "not indicative of deception." Polygraphs are extremely unreliable indicators of truthfulness — but they also happen to be a tool that Kavanaugh vouched for in one of his opinions on the U.S. Court of Appeals for the D.C. Circuit.
In 2016, Kavanaugh wrote the opinion for a case involving a Ph.D. student who had filed several Freedom of Information Act requests for her dissertation on polygraph bias. The court case centered on whether the student qualified for reduced FOIA fees — the panel decided that she did — but the panel also weighed in on the Defense Department's decision to withhold certain reports about polygraph exams.
In his opinion, Kavanaugh concluded that polygraphs are a valuable tool for the government to determine credibility and decide who should be allowed to handle classified information.
As the Government notes, law enforcement agencies use polygraphs to test the credibility of witnesses and criminal defendants. Those agencies also use polygraphs to "screen applicants for security clearances so that they may be deemed suitable for work in critical law enforcement, defense, and intelligence collection roles."

The Government has satisfactorily explained how polygraph examinations serve law enforcement purposes.
The government was right to block public disclosure of details about the effectiveness of polygraphs, Kavanaugh wrote at the time:
Second, the reports contain information about techniques and procedures for law enforcement investigations. As the Government points out, the reports detail whether a particular agency's polygraph procedures and techniques are effective. The reports identify strengths and weaknesses of particular polygraph programs. In describing the effectiveness of polygraph techniques and procedures, the reports necessarily would disclose information about the underlying techniques and procedures themselves, including when the agencies are likely to employ them.
Polygraphs, often erroneously called lie detector tests, measure changes in the subject's physiology, including pulse, blood pressure, breathing rate and perspiration. Nervous test takers can produce a polygraph that suggests they are lying when they are telling the truth, and confident test takers can find ways to beat a polygraph and lie without detection. Because of this, polygraphs are not allowed to be used as evidence in court in many jurisdictions. But law enforcement and government agencies continue to use the controversial tests, and the government closely guards internal reporting about polygraphs' reliability.
Blasey's polygraph results do not prove that she is telling the truth about Kavanaugh. But her decision to subject herself to the invasive, anxiety-inducing procedure does show her effort to exhaust all available means of proving that she's telling the truth.
Asked by Sen. Kamala Harris (D-Calif.) on Thursday if he had taken a polygraph test, Kavanaugh said he had not.
"No, I'll do whatever the committee wants. Of course, those are not admissible in federal court," he said, knowing that the Republican-controlled committee was unlikely to instruct him to take a polygraph. "They're not admissible in federal court because they are not reliable, as you know."
H/t to Joe Patrice, who first flagged Kavanaugh's 2016 opinion and his views on polygraphs.
Popular in the Community