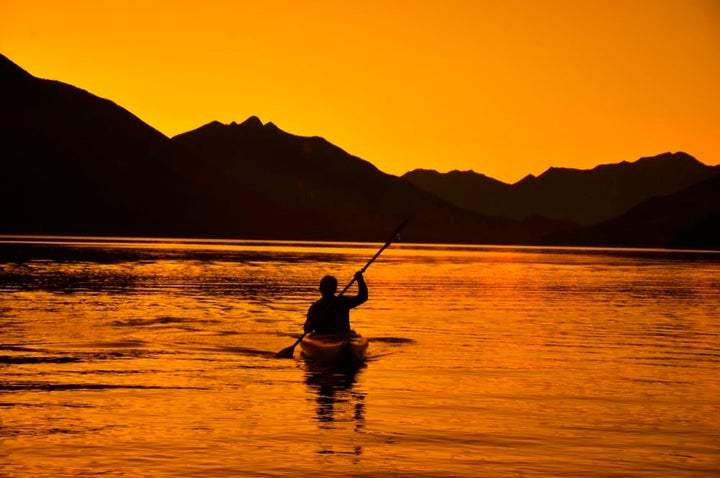 I'm incredibly relieved as my flight touches down at Castlegar Airport, which boasts the memorable nickname "Canclegar" thanks to the West Kootenay frequent inclement weather incurred cancellations. I'm here on the doorstep of this fabled southeast corner of British Columbia to see for myself why so many disparate groups of people have chosen to escape here for well over a century.
First came legions of prospectors who flocked to boomtowns like Silverton and Sandon in the late 1900s hungering for pots of silver and gold. Then early in the last century the aforementioned Doukhobors arrived, pacifists fleeing religious and political persecution in their native Russia. Radical elements within this conservative Christian sect soon clashed with local Canadian authorities, resorting to mass nudity and arson as a means of protesting against government land seizures, compulsory education and rampant materialism. Today, a Doukhobor museum in Castlegar known as Doukhobor Discovery Center contains over a thousand artifacts recounting the arts, crafts, and daily life of the Doukhobors of the Kootenays from 1908 to 1938.
Following in the Doukhobors' pacifist footsteps were Quaker activists fighting McCarthyism who sought refuge here, as did Vietnam War recruits dodging the draft. Hippies, yogis, dropouts, artisans, activists and dreamers also drifted in during the 1960s and 70s, rejecting rising consumerism to pursue spiritual, agrarian and communal utopias amid some of North America's most spectacular mountain scenery.
What those who sought riches, freedom, spiritual sanctuary or relief from urban excess discovered once they arrived in the West Kootenays was a pristine region of white water rivers, sparkling clear lakes, waterfalls, tranquil beaches, mineral hot springs, alpine meadows and evergreen draped snow-capped mountains. It is little wonder that today four of British Columbia's seven national parks are located here.
The West Kootenays also contain enough abandoned gold rush ghost towns, mine ruins, artisan studios, museums, heritage sites and beautifully restored Victorian-era architecture in towns like Nelson to make exploring this region akin to time travelling. That, and the still pervasive spirit of self reliance and old fashioned generosity you encounter among the still fiercely independent modern day descendents of those pioneering non-conformists.
Equipped with his custom fitted canine life vest, Whisper the Wonder dog perches on the bow of my kayak as we launch into an overnight paddling adventure down the pristine Slocan River that slices through the Crescent Valley 20 minutes drive from Castlegar.
Whisper belongs to Chris Ryman of Endless Adventures. Along with his partner, Andrea, Chris offers kayak instruction, rental equipment and day and overnight tours along a stretch of the this river that offers both gentle downstream floats and moderate whitewater thrills. We spend a relaxing afternoon and the next day skimming through the Slocan's peaceful waters, negotiating challenging rapids, sweepers, and fast currents, and occasionally relaxing on sandy riverside beaches while Whisper patrols the shore.
Veterans of the Ottawa River kayaking circuit, Chris and Andrea moved West in search of paddling paradise in 2005. Having found it in the West Kootenays, they've since dedicated their lives to sharing their passion for kayaking and canoeing. The semi amphibious Whisper, who loves nothing better than plunging into the river to swim alongside us or explore the riverbank as we drift downstream, does double duty as nocturnal security guard that night as Chris and I camp on a sand and gravel islet in the middle of the river.
The "Slo-as-you-can" Valley
Swapping my paddle for hiking boots, I drive the 75 km to sleepy New Denver (population: 560). This former silver mining boomtown is tucked along the shore of Slocan Lake in the Slocan Valley. Across the lake is Valhalla Provincial Park, a 49,600 hectare wilderness area that encompasses most of the Valhalla range of the Selkirk Mountains in southeastern B.C. Valhalla is a Norse word meaning "warrior's heaven", an apt moniker for this dense forest of red cedar and western hemlock containing 80 km of hiking trails, a chain of subalpine lakes for canoeing and kayaking, waterfalls, rivers, and abundant wildlife.
Briefly known as Eldorado City before being renamed after Denver, Colorado, New Denver became a Japanese Canadian internment camp during World War II, one of several such facilities constructed in British Columbia's Interior shortly after Japan's attack on Pearl Harbor in December 1941. Approximately 1,500 women, children, and elderly men of Japanese origin were held here during the war, among 23,000 Japanese Canadians interned by the Canadian government. Today, New Denver's Nikkei Internment Memorial Centre honours their memory.
My host in New Denver is Joerg Becker, owner of Magic Places Cycling Adventures, a touring company this transplanted German created to share his joy of cycling with clients in some of the world's most beautiful landscapes. Today, we're swapping bikes for a hike to the top of the area's loftiest tourist attraction, 2,244 metre Idaho Peak. It's a 17 km drive up an old gravel road from the former silver mining town of Sandon, followed by an easy 1.5km hike to the summit and its spectacular views of the Slocan Valley.
Spectres of the Silver Rush
In the West Kootenays, all that glitters has never been just gold. From 1892 to 1900 the legendary town of Sandon was world famous as the undisputed capital of Canada's silver mining boom. At its zenith, Sandon boasted a population of 5000, 85 brothels, 29 hotels, 28 saloons, 3 breweries, 2 railways, a bowling alley and dozens of stores and businesses. Then, as rapidly as it rose, Sandon virtually vanished, its demise sparked by a devastating fire, labour strife, plummeting metal prices and prematurely depleted silver mines.
Today, all that remains of this once thriving wilderness community where fortunes were literally made and lost overnight is a haunting stillness and the ghosts of a bygone era. Spending an afternoon exploring Sandon's original city hall, the remnants of historic homes and the Sandon Museum, with its fascinating collection of artifacts and heritage photographs, offers a vivid window into life in this once brash and bawdy boomtown.
The Best Art Town in Canada
My final stop is historic Nelson (population 9,752), situated on the West Arm of Kootenay Lake in the heart of the Selkirk Mountains. Known as the Queen City, this former mining boomtown is today as famous for its beautifully restored 19th century heritage buildings as for its mix of pioneer families, urban refugees, Vietnam draft dodgers hippies, New Age spiritualists and bohemian artists and artisans. Nelson has also been named the "best art town" in Canada by author John Villani in his book The 100 Best Art Towns in America, in recognition of its thriving artistic scene.
With a compact, pedestrian friendly downtown core jammed with boutique style stores, natural foods outlets, yoga studios, outdoor gear outlets and eclectic, offbeat restaurants and cafes, Nelson has something for everyone. Strolling along Baker Street through Nelson's Historic District fresh from a restorative Shanti yoga class I pop into one art gallery after another en route to a vegetarian café for lunch. It's not difficult to appreciate why Steve Martin chose this incredibly picturesque town for the setting of his 1986 film, Roxanne.
Like so many towns in the West Kootenays, Nelson has totally transformed over the course of a century and become a haven for outsiders with crazy dreams and escape artists seeking shelter from society's storms while they reinvent themselves.
Air Canada offers daily one hour flights from Vancouver and Calgary to Castlegar Regional Airport. From there you can rent a car to explore the West Kootenays at leisure. A shuttle service provided by Queen City Limo (www.kootenayshuttle.com) also runs daily between Castlegar and Nelson.
Where to stay
In New Denver, I recommend the charming Villa Dome Quixote, a wooden dome lodge consisting of 10 rooms and 3 cottages that's also a prototype for a new form of structural engineering. Framed from mill ends (waste wood), this monolithic dome facility has won numerous international architectural and design awards.
In Nelson, try the Cloudside Inn, a beautifully restored Victorian Inn in a quiet location in Nelson's historic downtown, just one block from shopping and restaurants. Amenities include air-conditioning, private baths, guest lounge, full breakfast, terraced gardens, patio and off-street parking.
For more info, visit the Kootenays Rockies section of Hello BC.