Sometimes there is that movie that reaches out and grabs us and we may be ashamed when someone asks about your favorite movie. For me, that is the 1980 film Somewhere in Time starring Christopher Reeve and Jane Seymour: a romantic tale of time-crossed lovers. Now Ken Davenport is bringing that story to the stage as a musical. To many, Davenport is a creative Renaissance man that had made his mark on the New York theater scene the past ten years as a producer (Macbeth, Kinky Boots), conceiver (Altar Boyz), director (My First Time), author (Miss Abigail's Guide to Dating, Mating & Marriage), creator of a Broadway Board game and smart phone app, and was named one of Crain's Forty Under 40. This list only scratches at what the man has done, but I wanted to talk to him about his upcoming show.
Gregory G. Allen: Thanks for taking the time away from the final rehearsals for Somewhere in Time to talk to me about it. Tell us how you came to know this book/film.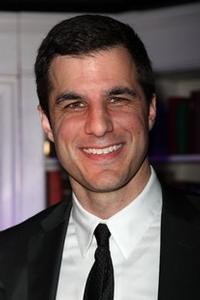 Ken Davenport: I was walking through a video store (which should give you an idea of how long ago this was) with my girlfriend at the time, looking for a good movie to rent for our "date night." And the movie kind of jumped off the shelf and into my hand. I showed it to my girlfriend and said, "Hey -- know this movie? Think it would make a good musical?" She practically melted right there in the store. I rented it. And we had a pretty fantastic date night. I started after the rights the next day.
Allen: The film has almost a cult following with people traveling to Mackinac Island each fall to reenact that time period in the Grand Hotel. How do you feel that aids in promoting this new musical?
Davenport: Whenever there is a built in group of people that are passionate about your source material, it's always beneficial. You're not starting from scratch when building an audience. And the Somewhere in Time fans are some of the best fans out there. I've been to the Somewhere in Time weekends, and it is incredible.
Allen: You have adapted Richard Matheson's book to write the book for this musical. What was it like to adapt a piece instead of writing something of your own?
Davenport: Richard Matheson's book is brilliant. It was such a wonderful treasure chest of information and story and magic that I could draw from to build the musical. I love adapting other work. It's like following a great recipe... but then you get to add a few ingredients of your own.
Allen: Many may not know the book Bid Time Return from which the movie was based. Did you return to elements of the book when writing the musical or is it more based on the film?
Davenport: It's a little bit of both. Fans of the book will notice that we restored some elements that were left out of the film. Fans of the movie will also see how we nod to the beauty of the film as well.
Allen: Tell us about the rest of your creative team that has added music and lyrics to the story.
Davenport: I have a terrific team including Emmy Award-winning Doug Katsaros (who also wrote the jingle "By Mennen") as well as Amanda Yesnowitz, a Jonathan Larson award winner and a Nationally ranked crossword puzzle solver!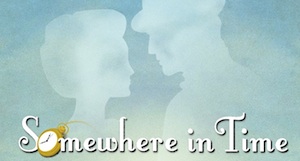 Allen: The show begins previews later this month in Portland, Oregon at the Portland Center Stage. So many times new musicals no longer 'open out of town' as they did in the past. How important was this to you?
Davenport: Essential. The development of a musical can't be completed until it gets in front of an audience.
Allen: For those that know the film and have it memorized (yes, I'm one of them) -- what is it like to witness the fine team of actor assembled to portray these characters?
Davenport: The film features some iconic performances, of course. But to watch new characters inhabit these roles has been a lot of fun.
Allen: Seeing as how you know so many aspects of the business, the team is lucky to have a book writer with so much knowledge. As this is such a personal project of yours, will you be part of the producing team to bring it into New York?
Davenport: I don't think I could NOT be part of that team.
Allen: You are always so great at sharing your prospective on your blog and have so many followers that love to connect with you and your journey. How has the internet changed the world (from that of what Elise McKenna had 100 years ago in the story)?
Davenport: Good question. We communicate a lot faster now than ever before. That's the big difference. We have a joke in the show about how it took a couple a weeks to get to the Grand Hotel. Now, that same trip can happen in hours!
Allen: Well the people of Portland have no idea just how lucky they are to get to witness this first. And the moment it is anywhere on the Eastern seaboard, I will be attending! Thanks so much for sharing your process with us.
Please go to their website for full details on the musical and follow Ken's blog as he shares the progress of this new, wonderful show.
Popular in the Community