I have just watched an amazing documentary about a company of draftees sent into the Mekong Delta in 1967 as part of the 9th Infantry Division. Like The Price They Paid, the film focuses on a single unit and the hellacious combat the troops encountered, the bonds they forged and the losses they endured.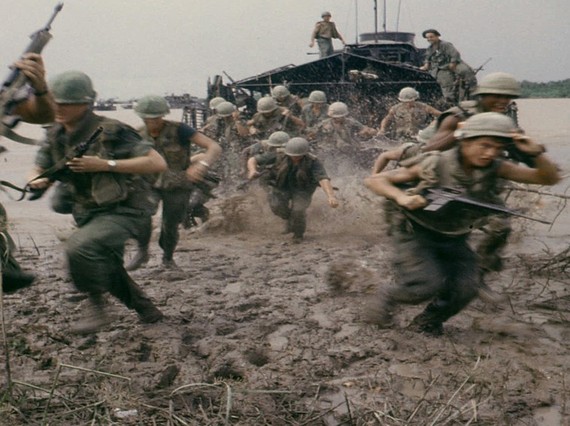 Unlike my book, Brothers in War weaves together latter-day interviews with the soldiers and remarkable archival footage, including home movies and the work of Army combat cinematographers, to show viewers what the men faced in the rice paddies, muddy canals and hamlets that were  the fighting fields south of Saigon. The year, 1967, was a dreadful  time for American  forces fully  committed in a  country they didn't  understand and a  type of warfare they hadn't  learned to fight. Sadly, it does not  follow the lives of  the men after the  war.
The images from that time and the voices of the now-gray survivors of Charlie Company, 4th Battalion/47th Infantry, 9th Infantry Division, offer the closest approximation I have seen of what it was like to go to war. The film attempts to convey the drama, pain, chaos, confusion and occasional horror of that year for those grunts. It also shows some of the lighter moments of their band of brothers: How they lived, looked out for each other, how they played and how some died. It is not pretty, but it is a beautiful effort.
Based on a book, The Boys of '67, by Andrew Wiest, a history professor at the University of Southern Mississippi, the Emmy-nominated film made by Lou Reda Productions, a small producer in Easton, Pennsylvania,  is practically impossible to find on the Web or TV. It was shown on the National Geographic Channel in March but was quickly buried under dozens of that channel's titles offering cheap thrills and hokey "reality" shows that seem to be the key to snatching ratings and selling commercials.
I did find it for sale on Amazon.com for $14.47. It's worth it.
There are a few stills and a rather dull clip, but National Geographic's link to the film itself has been removed from the Web. Maybe the full two-hour special will be shown again if Brothers in War wins a well-deserved Emmy In September for Outstanding Historical Programming.
REAL LIFE. REAL NEWS. REAL VOICES.
Help us tell more of the stories that matter from voices that too often remain unheard.