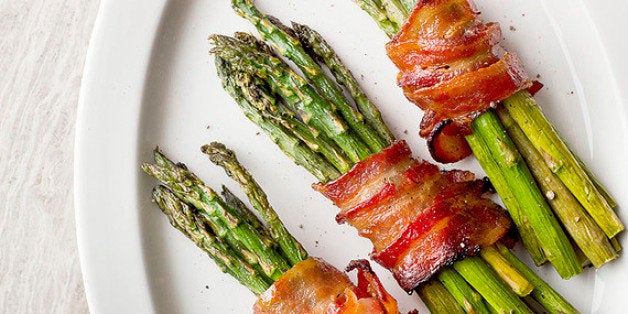 Calling all bacon lovers! You know who you are. Here is a vegetable you'll have a hard time turning down because, you guessed it, it's covered in crispy delicious bacon. Asparagus and bacon make a perfect couple. And if you're not a fan of asparagus, that's an even better reason to try this recipe. You will be pleasantly surprised. Really hate vegetables? Try this recipe for bacon-wrapped bananas dipped in chocolate to get your serving of fruit for the day!
When asparagus is wrapped in bacon, the smoky, salty flavor gets absorbed into this otherwise green-tasting veggie, transforming it into a mouthwatering bundle of love. If you are intrigued by this idea (and who wouldn't be), here are a few tips for making the absolute best bacon wrapped asparagus bundles.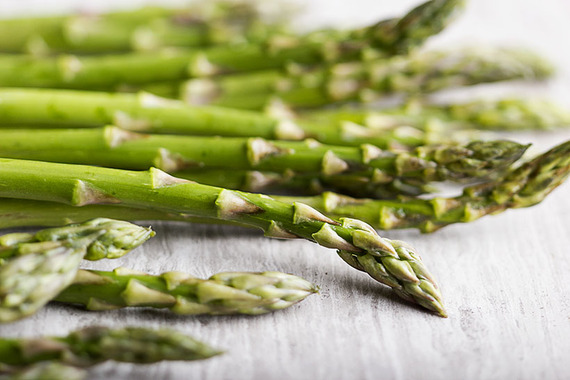 Cooking the bacon before it is wrapped around the asparagus will help you achieve a final product with crispy bacon. Without the precooking, you can look forward to soggy bacon or possibly overcooked asparagus if you decide to cook the bacon until it is crispy. Pre-cooking is the best way to ensure that your asparagus emerges with a blanket of crunchy, yummy bacon.
Here is yet another tip that will help your bacon come out crispy. During cooking, the brown sugar turn into a finger-licking candy coating that is perfect for your crispy bacon. Not to mention it tastes amazing!
Try Some Creative Garnishes
If candied bacon-covered asparagus is a bit too rich for you, try freshening up this recipe with some delicious garnishes. Try chopped fresh chives, finely grated lemon or orange zest, or even fresh parsley. Get creative!
If you have a hard time stomaching asparagus, give this recipe a try. If you love asparagus, make this recipe. Just make this recipe! No matter who you are, you are likely to eat every last bit from your plate.
Yield: 4 servings
Prep Time: 10 minutes
Cook Time: 15 minutes
Total Time: 25 minutes
8 slices bacon
2 tablespoons brown sugar
1 pound asparagus, each spear at least 4 inches long
1 tablespoon vegetable oil
salt and pepper to taste
Instructions:
Preheat the oven to 400F. If it's nice outside, fire up the grill to a medium-high heat.
Place the bacon in a large skillet over medium heat. Cook the bacon until it begins to shrink up and gets just a little crisp, about 3 minutes per side. Remove from the heat, sprinkle on the brown sugar, and stir until well coated. Allow the bacon to cool until it is no longer too hot to handle.
Season and Wrap the Asparagus
Place the asparagus on a baking sheet and drizzle with the vegetable oil. Season with salt and pepper, then toss to combine. Divide the asparagus into 4 bundles and wrap each with a slice of brown sugar covered bacon.
Place the bundles on the baking sheet and bake in the oven, or grill on the grill, until the bacon becomes crispy on the ends, about 10-12 minutes. Allow the bundles to cool for about 5 minutes, garnish with cracked pepper, then serve 'em up!
Related