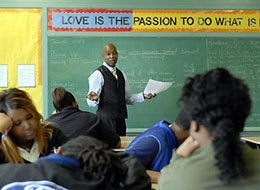 Technology has changed our lives dramatically in the last 15 years. What places can you go to today that look almost exactly like they did when you were a kid? A grocery store, the airport, a gym, doctors' offices, or even a museum? It is not a stretch to say that technology has transformed the way people live and work, yet our nations' schools look and function almost as they did when you or your parents were kids.
President Barack Obama and Secretary of Education Arne Duncan are on the right track. Their rhetoric emphasizes a critical need to change the system dramatically and to re-create the teaching profession to benefit students. In the American Recovery and Reinvestment Act, the Enhancing Education through Technology (EETT) Program was provided a healthy shot in the arm, which led many people to believe that this Administration understood the importance of investing in technology in our education system as an economic engine for our nation.
Yet, the Administration's 2010 budget sends a very different message by cutting the educational technology funding for FY2010, giving the perception that the quick infusion of cash in the stimulus for technology is going to transform learning. The EETT program provides leadership regarding technology's role in school reform. The 62 percent cut from the current funding level leads to a real problem that needs to be addressed by Congress.
Last week, we joined our colleagues, thousands of school leaders and innovative companies, in releasing a statement that we are hopeful will encourage people to take notice. "The Obama Administration has highlighted the nation's need to advance rigorous college‐and career‐ready standards and high‐quality assessments; P-20 data systems that foster continuous improvement; reforms that enhance teacher effectiveness; and effective interventions that improve student performance and increase classroom engagement. This CANNOT be done without leadership and expertise in technology."
Investing in technology pays off big -- corporations all around the world know this. And, research shows that when teachers are treated like professionals and provided with technology tools, training, and instructional support from school leaders, achievement soars, teachers stay in the profession longer, parents get more involved, and students' willingness to learn as a means to a better future becomes clearer. Both teachers and students gain confidence with the use of technology and collaborative learning as a result.
In an elementary school, the cost of implementing a modern 21st Century Learning environment is $12,000 per classroom (based on a 25 student classroom). Do the math -- when you spread that investment over the course of a child's time in elementary school (6 years) you can see that the cost is $80 per year, per student.
Don't do it for the children, do it for the economy! We know this approach works to increase graduation rates in high school, and builds the skills necessary to thrive in college. We also know that schools can look systemically to save administrative costs through better uses of technology, not to mention the skyrocketing costs of recruiting and re-training teachers who leave the profession after only three years and better preparing our students leads to higher paying jobs which contribute to the nation's economic success.
We understand that the Administration and Congress need to balance their resources and make tough decisions, however, we also believe now is not the time to pull back on the support of technology in the classroom. We see so often that technology is the catalyst for making the changes necessary in the classroom, but without the leadership and expertise of instructional technology professionals to guide school systems technology investments, we are in jeopardy of under-delivering in terms of teacher retention, student achievement, and the U.S.'s ability to compete in the global marketplace.
REAL LIFE. REAL NEWS. REAL VOICES.
Help us tell more of the stories that matter from voices that too often remain unheard.