The decorations have all been taken down, wrapped carefully up and returned to their hiding places, the evergreen has been dragged out to the compost and every scrap of crumpled wrapping paper and discarded ribbon has been gathered up and thrown away. The last of the holiday leftovers have been transformed into something less festive and more homely and consumed and here we find ourselves already firmly imbedded in the middle of a dreary, gray January. The cold, cold month of December comes to a rousing, bubbly conclusion leaving us standing on the threshold of a new year and struggling with the idea of resolutions. We feel the pressure from all sides to commit ourselves to that diet, that exercise regime, to visit the grandparents more often or never raise our voices to children, spouse or colleagues, or to quit our job and live the dream. Glancing over past lists, we shake our head in disbelief and wonder at how we can, year after year, set the bar so high; New Year's Resolutions are as ephemeral as that genie in the bottle, as fleeting as time itself. Yet here we go again.
With a Presidential campaign raging on either side of the Atlantic, I am constantly being reminded of just how difficult life has become; no rest for the weary and it isn't always easy to keep our head above water and a smile on our faces. It's been a bumpy road and only promises to get even bumpier before the road begins to smooth out. 2012 guarantees to be an eventful year, if nothing else, and as I glance over my shoulder at the ghosts of a year past, I count my blessings, enumerate my accomplishments, laugh at my foibles and shake my head at my mistakes. On the homefront, 2012 will surely be a year of surprises and adventure: my husband left his job last year and both of us are trying to kick start exciting new careers; my mother will turn 85 and I will see 52; my sons have grown up and are on the brink of beginning their own careers, their own lives, wandering off into an uncertain world driven and protected only by their own passions, energy and talent.
So as we settle into the long hard slog through the rest of the winter and face a year of ups and downs, uncertainty and risk, let's try to eat healthier, seasonal and local; get in a bit of exercise every day; let's be kinder to our neighbors and spend more time with our loved ones. But don't overdo the resolutions and pin high expectations on yourself without allowing yourself a bit of human imperfection, giving yourself permission to laugh and play as you see fit and succumb to the occasional slice of cake when the craving whispers in your ear.
I needed something spectacular to end the old year and see in the new, something boozy, something festive, a cake that reflects the joy I feel, the excitement in the air; a dessert to make us settle back in our seats and sigh with pleasure and utterly forget the worries and cares that haunt our day in and day out; a treat elegant and sophisticated, yet frivolous and sexy. A cake we want to hover over, linger over, enjoy with sensuous abandon. And I have found it! As its creator, Rose Levy Beranbaum, describes her Golden Grand Marnier Bundt "The divine flavors of orange, Grand Marnier, chocolate and almond -- supported by a mellow sour cream butter cake base -- combine to produce a sensational cake!" The orange juice and zest, orange flower water and Grand Marnier give this moist and dense, yet very delicate cake a wonderful hint of citrus -- in no way overpowering. I have added a luscious drizzle of chocolate ganache glaze to heighten the sensuous experience and bring together the perfect flavor duo to create the ideal dessert to get us through the rest of the winter and create our own celebration whenever we want!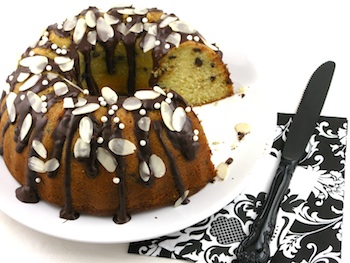 GOLDEN GRAND MARNIER BUNDT

From the wonderful Cake Bible by Rose Levy Beranbaum

½ cup (85 g) mini-chocolate chips
¼ tsp Grand Marnier
1 ½ tsps cake flour

3 large eggs (about scant 5 fluid ounces/150 g)
1 cup (250 ml) sour cream (I used 0 percent fat fromage frais)
1 tsp vanilla
1 tsp orange flower water (if not using, increase vanilla to 1 ½ tsps)
2 ½ cups (250 g) sifted cake flour (I loosely spooned the flour into measuring cups)
2 ounces (60 g) finely ground almonds
1 cup (200 g) sugar
1 ½ tsps baking powder
1 tsp baking soda
¾ tsp salt
2 Tbs finely grated orange zest (I grated the zest of 2 large oranges)
1 cup (8 ounces/225 g) unsalted butter, softened to room temperature

Grand Marnier Syrup
½ cup (100 g) sugar
¼ liquid cup (60 ml) freshly squeezed orange juice
1/3 liquid cup (80 ml) Grand Marnier

Preheat the oven to 350°F (175°C). Grease and flour a 9-cup fluted tube or Bundt pan and shake out the excess flour.

In a small bowl, toss the chocolate chips and the Grand Marnier until all the chips are moistened and shiny. Add the 1 ½ teaspoons flour and toss until evenly coated.

In a medium bowl, lightly whisk together the eggs, ¼ cup of the sour cream, the orange flower water and the vanilla.

In a large mixing bowl, combine all of the dry ingredients and the orange zest and mix on low speed of an electric mixer for 30 seconds to blend. Add the softened butter and the remaining ¾ cup sour cream (I added about a quarter of the egg mixture as well). Mix on low speed until the dry ingredients are moistened and then increase mixer speed to medium (high speed if using a hand mixer) and beat for 1 ½ minutes to aerate and develop the cake's structure. Scrape down the sides. Gradually add the egg mixture in three batches, beating for 20 seconds after each addition to incorporate the ingredients. Scrape down the sides. Stir or fold in the chocolate chips.

Scrape the batter in the prepared pan and smooth the surface with a spatula. Bake for 55 to 60 minutes or until a wire cake tester inserted in the center (halfway between the side and the tube) comes out clean and the cake springs back when pressed lightly. (As my own oven is very uneven, the cake began browning quite quickly, so I simply covered it loosely with a piece of aluminum foil; my cake also rose into a hill and cracked: no need to worry, it refound its shape as it cooled and the bottom, once flipped onto the serving platter, was perfectly flat.) The cake should start to shrink from the sides of the pan only after removal from the oven.

Shortly before the cake is done, prepare the Grand Marnier Syrup: Place the sugar, freshly squeezed orange juice and the Grand Marnier in a small saucepan and heat just until the sugar is dissolved; do not allow to boil. As soon as the cake is out of the oven, place on a wire rack, poke the top all over with a wire tester and brush on half of the syrup. Cool in the pan on the rack for 10 minutes, then invert onto a wire rack placed over a piece of waxed paper or aluminum foil and brush all over (top, outside and inside) with the remaining syrup (I waited until the cake was completely cool before turning it out of the pan and brushing with the remaining syrup). Cool completely then carefully place on a cake/serving plate or platter.

CHOCOLATE GANACHE GLAZE

2 oz (55 g) dark semi-sweet chocolate
¼ cup (60 ml) heavy cream
1 to 2 Tbs blanched and slivered almonds for decoration, optional
1 to 2 tsp edible sugar pearls for decoration, optional

Chop the chocolate and place in a small heatproof glass or pyrex bowl. Heat the heavy cream in a small saucepan over low heat just until it reaches the boil and bubbles appear around the edges. Pour the hot cream over the chopped chocolate and stir until all the chocolate is melted and the mixture is smooth. Allow to cool to room temperature, stirring occasionally, until desired drizzling thickness. Drizzle evenly over the top of the cake, allowing the ganache to drip down the sides of the cake. Dust with slivered almonds and sugar pearls.



Jamie Schler lives, eats and writes in France. To read more of her work visit Life's a Feast.