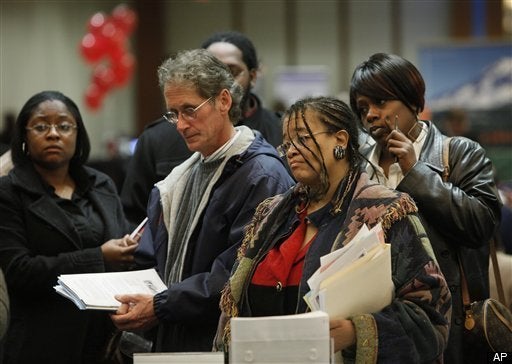 Once again, the job numbers are dismal. In January, the U.S. economy created just 36,000 domestic jobs, far below the roughly 145,000 that economists had forecast. The unemployment rate fell, to 9 percent, but only because more and more discouraged workers are giving up and leaving the workforce.
The U.S. still has a jobs gap of about 14 million jobs, and that number is increasing as the labor force grows. Counting people who've given up, or who are working part time when they want full time jobs, the real unemployment number is around 17 percent. America now has about 25 million people either out of work or underemployed.
Meanwhile, corporate profits continue to set records. Profits in the third quarter of 2010 were 1.659 trillion, about 28 percent higher than a year before, and the highest year-to-year increase on record.
What's going on? Very simply, America's corporations no longer need America's workers.
As Harold Meyerson documents in a brilliant piece for The American Prospect, our most admired corporations -- GE, Apple, Hewlett Packard, Intel -- are creating ever more jobs overseas and relatively fewer at home. This has the double benefit of taking advantage of cheap labor abroad and disciplining workers to accept low wages at home. Along with the high unemployment rates have come declining earnings. Meyerson writes:
"In 2001, 32 percent of the income of the firms on Standard & Poor's index of the 500 largest publicly traded U.S. companies came from abroad. By 2008, that figure had grown to 48 percent."
This record contrasts dramatically with that of the right's favorite whipping boy -- Western Europe. Germany is gaining jobs at a rapid clip. Its industrialists are committed to producing at home, and just in case they get ideas of making outsourcing a way of life, they have strong unions who negotiate agreements on where production is located.
Germany's labor costs are the highest in the world, but Germany nonetheless runs the world's largest export surplus -- 7 percent of GDP -- while America runs chronic trade deficits.
Barring drastic policy changes, our jobless recovery is likely to continue. There are three parts to the problem.
First, while the economy is still in deep recession, both the administration and its Republican critics are already talking about steeper budget cuts. President Obama talks a good game about infrastructure spending, but it's hard to see where the funds will come from as deficit hawks in both parties prevail.
In Sunday's New York Times, Jacob Lew, the president's budget director, wrote a depressing (in both senses of the word) oped piece on the case for deeper budget cuts. In theory, massive infrastructure spending could create a lot of good jobs, but the Obama budget is likely to offer new spending at token levels to prove his good faith as a deficit-hawk, and the Republicans will likely deny him even that.
Then there is the problem that Meyerson nails. The Obama administration is not about to take issue with American companies that profit from locating ever more production abroad. The corporate elite is fiercely opposed to any limits on its freedom to relocate, and Obama is on a mission to make peace with big business. The administration continues to promote "free trade" deals on the premise that they will create jobs -- but more and more of those jobs get created offshore.
Both political parties are in denial about the plain fact that American industry is competing against an industrial system in China radically different from our own. If a company like GE wants to operate in China, the Beijing regime extracts conditions that violate the spirit if not the letter of the World Trade Organization.
Companies are made to take on Chinese partners, to transfer sensitive proprietary technology, and to shift their production and R&D to China. In exchange, they get government subsidies and docile workers. Eventually, much of their production is displaced by their Chinese partners, but in the meantime they make a lot of money.
In the past two decades, company after company concluded that the U.S. government didn't really care if we lost our manufacturing base. The Chinese government was making them an offer they couldn't refuse, so one by one they made a separate peace with Beijing.
At the latest U.S.-China summit, there was clucking about its overvalued currency, though last week the Treasury, out of solicitude for the feelings of Beijing's leaders, once again declined to name China as a currency manipulator.
But the overvalued Renminbi is a sideshow. The main game, which even relative hawks in the U.S. government just won't raise, is China's rigged industrial system. Why won't American officials go there? Because American corporations have adapted just fine.
Finally, there is the service economy. As many defenders of off-shoring have pointed out, even if Apple produces most of its products in China, a lot of the value-added stays in the U.S. Apple sales create jobs for workers in retail stores, warehouses, and shipping, as well as a relative handful of elite software and hardware designer jobs, not to mention corporate profits.
Swell, but in the absence of a labor movement, or higher minimum wages, or other pressure for decent retailing wages, the service economy is turning into a Wal-Mart economy, where domestic service jobs that are created mostly pay lousy wages.
These alarming job trends were not caused by the financial collapse that began in 2007. Rather, the prolonged recession revealed deep structural changes in the U.S. economy that reflect a gross imbalance between a corporate elite and ordinary working people.
So if you want to know why the Democratic Party did so badly in the 2010 midterms, it's because the administration lacked a plausible story about how to alter these basic dynamics. And it lacked that story because it was unwilling to challenge the corporate business model that disdains American workers. In light of that reality, the latest gestures by the president to show the business elite just what a good fellow he is are not just disappointing, but they are foolish politics.
The president's approval ratings may be up slightly in the wake of the Tucson shootings. The attack gave Obama an opening to shame the Republicans for their shrill partisanship and to model civility. But high-minded gestures will not cure the jobs crisis. The 2012 election will be won or lost in the industrial heartland, where states like Michigan, Ohio, Wisconsin, Missouri, and Pennsylvania are devastated from the recession, and whose jobs are not coming back as long as current policies continue.
There is a whole other strategy available for dealing with the jobs crisis -- a constructive economic nationalism. But neither the White House nor the Republican opposition is offering it.
Popular in the Community