Caitlin Moran, the venerable "Times of London" columnist, became a cultural touchstone in 2011 upon the publication of her memoir, the New York Times bestseller "How to Be a Woman". Her impassioned cri de coeur urged women to reclaim feminism. "How to Build a Girl," her new book, targets the next generation of women. It is literally a "coming of age" novel. She writes about female masturbation in sentence one, page one.
Everyone's favorite "dirty aunty" explained, in a talk at the Free Library of Philadelphia, that she was attracted to writing about masturbation because she runs screaming towards taboo subjects. The publication of the book "50 Shades of Grey" increased the imperative. Moran derided the sado-masochist novel's heroine, Anastasia, as someone who will let her clitoris be beaten with a brush for an iPad and helicopter ride.
Moran said, "It is very important for girls to know that they own their sexuality. You don't have to wait for a man to come along and tell you what it is. The urgency of wanting to write about this was piqued by the success of "50 Shades of Grey," which I sometimes take, quite personally, as the worst thing that happened to me."
While Tina Fey , Amy Schumer, and Lena Dunham have made this the golden age of feminist comedy, the British Moran makes them look like blushing, virgin brides. Lena Dunham's "Girls" is filled with sex scenes and naked women, yet one subject is rarely discussed.
"I have never seen menstrual blood in anything apart from one episode of "Girls," said Moran. "This is weirdness that we never see it. Obviously, it happens to us every month. Yet, I have seen millions of gallons of the other kind of blood, the blood of violence. In every fu-----movie, there are thousands of gallons of it. People are tortured or shot. In my life, I have really never seen any violent blood spilt. The weird thing is period blood is the good blood, the blood of life. Without that, if we were not bleeding every month, no one would be here. The planet would be empty."
One of the other issues that she tackles in "How to Build a Girl' is body image. At 14 years old, Moran wished for a massive car accident that would not kill her but would require her body to be rebuilt by doctors in the hospital. Moran, now 34, proved to the audience, in the most convincing way possible, that she has learned to love her body with its imperfections. In a first for the staid library, she lifted up her shirt and moved her loose stomach skin into a smile which she has dubbed the feminist smile. For awhile on stage, she stroked her "pet".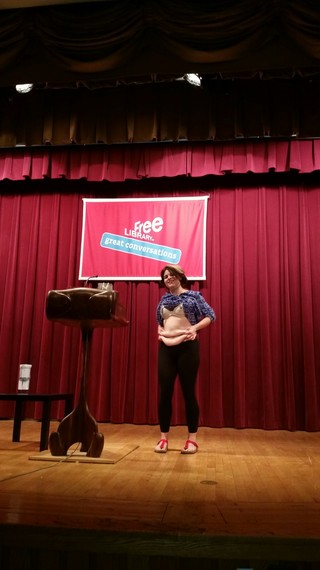 In good news for Moran's fans, "How to Build a Girl" is being made into the film. A major female star has been cast to pay the lead in this feminist answer to "Catcher in the Rye".
REAL LIFE. REAL NEWS. REAL VOICES.
Help us tell more of the stories that matter from voices that too often remain unheard.