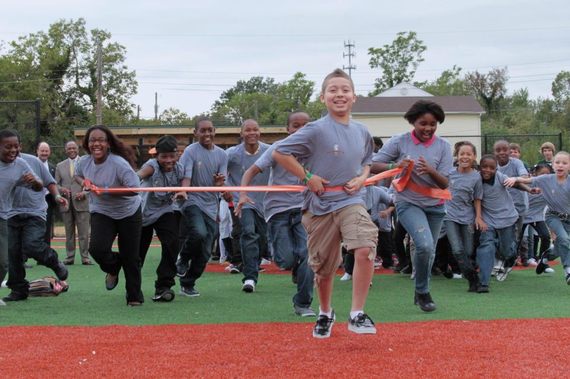 There are youth today facing tremendous obstacles. Navigating through unsafe neighborhoods, fearful of police presence and dodging predators seeking vulnerable children, these systemic challenges extinguish budding futures and devastate communities. A sports icon has taken notice and decided to do something about it.
Many know Cal Ripken Jr., or "The Iron Man," as a National Baseball Hall of Fame inductee, and former Baltimore Orioles player. Cal's brother Bill, also a successful former MLB baseball player, their mother and family matriarch Vi, as well as the entire Ripken clan, could be described in many ways as Maryland's royal family. Driven by a sense of community and small town values, their down-to-earth, neighborly sensibilities make it easy to understand why they are beloved by many.
A desire to honor the late Cal Ripken Sr. and his commitment to excellence became the catalyst for launching the Cal Ripken Sr. Foundation in 2001. Early initiatives focused upon offering free baseball clinics to disadvantaged youth. Knowing all too well that sporting events and having fun are secondary to survival for many youth, they began the work of making a deeper impact in the lives of children on a national scale. In doing so, the Ripken's partnered with Foundation President Steve Salem to develop several revolutionary programs that will blow you away.
1. Youth Development Parks (YDP's)
Recognizing that gray concrete streets are often the only "play" areas in distressed communities, YDP's are transforming neighborhoods. Top of the line, synthetic grass baseball fields are developed and then given to local youth groups or municipalities to manage, as multi-purpose parks. These zero-maintenance parks are the same quality utilized within professional arenas, and at a cost of $1M - $1.5M each to build, they are an enormous investment in communities and local children. In true grassroots form, the foundation began work locally, supporting Baltimore region children. Building upon that success, there are now 18 beautiful parks in low-income communities across the nation, impacting nearly 700,000 youth. With others currently in development, by the end of 2014 they will complete 40 parks.
Why you should care:
This is a neighborhood revitalization project wearing a baseball uniform. Whether a believer of the Broken Window criminology theory citing the effects of dilapidated environments upon increased crime, or if you simply subscribe to a belief that all children, regardless of their socioeconomic status should have access to a safe and clean environment during recreation, it is a win-win. These parks not only serve as an oasis for safe play, they are tipping points for progress within struggling communities.
2. Badges for Baseball
Created in collaboration with the U.S. Department of Justice as a juvenile crime prevention initiative, police officers and children are paired together to play and learn. Law enforcement officers are trained to become coaches, teaching lessons about teamwork, leadership and respect. Using baseball as communication tool, these interactions have the power to change the trajectory of child's life. Introducing the possibility of a new narrative, these exercises encourage goal-setting and contemplation of life beyond childhood. Many youth participants go on to consider careers in law enforcement or to seek out careers they previously lacked the confidence or mentorship to pursue.
Why you should care:
Headlines on any given day illuminate that there is work to be done within civilian and police relations, some need only look out their window for a reminder. This tactical approach is an incredible way to partner youth with local police, humanizing each in a non-confrontational setting. Relationship building, trust and friendships are being cultivated where there might otherwise be fear and misapprehension.

3. Cal Ripken Sr. Foundation Child Safety Toolkit
The most recent foundation initiative was developed in response to the Sandusky case and the hundreds of lesser- publicized assaults against children that occur within youth programs each year. A child protection policy template was developed to help organizations improve safety protocols utilizing a proven system. The customizable toolkit can be downloaded from the foundation website and encompasses all facets of child safety including proper screening of staff, interacting with children, and how to respond if issues occur. In support of their mission to help keep children safe, the Ripken Foundation also provides low cost access to comprehensive background checks, typically unaffordable for smaller operations.
Why you should care:
A difficult thought to consider, pedophiles do their homework. They know the organizations that perform thorough due diligence and those that do not, building their strategy around that research. Some standard background checks allow offenders to slip through the cracks because they deliver outdated or partial results. Small or underfunded youth programs often defer to these less expensive, less accurate background checks because they cannot afford to perform comprehensive checks for every individual in contact with children. This strategy is only effective until crisis strikes.

Now nine years since breaking ground on the first youth development park in Baltimore, Maryland, these parks have become a very special part of communities across the nation and the Ripken family legacy. It is rare for a nonprofit to be managed with Fortune 500 precision, prompting me to ask President Steve Salem what the secret to their success has been. His answer: "Our people. We are all dedicated to making a difference in the lives of these kids, they deserve our best."
Crediting working alongside a mission-driven board and founders, passionate donors, fearless fundraisers and talented staff, he maintains it is a proud group effort. If you would like to learn more about foundation programs, parks slated to open this year or are interested in joining this league of extraordinary givers as a donor, information can found on their website.
REAL LIFE. REAL NEWS. REAL VOICES.
Help us tell more of the stories that matter from voices that too often remain unheard.