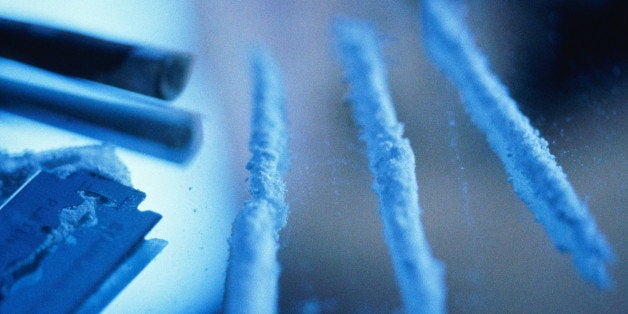 California lawmakers made a move this week toward reforming a drug policy that has been widely criticized for unfairly punishing black people.
The California Fair Sentencing Act, which passed the state Senate's Public Safety Committee on Tuesday by a vote of 4-2, would revise a decades-old sentencing policy under which people convicted of crack offenses are dealt substantially harsher punishments than those found guilty of analogous crimes involving powder cocaine.
The bill would reduce mandatory sentences faced by people found with crack that they allegedly obtained in order to sell. It would also make more defendants eligible for probation and would restrict the government's ability to seize homes, bank accounts and other assets.
Over the past two decades, tens of thousands of Californians have spent time in the state's prison system after being convicted of the crack offense that the bill addresses, according to the Drug Policy Alliance, a group that opposes punitive drug policies.
The vast majority are black. A common explanation for the racial disparity is that crack cocaine is cheaper than the powder version of the drug, making it more popular in low-income black neighborhoods.
Despite the price difference, the two forms of cocaine aren't much different. Supporters of the bill point to a number of scientific studies, including an influential 1996 report from the Journal of the American Medical Association, to argue that crack and powder cocaine have similar effects on the brain.
Sen. Holly Mitchell (D), who sits on the Senate Public Safety Committee and wrote the bill, said in a statement that the current law targets blacks and Latinos by punishing "cheap drug traffic" more severely than "the white-collar version."
Sen. Joel Anderson (R), who voted against the bill, said through a spokesman that he agrees with eliminating the sentencing discrepancy between the two forms of the drug, but he thinks the state should accomplish this by increasing the punishments for powder offenses.
Each year, about a thousand people are held in California's prison system on the charge of crack possession for sale, at a cost to the state of about $60 million per year. Blacks accounted for 77 percent from 2005 to 2010, and Latinos for 18 percent, according to an analysis of state data by the Drug Policy Alliance. Whites, meanwhile, represented less than 2 percent of these prisoners.
To put those numbers in context, blacks make up just 6 percent of California's total population, Latinos are 38 percent and whites are 39 percent.
A spokesman for the state corrections department said the agency has no way of identifying the number of people serving time for powder cocaine offenses specifically.
The bill will have to clear several more hurdles in the legislature before it has a chance of becoming law. If it passes, it would bring California's sentencing system more in line with the nation's. In 2010, Republicans and Democrats came together in Congress to pass a law that narrowed the federal government's own crack-versus-powder sentencing gap.
Today, Congress is considering another bipartisan bill that would shorten sentences for people convicted of crack offenses committed before the 2010 reform took effect.
With more than 115,000 people in its 34 adult in-state prisons, California still has one of the largest and most crowded prison systems in the country, despite a major push to reduce the prison population in recent years. In 2009, a panel of federal judges found that California's prisons were dangerously overcrowded and ordered the state to find a solution. Gov. Jerry Brown (D) responded by directing more low-level offenders into the custody of the state's 58 county governments and by signing contracts with private prison companies to expand the prison system's overall capacity.
Yet those efforts have fallen short of satisfying the demands of the federal court. California has until February 2016 to bring down the population density of its prisons to the level set by the court.
Supporters say the new sentencing bill would help the state reach this goal, while also starting to redress a longtime wrong.
"For far too many years, we have had to watch harsh penalties applied disproportionately to black and brown urban communities," said Susan Burton, a community organizer and prison-reform advocate who spent years in prison for crack offenses. "This bill is a beginning to fairer sentencing policies in California."
Calling all HuffPost superfans!
Sign up for membership to become a founding member and help shape HuffPost's next chapter
BEFORE YOU GO
PHOTO GALLERY
People Killed By The War On Drugs