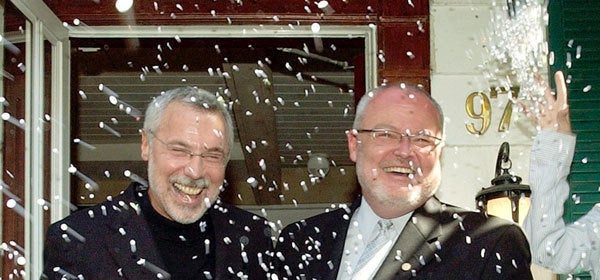 Gay Marriage Ban Overturned: "In a monumental victory for the gay rights movement, the California Supreme Court overturned a voter-approved ban on gay marriage Thursday in a ruling that would allow same-sex couples in the nation's biggest state to tie the knot," AP reports.
Domestic partnerships are not a good enough substitute for marriage, the justices ruled 4-3 in striking down the ban.

Outside the courthouse, gay marriage supporters cried and cheered as the news spread.

Jeanie Rizzo, one of the plaintiffs, called Pali Cooper, her partner of 19 years, and asked, "Pali, will you marry me?"

"This is a very historic day. This is just such freedom for us," Rizzo said. "This is a message that says all of us are entitled to human dignity."

In the Castro, historically a center of the gay community in San Francisco, Tim Oviatt started crying while watching the news on TV.

"I've been waiting for this all my life," he said. "This is a life-affirming moment."
The Background: The city of San Francisco, two dozen gay and lesbian couples and gay rights groups sued in March 2004 after the court halted the monthlong wedding march that took place when Mayor Gavin Newsom opened the doors of City Hall to same-sex marriages.
"Today the California Supreme Court took a giant leap to ensure that everybody - not just in the state of California, but throughout the country - will have equal treatment under the law," said City Attorney Dennis Herrera, who argued the case for San Francisco.
Challenge For Gay Rights Advocates Not Over: A coalition of religious and social conservative groups is attempting to put a measure on the November ballot that would enshrine laws banning gay marriage in the state constitution.
The Secretary of State is expected to rule by the end of June whether the sponsors gathered enough signatures to qualify the marriage amendment, similar to ones enacted in 26 other states.
If voters pass the measure in November, it would trump the court's decision.
The Ruling: A key highlight from the California court's decision (pdf):
"Furthermore, in contrast to earlier times, our state now recognizes that an individual's capacity to establish a loving and long-term committed relationship with another person and responsibly to care for and raise children does not depend upon the individual's sexual orientation, and, more generally, that an individual's sexual orientation -- like a person's race or gender -- does not constitute a legitimate basis upon which to deny or withhold legal rights.

"We therefore conclude that in view of the substance and significance of the fundamental constitutional right to form a family relationship, the California Constitution properly must be interpreted to guarantee this basic civil right to all Californians, whether gay or heterosexual, and to same-sex couples as well as to opposite-sex couples."
Schwarzenegger Vows To Uphold Ruling: Gov. Arnold Schwarzenegger (R-CA) issued a brief statement shortly after the court announced its decision Thursday. The governor said, "I respect the court's decision and as governor, I will uphold its ruling."
He also reiterated his previously stated opposition to an anti-gay marriage initiative proposed for the November ballot. That initiative would write a ban on same-sex unions into California's constitution.

Last month, Schwarzenegger told a gathering of gay Republicans that he would fight the initiative.
Pelosi Hails Decision: A statement from Speaker Nancy Pelosi, who represents San Francisco:
I welcome the California Supreme Court's historic decision. I have long fought against discrimination and believe that the State Constitution provides for equal treatment for all of California's citizens and families, which today's decision recognizes.

I commend the plaintiffs from San Francisco for their courage and commitment. I encourage California citizens to respect the Court's decision, and I continue to strongly oppose any ballot measure that would write discrimination into the State Constitution.

Today is a significant milestone for which all Californians can take pride.
Popular in the Community