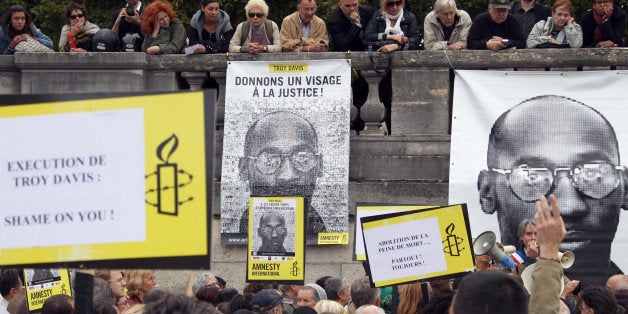 Tomorrow marks the fifth anniversary of the execution of Troy Davis. Troy was killed by the state of Georgia on September 21, 2011 despite a mountain of newly discovered evidence pointing to his innocence. The day he died, Troy said, "The struggle for justice doesn't end with me. This struggle is for all the Troy Davises who came before me and all the ones who will come after me."

For more than 20 years, courts and prosecutors refused to entertain the notion that a mistake could have been made and that Troy could be innocent. In fact, Supreme Court Justice Antonin Scalia famously wrote in a dissenting opinion in Troy's case, "This Court has never held that the Constitution forbids the execution of a convicted defendant who has had a full and fair trial but is later able to convince a habeas court that he is 'actually' innocent."
This has become a hallmark of the American death penalty: don't look too hard, don't ask too many questions. Once a jury has reached a verdict, avoid at all costs the question of whether they might be wrong. Finality over fairness or accuracy.
I started my journey with Troy 20 years ago, though I didn't realize it at the time. I was working as an organizer for the National Coalition to Abolish the Death Penalty (NCADP). During NCADP's annual convening, a woman, with her three-year-old son in tow, came up to me and told me that her brother Troy was on death row in Georgia, and that he was innocent. I told her, "Bring us the evidence and we'll fight like Hell to set him free."
Fifteen years later, while I was President and CEO of the national NAACP, I was asked by the President of the Georgia NAACP to meet with Troy. I agreed. In that meeting I was moved by Troy's religious conviction, his commitment to criminal justice reform, and the role he played in raising his nephew from the confines of his prison cell on death row. As I was leaving the prison, I ran into Troy's sister, Martina, in the parking lot. Her son De'Jaun, who was now 18 years old, was with her. She asked if I recalled the promise I had made her. Then, she showed me a picture of us that she had taken 15 years earlier, and opened the trunk of her car.
Inside of the trunk was mountains of files and folders. She was showing me the evidence.
In the intervening years between our first meeting and that day, seven of the nine original witnesses from Troy's trial had recanted. The only two that hadn't were a notorious criminal--the probable perpetrator of the crime--and a witness with a remarkably implausible claim about what he had seen that moonless night from a significant distance away. No physical evidence linked Troy to the crime.
From that day forward, I kept my promise to her. I spent the next two years fighting to prove Troy's innocence, but in 2011, Troy--a young Black man from the South--was executed--despite enormous doubt about his guilt.
We've learned time and time again, that proving one's innocence after one has been condemned to die is nearly impossible. Troy is not the only innocent person to be executed in recent memory. Evidence suggests that executed prisoners Cameron Todd Willingham and Carlos De Luna were also innocent. More than 150 men and women have been released from death rows across the country after evidence of their wrongful convictions emerged, some coming within just days or hours of execution. Two-thirds of of these men and women have been people of color.
As long as we have a death penalty, the risk of executing an innocent person can never be eliminated. This November, in California, voters will have the opportunity to ensure that their state never makes the ultimate mistake by voting yes on Proposition 62, which will replace the death penalty with a sentence of life in prison without parole. In an attempt to confuse voters, however, prosecutors and prison guards have placed a second initiative on the ballot, Proposition 66, that promises to "speed up" the death penalty by removing important legal protections, imposing arbitrary timelines, and forcing inexperienced attorneys to handle death penalty cases. It is a recipe for disaster that will greatly increase the state's chance of executing an innocent person. The idea behind Proposition 66 is to bring Texas-style justice to California so they can operate death row like a conveyor belt.
The problem: Texas has executed innocent people. Both Carlos De Luna and Cameron Todd Willingham were executed in Texas, where introducing new evidence of innocence is nearly impossible. It is unfathomable that California would want to replicate Texas laws that have led to the execution of innocent people.
Both sides agree the California's death penalty is broken - there hasn't been an execution in over a decade, despite billions of dollars spent maintaining death row, and three innocent people have been released from death row in this state since 1989. Now voters have a choice about what to do with California's failed system.

In making this choice, I hope they will remember Troy. Troy knew that as long as the specter of the death penalty continues to haunt the American justice system, more innocent men and women would be executed. We must admit to ourselves that infallibility is beyond our grasp. It isn't a question of if we will execute another innocent person, but when - unless we recognize that the cost of this failed system is just too high. California voters should vote Yes on Proposition 62, and No on Proposition 66 this November.
Ben Jealous served as President and CEO of the National Association for the Advancement of Colored People (NAACP) between 2008 and 2012. Troy's sister Martina succumbed to cancer just months after Troy was executed, so Ben took on the responsibility of overseeing her son's education. De'Jaun is now a senior at Morehouse College where he is majoring in Physics and Electrical Engineering.
Calling all HuffPost superfans!
Sign up for membership to become a founding member and help shape HuffPost's next chapter