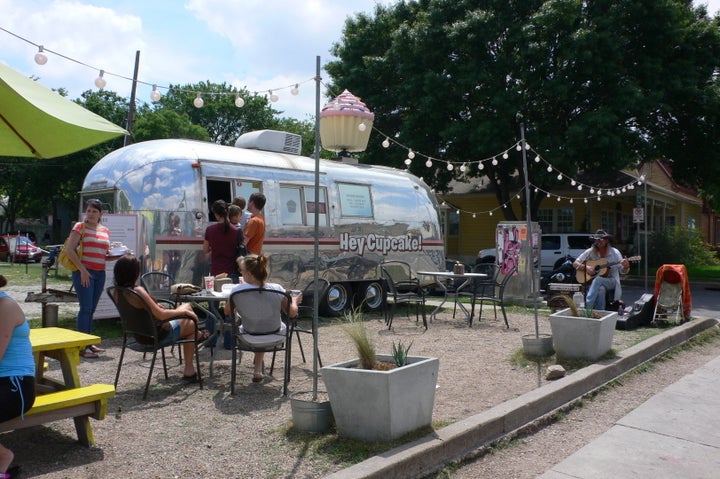 Whether you're a visitor, new Austinite or long-time resident, here are some things you shouldn't miss this fall if you want to have a drink or be entertained, get out in the great outdoors or eat something wondrous.
That's Entertainment
The Draught House
This neighborhood pub appeared in the Austin segment of Anthony Bourdain's No Reservations, but people in my neck of the woods have long known how good the beer is, both home-brewed and on tap. CNBC picked the Draught House as one of the top brew pubs in America, and you can find everything from great IPAs and double IPAs to tripel and quadrupel ales on their beer list. Dark and a little dingy, the Draught House is a great place to sit and watch local medical professionals, politicians and neighborhood folk enjoy true craft beers.
The Saxon Pub
Speaking of dark and dingy, this bar on South Lamar isn't a place you go to see and be seen. It is, though one of Austin's best local music venues, tiny enough that if you can get in and get a seat you'll see everything there is to see. Monday night, when local singer/songwriter Bob Schneider plays his Lonelyland gig, is my favorite time to be here, but this fall, watch for Austin legends like The Resentments and Patrice Pike and the soulful country rock of Walt Wilkins. Order in food, enjoy a beer from the bar and let the good times roll!
Central Market
You probably know that Austin is home to Whole Foods, and their downtown location is a Mecca for foodies. But Texas grocer HEB has high-end food destination stores, and its two Austin Central Market locations host festivals, food and wine tastings and live music on the weekends until it gets too cold. The North Lamar location has a terrific patio and playground and borders a park with ponds, bridges and lots of lawn. I've watched acts ranging from the Beatles cover band The Eggmen to world music from Rajamani -- and lots of kids and grown-ups dancing, eating and drinking.
Enjoying the Outdoors
Barton Creek Trail
Austin's Barton Springs is far from the only destination in this town that loves its outdoor adventures. While there are various access points to the trail, if you begin in back of Barton Springs in Zilker Park, you can put together a 14-mile round-trip hike or rugged mountain bike trip. Add waterfalls, rapids and swimming holes if the creek has water -- it's currently dry, but that could change in a few hours -- and great opportunities for rock climbing, and you've got a wonderful place to spend a fall day -- only steps from the crowds at Austin City Limits!
The Turkey Trot
For over twenty years, thousands of Austinites have gathered on Thanksgiving morning to run, jog or walk the Turkey Trot. It's the biggest five-mile race in Texas (you can also do a one mile run/walk), and it's a lot of fun, even if you come mostly for the spectacle. Last year, I saw lots of people in costume, including some brave kids dressed up as condiments and a napkin dispenser. The event ends down at Auditorium Shores on the lake, where you can mill around with your new best friends -- plus the event raises over a quarter million dollars every year to help the hungry and the homeless.
Downtown Farmer's Market
Every Saturday morning, Republic Square fills up with local vendors of vegetables, meat, cow and goat dairy products, flowers, soaps and prepared foods. The Farmer's Market has become an event, with live music, a children's play area in the central lawn and tasty food. On our most recent trip, my family spent a couple of hours circulating, eating, listening to music. We took home ground lamb, eggs, kettle popcorn and arugula -- and everything was fresh and amazing.
Keeping Fed
Kenichi
It's been overshadowed by Uchi and Uchiko, but Kenichi remains a reliable place to eat great food, drink good sake and it is still one of the hippest and best restaurants in Austin. Expect it to be loud and for the bar to be hopping -- lots of pretty young people patronize Kenichi. But don't be dissuaded: the sake list is extensive and the staff attentive and expert. We let our waiter order for us a few weeks ago, one exquisite dish after another -- succulent sushi, duck and foie gras dumplings, wagyu beef. A terrific meal.
El Taco Rico
You'll have to make your way out to southeast Austin -- Montopolis, more properly -- to find this food truck in the parking lot of a laundromat. But if you want to visit another place that knocked out Tony Bourdain -- and that serves quite possibly the best barbacoa tacos in town (yes, we're talking classic barbacoa from beef cheeks, if not actually buried in hot coals). My friend Chef Russell Reeves calls El Taco Rico the "finest Mexican kitchen in Austin." Be ready to stand in a long line -- and order in Spanish. Maiz. Verde.
Hey, Cupcake!
After you've been to a festival, concert or great restaurant, then you're going to want a cupcake, right? Whether out of its signature Airstream trailers or from a brick and mortar, this Austin chain offers you thick icing, tasty cake and a spritz of whipped cream injected like gooey goodness just when you thought life couldn't get any better. Try a Michael Jackson (cream cheese icing on a chocolate cake) or a Double Dose (chocolate buttercream on chocolate), sip a coffee or milk and thank the Lord you're in Austin.
Related