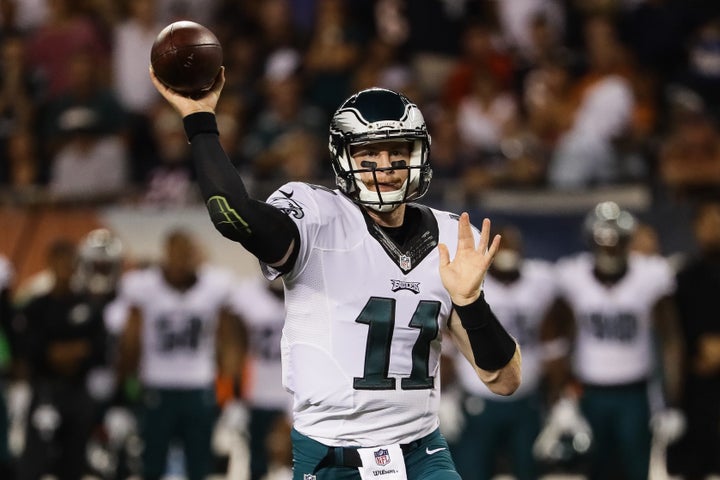 One-year starters in high school are not supposed to do this. Neither are FCS quarterbacks with scant Division 1 interest. But then, Carson Wentz isn't your normal 23-year-old rookie quarterback.
While his counterpart, No. 1 overall pick Jared Goff, rides the bench with a clipboard for the Los Angeles Rams, Wentz has calmly helped the Philadelphia Eagles start a season 2-0. And he's done so without committing a turnover ― a feat that no rookie quarterback has ever accomplished. In fact, Wentz is just the fourth rookie QB since the 1970 AFL/NFL merger to win his first two starts.
What seems to separate Wentz, whom Philly traded up for to select with the second pick last April, is not merely the remarkable physical tools, but the intelligent pre-snap reads, surprising toughness and sound mechanics. Having a 6-foot-5, 237-pound frame, along with a cannon arm and deft feet, doesn't hurt either. 
On Monday Night Football, with the entire nation watching his first-ever road start, Wentz came out slinging, throwing six straight passes and completing 8-9 on the Eagles' opening drive, including a crucial fourth-down conversion. So much for Eagles rookie head coach Doug Pederson's plan to ease his young signal caller into the game.
"He's commanding the huddle," Pederson ― himself a former NFL quarterback who took over for the controversial Chip Kelly ― said after his team's 29-14 victory over the Chicago Bears. "It's something a nine-, 10-year veteran would do. It's showing his maturity and the ability that he has to play quarterback."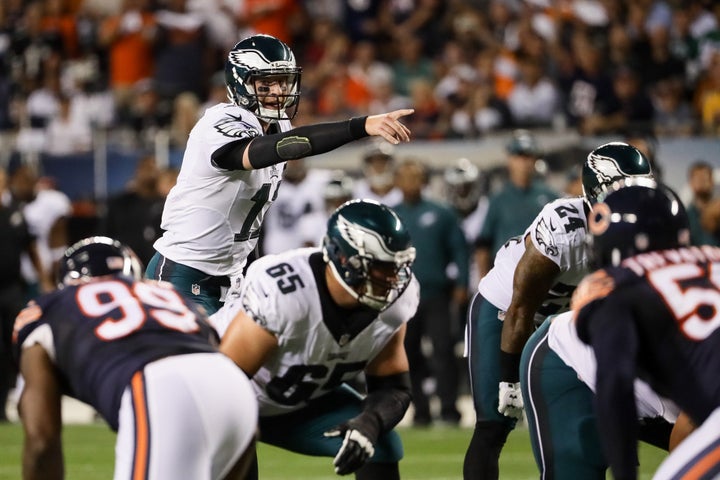 Talk to anyone around the league ― offensive players, defensive, coaches, GMs ― and they will all tell you that playing quarterback in today's NFL requires more savvy and intelligence than ever before. Formations are considerably more complicated than even 10 years ago, when guys like Ben Roethlisberger, Eli Manning and Phillip Rivers were entering the league. And defenses have developed counters to answer the trendy spread and up-tempo offensive schemes. Just the language quarterbacks now have to use can seem foreign.
While his numbers are good, they're nothing a fantasy football owner would think twice about. He has completed nearly 61 percent of his passes to go along with three touchdowns. But what makes him so special and rare is the overall command ― the ability to check out of a running play to the left because he reads blitz, only to call a run away from the blitz. Or changing his protection with a disguised safety blitz. Or even bouncing back from a surefire touchdown after an inexcusable Jordan Matthews dropped pass right before halftime.
It's only been two games, against the Bears and lowly Browns, but Wentz has executed his offense to near perfection.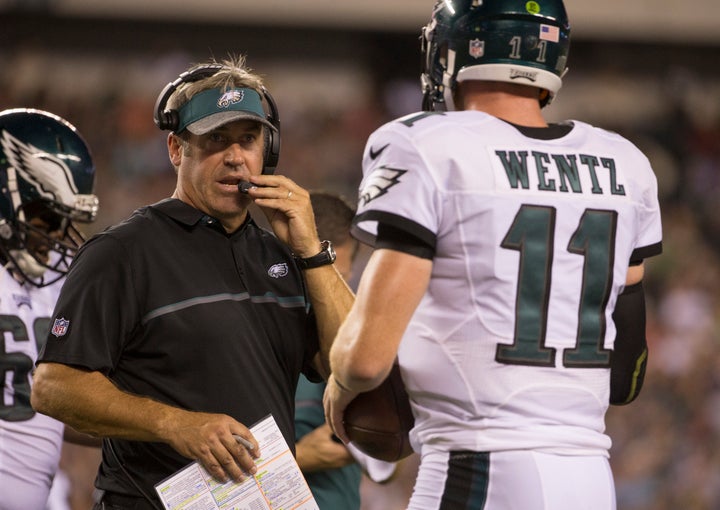 These are things that longtime NFL quarterbacks struggle with ― just look at Jay Cutler on Monday ― and yet Wentz, who played his collegiate ball at North Dakota State and has yet to throw a pick, looks like a seasoned vet.
Perhaps Wentz's confidence stems from those collegiate days, where winning and marshaling the line of scrimmage became habitual. The North Carolina native (his family moved to North Dakota when he was 3 years old) won five consecutive national titles, two of which came with him under center.
It's ironic that it took a Teddy Bridgewater injury and Sam Bradford trade for Wentz to become the starter in Philly. Remember, he suffered a hairline rib fracture early in training camp and had been considered the third string option, slotted behind both Bradford and pricey free agent acquisition Chase Daniel.
But his time, unlike Goff, is clearly right now.
"I just have fun with it," Wentz told SportsCenter after the game. "You just gotta have confidence. Confidence goes a long way."
Calling all HuffPost superfans!
Sign up for membership to become a founding member and help shape HuffPost's next chapter