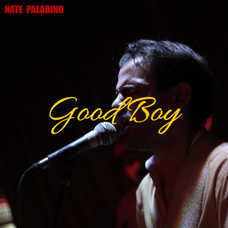 Album: Good Boy
Artist: Nate Paladino
Style: Nick Cave, Johnny Cash, Elvis, Leonard Cohen
Released: November 7, 2014
Reviewed by: Christopher Zoukis and Randy Radic
Nate Paladino is a relic of a different decade. It's almost as if he climbed into a time machine, traveled back to the 1950s and then returned to the contemporary world. While in the past, he was thoroughly inculcated with the musical culture and spirit of Buddy Holly, Elvis and the Big Bopper.
This spirit of bygone days pervades his latest collection of songs, an EP entitled Good Boy.
It feels like either musicians on Good Boy were teleported to the studio via Motown, or they have an incredible knack for playing old time rock n' roll. Assuming they are session players, Paladino should seriously consider making them his permanent band. The band is rocket-science tight. John Hyrkas does yeoman's work on the drums, Frank Fermi and Anthony Shadduck play bass, Steve Maggiora and Danial Kirkpatrick join in on the keyboards, while Lauren Anderson, Sydney Endicott and Madeline Bukaty perform radiant background vocals.
The first track on the EP is called "My Kind of Bitch." And while the title, of course, carries with it negative connotations, the pejorative implication should be understood as being directed at the song's narrator and not as a gender-specific reference. In other words, the song is similar to Offspring's "Self-Esteem" in its perspective. Musically, it channels both Elvis and Randy Newman, combining a nostalgic melody with trenchant lyrics.
"Don't Say Maybe" is the best track, a rollicking, bluesy rock n' roller that charges along without regard for anything but pure fun. A hefty infusion of boisterous keyboards drives the melody, accompanied by a robust and persuasive rhythm guitar. And the guitar solo carries listeners back to Bobby Fuller singing about "fighting the law." But the highlight of the track is Paladino's voice, growling and snarling like Jerry Lee Lewis.
Two of the tracks, "Buy Your Heart" and "Friend in Need," have a more up-to-date sound. Both are slower, with less energy and originality than the "retro" tracks. The lyrics are excellent, but Paladino is obviously more comfortable with retro vibes than modern-day rock. When he performs the latter, the music seems forced and borders on inept, like if Elvis was asked to front Led Zeppelin.

Good Boy is a strong album, even if a bit sombre in a few tracks. The EP is nostalgic, rife with powerful melodies, and provides the perfect vehicle for Paladino's sometimes snarky, sometimes growling voice. Listeners who long for the embryonic days of rock n' roll -- the 1950s and 1960s -- won't be disappointed.
Calling all HuffPost superfans!
Sign up for membership to become a founding member and help shape HuffPost's next chapter