 Only days after his official tour of Fukushima and its triple nuclear meltdown in the late winter of 2011, Nuclear Regulatory Commission Chair Gregory Jaczko declared that the Fukushima Unit 1 nuclear reactor no longer had the capacity for offsite release of radiation, as his agency gave the green light for safety for Southern Company's "radical new nuclear plant design" slated for Georgia and South Carolina.
In a provocative and carefully crafted piece of investigative reporting, Pineda captures the moment with the scathingly funny and deep insight that has marked her internationally acclaimed literary work: "If NRC chief, Gregory Jaczko, bears an uncanny resemblance to Humpty Dumpty, the similarity if unfortunate, is perhaps not inappropriate."
Yesterday, in fact, the contentious Jaczko tendered his resignation, as Japanese opposition leader Mizuho Fukushima reminded the world that "the myth that 'nuclear is safe' has been shattered, and the majority of the public is now against the use of nuclear energy."
That is, if the media and public are still paying attention to the lessons of what Pineda terms the Fukushima "tango."
"It's not easy for you, or me, or anyone to pay attention to the consequences of the nuclear energy cycle," Pineda tells the reader in her foreword. "Why? Because you can't see radiation."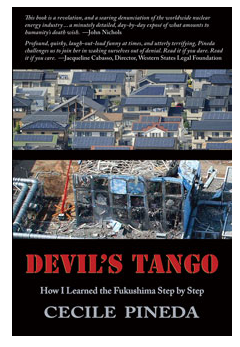 Unfolding through a series of beguiling, passionate and often revelatory entries in a daily chronicle, at times with a flair for scintillating satire, Pineda's masterful framing of the urgency for readers to learn from the Japanese nuclear disaster and the machinations of its industry handlers makes Devil's Tango one of the most important and required reads this year. She writes:
"You can't see fallout, you can't tell when you're eating strontium by the spoonful. It's invisible, you can't see it, feel it, touch it, hear it; you can taste it only in your mouth -- when the fallout is particularly dense -- as a metallic taste in your mouth, which any number of people reported this past year in places as far apart as Seattle and Arizona. In a world that enshrines surfaces, the industry thinks invisibility is a sure bet you won't ever find out."
Considered one of the great innovators of American fiction and theatre, Pineda's eclectic treasury of literature has won numerous awards; Nobel Laureate J.M. Coetzee praised her 1985 novel on Brazil, Face, as an "extraordinary achievement." The New York Times selected her novel, The Love Queen of the Amazon, as a Notable Book of the Year in 1992. Her far-ranging work has explored gender issues, as well as stories in ancient India, Latin America, and contemporary agrarian societies in Japan.
In Devil's Tango, Pineda brings together a refreshingly bold command of the facts and myths of the nuclear industry with her extraordinary prose to offer a rare look into many of the overlooked implications of the Fukushima tragedy. In the tradition of French author Andre Malraux's "Anti-Memoirs," Pineda "answers questions that memoirs do not pose and does not answer those they do pose, and also because one finds in it, often linked to tragedy, an irrefutable and gliding presence." That presence for Pineda is the haunting reality of nuclear energy revealed in Japan, but connected to our lives far across the ocean. She draws on her residency in Austria during the Chernobyl nuclear disaster; she examines scientific studies and government reports alongside absurdist theatre pieces.
"At the heart of the nuclear nightmare," she writes, "is something no one wants to talk about: birth defects, a whitewash word for children born without the attributes we recognize as human."
Turning her focus on all 104 nuclear plants in the U.S., Pineda's searing account ultimately asks the reader: "What is right? What right have we to do what is right? What right remains to us, knowing the little that we know?"
In the end, with an unremittingly courageous if not prophetic voice, Pineda's day-to-day exposé transcends the ruts of most energy debates to raise these larger questions about one of the seminal crises of our times.
"To say that corporate enterprise has abrogated your right to ask questions, to raise objections, or to expose malfeasance tells only half the story," she writes. "Corporations are not people. We are people, and until we learn to protest en masse, until we make it impossible for corporations to continue stripping the planet, they will hijack our earth, and make all living things expendable. That means you. That means us."
Related
Popular in the Community