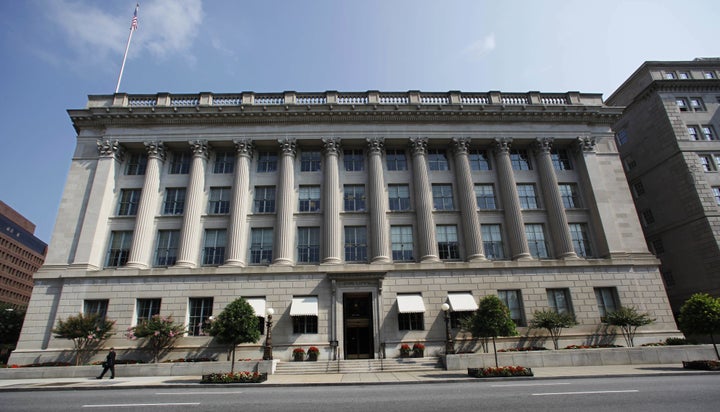 Watchdog groups rallied outside the Chamber of Commerce Thursday in the wake of a report by a liberal blog that the business lobby could be funding political ads with foreign money, which would violate federal election laws.
Dozens of demonstrators -- from organizations including including Public Citizen, Common Cause, Public Campaign and, appropriately, U.S. Chamber Watch -- gathered outside the Chamber's H Street offices waving signs that read "U.S. Democracy Belongs To U.S. Voters" and chanting "Hey hey, ho ho! Chamber money is foreign dough!"
The rally took place days after Lee Fang of ThinkProgress reported that foreign corporations have paid annual Chamber dues to the tune of $300,000. The money goes to the business group's general fund, much of which is used to run political attack ads against Democrats.
Fang's research showed the Chamber has increased fundraising efforts abroad, opening up chapters overseas referred to as "AmChams" to attract contributions from foreign corporations.
WATCH rally excerpts, including HuffPost's interview with Public Campaign President Nick Nyhart:
The Chamber insists it isn't doing anything illegal. "No foreign money -- from AmChams of otherwise -- is used to fund political activities," Commerce Spokesman J.P. Fielder told Politico. "None of the AmCham money is used for political activities."
Franken conceded on a Thursday-afternoon conference call with reporters that "technically what the Chamber has done may not be illegal."
"But let's be honest here," he added, "money is money and when the Bahrain Petroleum Company sends the Chamber $10,000, the $10,000 in American money that the Chamber was going to use for office furniture can now go to a new attack ad on Barbara Boxer for her stand on clean energy."
On Tuesday, Franken wrote a letter to FEC Chairman Matthew S. Petersen asking that the Federal Election Commission launch an investigation and strengthen its regulations on foreign influence in U.S. elections.
During the conference call, Franken said congressional passage of the DISCLOSE Act would force groups like the Chamber to identify who pays for their advertising.
As of Sept. 15, the Chamber had aired more than 8,000 ads on behalf of GOP Senate candidates, according to a report by the Wesleyan Media Project. It will spend another $75 million this election cycle to defeat candidates such as Sen. Barbara Boxer (D-Calif.), Rep. Joe Sestak (D-Pa.) and Rep. Tom Perriello (D-Va.).
The Chamber's Pat Cleary wrote in a post on the Chamber's website that there is nothing behind the ThinkProgress report.
"The confusion -- willful though it was -- stemmed from the various American Chambers of Commerce (known as 'AmChams' by any US ex-pat who has ever lived abroad) around the world," Cleary wrote. "There are 115 of them and the first one was founded in France in 1896. Not exactly a new development. The truth (anybody remember the truth?) is that AmChams are independent organizations, not controlled in any way by the US Chamber, and whose money does not in any way pay for US political activity."
In an interview on MSNBC's "Countdown with Keith Olbermann," Fang made his case.
"Well, here's what we know: They're spending an unprecedented $75 million in attack ads, basically. They're going to foreign businesses and foreign individuals saying, you know, if you send us checks, you'll have a voice in American public policy debates," he told Olbermann. "They're sending those checks to the same bank account used for the attack ads. So, you know, these funds -- they're fungible. They can be moved around. We really don't know. What's alarming is the Chamber of Commerce hasn't put out any documentation. They haven't proved that there's some firewall. They're just saying, hey, trust us."
WATCH the Olbermann interview here:
Amanda Terkel contributed to this report.