If you saw Aqwalina's lush farm today, you would be shocked to learn that it was basically barren just a couple of years ago. Row upon row of leafy kale and sturdy maize grow in orderly abundance. Her son, Dennis, proudly shows off their harvest in a spotless uniform, bearing the name of a local private school. Aqwalina is saving to build her own house, complete with iron-sheets for the roof and cement floors. All of this was just a glimmer in the distant horizon two years ago, but sometimes hope -- and an irrigation pump from KickStart International -- is all a mother needs to change her family's fortune.
When Aqwalina's abusive husband abandoned the family, she turned a challenging situation into a new opportunity. In Tanzania, as in most of sub-Saharan Africa, men are the traditional breadwinners, as financial opportunities for women are few and far between. But nearly everyone has some agricultural skills. In fact, almost 80 percent of the Tanzanian population have small farms in rural areas which they rely on for their livelihoods.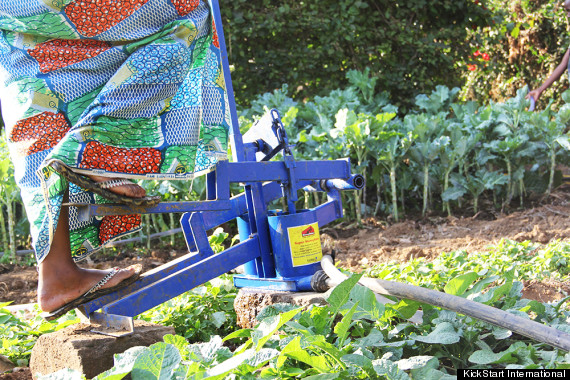 Low-cost farm equipment, such as manually-powered irrigation pumps, can help elevate subsistence farmers to profitable entrepreneurs, enabling the chain of accomplishments that Aqwalina exemplifies. Her first step was to invest in KickStart International's MoneyMaker Hip Pump, which she saw during a local market day near her village.
Borrowing from family, friends, and neighbors, Aqwalina put down a deposit on her future. After two years, she is completely supporting her son, paying for his private school fees, and even putting herself through college. Aqwalina is defying the cultural stereotype of a single mother in Tanzania.
On average, a pump can increase in income from irrigation on a 1.5 acre farm plot by 500 percent. Women can harvest more crops year-round and generate more income by selling surplus crops. By investing in simple farming tools, women are breaking down barriers of inequality, establishing sustainable businesses and providing for their families.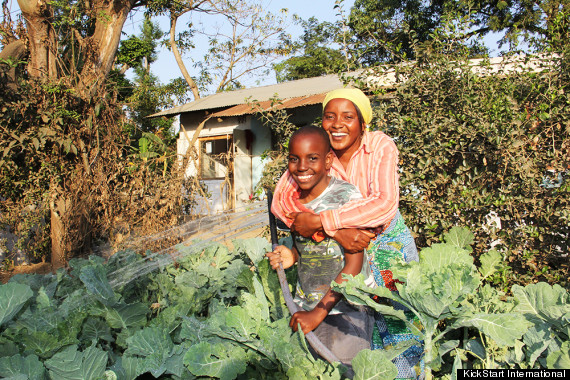 It's not that rural African villages experience widespread water shortages. The issue lies in the fact that filling, transporting, and distributing water bucket-by-bucket from a central well is an inefficient way for farms to flourish. Before buying her own pump, Aqwalina used to irrigate by hand until late in the night for months and still could not afford her son's school fees. She felt as if she was treading water just to survive.
Increasingly, women worldwide are ready to exchange old methods with new innovations to help their families. KickStart International designs and mass-markets these high-quality affordable farming tools that enable women like Aqwalina to support their families, with the help of individual supporters and partners like Johnson & Johnson.
Aqwalina's neighbors marvel at her blossoming property. In her village outside of Arusha, she is just one woman. Yet as a woman working solo, she's achieved what used to be considered impossible. You can hear the change she made in her name-aqwa, agua, water-the elemental elixir that allowed a mother to provide a stable home and bright future for her son.
Related