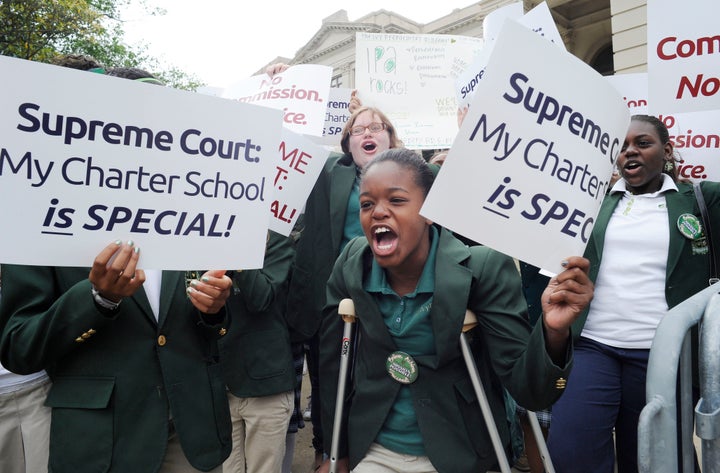 A St. Louis school board member challenging the city's charter schools on a legal technicality knows his claims may not go far -- but that hasn't stopped him from fighting.
"I'm not trying to close these schools down," Chad Beffa told The Huffington Post. "I just want to stop the inefficiencies of this mess in the city of St. Louis.
Beffa thinks charter schools, which are publicly funded but can be privately run, have harmed his city's public schools by wasting their money. So last Friday, he sent a note to St. Louis' charter-school proponents saying that the city's recent population loss, as indicated by new census data, makes the operation of charter schools illegal.
As reported by the St. Louis Beacon, Beffa's letter cited Missouri State Law 160.400, which states charter schools are only eligible to open in "a metropolitan school district or in an urban school district containing most or all of a city with a population greater than 350,000 inhabitants." The law already restricted Missouri charter school operation to St. Louis and Kansas City.
Beffa argues that to qualify for charter schools, a district must satisfy both parts of the law's clause. And since St. Louis now has fewer than 350,000 inhabitants, he deduced, charter schools cannot continue to exist. So he called for the prohibition of new charter school applications and for the state attorney general Chris Koster to look into the possibility of requiring all operating charter schools to fall under the auspices of the St. Louis public school system.
A lawyer for the state's education department responded a few hours later, telling Beffa that another section of the law, which defines a metropolitan school district as "any school district the boundaries of which are coterminous with the limits of any city which is not within a county," puts St. Louis into the first part of the statute -- which, he claimed, would exempt the city from the requirement of 350,000 inhabitants.
But Beffa's not having it.
"For them to say it ends at metropolitan school districts means that they're trying to separate it into two complete thoughts but that's impossible to do without a comma," he argued.
Still, Koster, the attorney general, can't issue opinions at the request of someone who is not a state official -- so Beffa's only recourse would be help from the state assembly. "Even so, I'm assuming [Koster] would agree with the state," Beffa said. "And I'm not going to waste taxpayer money by filing a lawsuit."
While Beffa doesn't plan to take his complaint as far as some in other districts, his is one of several efforts nationwide to halt the growth of charter schools.
California's state assembly is weighing several bills that would limit the spread of charter schools in the state. And as the result of a lawsuit filed by seven Georgia school boards, the state's supreme court deemed charter schools created with the approval of a state-level authorizer unconstitutional.
The Obama administration has voiced support for the charter school movement. U.S. Secretary of Education Arne Duncan's outspoken encouragement of the creation of charter schools as competing alternatives to traditional public schools has bolstered their appeal.
But opponents see charter schools as part of the privatization of public education, claiming that the call for competition is yet another education policy with a corporate tinge.
Charter school advocates assert they provide more choices to students with special needs, give families the right to choose a school instead of relying on geography and that they force traditional schools to improve while competing for students. Critics counter that charter schools suck resources from public schools, do not properly serve high-needs populations and put students -- and the education funding they bring with them -- into the hands of external organizations.
"I'm not in favor of charter schools because I don't think they fix the public education problem," Beffa said.
Douglas Thaman, executive director of the Missouri Charter Public School Association, doesn't think Beffa's challenge holds any water, or is even as important as the Georgia case.
"[Beffa's complaint] is the act of one individual as opposed to a full board of education," he said. His group sent a letter to charter-school parents, trying to assuage their fears. "We see this as a challenge to the impact that charter schools are having: providing quality education."
But Beffa disagreed. "I see two failing systems in the city of St. Louis, one of those being the charter-school system," Beffa said. "It's a band-aid issue that has been used to divide parents."
Beffa has been on the case for the last decade, when census numbers put St. Louis at about 348,000. Back then, though, the count was appealed. This year, census data said that St. Louis had about 319,000 residents -- and he knew he had his chance.
Now, he said, he has received assurances from Missouri Rep. Jeanette Mott Oxford (D) that she would raise the issue with Koster. But that may be as far as Beffa gets, beyond his plans to discuss the issue at the school board's next meeting.
The court decision in Georgia had more far-reaching consequences. It left teachers protesting and parents of the 15,000 students enrolled in 16 now-unconstitutional charter schools scrambling for answers.
Earlier on Friday, Georgia state senators met for a special session on the issue.
Seth Coleman, a spokesperson for the Georgia Charter Schools Association, told HuffPost that nothing "earth-shattering" came out of the session.
In California, Jed Wallace, president CEO of the California Charter Schools Association, said he's worried about "a large number of surprisingly anti-charter pieces of legislation being run in this session."
He attributed the laws to political changes in California. "Nationally, things look very promising for charters. There have been some setbacks, in Georgia," he said. But bills in California that seek, for example, to cap the state's allowed number of charter schools, stem from "the kinds of ideas that we're having to hold back."
REAL LIFE. REAL NEWS. REAL VOICES.
Help us tell more of the stories that matter from voices that too often remain unheard.