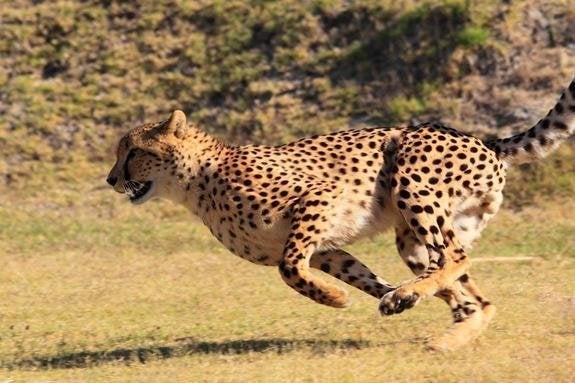 I was invited to be a delegate in to the Skoll World Forum (SWF) in 2011 and attended this year's Forum in Oxford, England again in 2012. Skoll World Forum is an annual gathering of the world's top social entrepreneurs who are trying to solve the big challenges facing our planet. I am honored to be called a social entrepreneur for my efforts in creating business initiatives that allow cheetahs and farmers to co-exist and am one of the very few who have brought species conservation along with sustainable energy programs to the SWF group.

The term "social entrepreneur" was coined by Ashoka Innovators for the Public thirty years ago, and defines social entrepreneurs as "individuals with innovative solutions to society's most pressing social problems" -- problems like climate change, poverty and loss of biodiversity.

The theme of SWF 2012 was "Flux: Seizing Momentum, Driving Change." We talked a lot about the concept of seizing momentum, learning to ride the currents of change, adapt to setbacks, but more importantly, to recognize moments when your organization is poised to make progress, and how to take full advantage of these turning points.

We may be at one of those moments right now for the cheetah, and it could not have come at a more critical time, as experts agree that the cheetah could become extinct in less than 20 years.

I have put everything I have learned about the cheetah to work so that I could develop and implement Cheetah Conservation Fund's (CCF) education and conservation research programs. However, for conservation to be effective, it must benefit people. I have been developing consumer-driven incentives for livestock farmers, many of whom perceive the cheetah as a threat, so that they can economically benefit from living with cheetahs.

A good example of this concept is CCF's Cheetah Country eco-label. The idea is that farmers in cheetah range areas can be monitored and certified as practicing predator-friendly livestock and cattle management. In return for being good stewards to the land and wildlife on their farm, these farmers can be certified with the Cheetah Country eco-label and receive premium prices for their products. This model could work to protect all our world's predators, which are threatened by conflicts with humans.

Our CCF Model Farm is working on other new business initiatives involving products not commonly produced in Namibia, including wine grapes and products from our goat herd, such as gourmet goat cheese and fudge. These are ways to offer value added and additional sources of income to Namibian farmers.
One of the most promising of our businesses is an endeavor that evolved from my observation that many cheetahs were being blinded by running through overgrown thornbush. In addition, this thickened thornbush, a form of desertification, has reduced the grazing lands affecting the Namibian economy by over $100 million per year. With a USAID grant in 1999, we studied this problem, and began to selectively harvest the thornbush, creating large landscapes that were suitable for livestock and wildlife. The biomass material we harvested was used to create a high-heat low-emission fuel log called Bushblok. Bushblok won the Tech Museum's Intel Award for the Environment in 2008. CCF and Bushblok are certified by the Forest Stewardship Council (FSC), confirming that we are using socially and environmentally appropriate practices. We are now working to scale up our harvesting, as there is over 15 million acres of thornbush with the potential of over five tons per acre!
This year I was asked to join the 2012 Clinton Global Initiative (CGI). I focused my CGI commitment on expanding our Bushblok program and supporting the emerging biomass clean energy industry in Namibia. I am currently looking for partners to expand these initiatives.
Bushblok not only has the potential to bring new momentum to our race to save the cheetah at a time when it is crucial, but also to create much needed energy and jobs for Namibia and other African nations. Using the network of visionary social entrepreneurs that I have met through the Skoll World Forum and Clinton Global Initiative, CCF is making connections with business partners in the energy sector who see the value in helping us expand our biomass energy initiatives.
Related
Popular in the Community