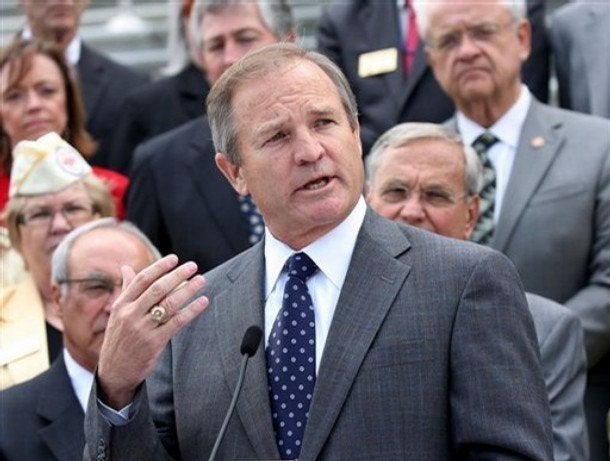 AUG 22 -- Officials Say Edwards Is A Finalist: The rarely-mentioned Edwards is on Obama's short list, Democratic officials say.
Democratic presidential candidate Barack Obama prepared to name his running mate, perhaps as early as Friday, from a small field that included at least one dark-horse finalist.

Democratic officials said little-known Texas Rep. Chet Edwards was one of the few Democrats whose background was checked by Obama's campaign and he was a finalist for the job. [...]

Edwards is a favorite of House Speaker Nancy Pelosi, who praised his "extraordinary credentials" on ABC's "This Week" on Aug. 3 and said: "I hope he will be the nominee."

One Democratic official with knowledge of the conversation said Obama told Pelosi recently that she would be pleased with the choice. Other Democratic officials said he was on the short list. All spoke on the condition of anonymity because they were not authorized to discuss Obama's selection process.

Edwards, chairman of the Military Construction and Veterans Affairs Appropriations Subcommittee, is a nine-term moderate Democrat representing the GOP-leaning Texas district. He is well-known in Texas but does not have a national profile.
He is a nationally recognized veterans champion in Congress, with strong military support in deep connections in the U.S. Army and at the Pentagon. Just this year, he's been honored by the Veterans of Foreign Wars and the American Legion. And as chair of the House Military Construction and Veterans Affairs Appropriations Subcommittee, he just authorized the largest increase in veterans' funding in the history of the VA.

Edwards is fresh face who won't overshadow Obama. He's a southern, moderate, white male in his late 50s who brings geographic and demographic balance to the ticket. He has humble blue collar roots, and has been known to speak Spanish from time to time.

Chet Edwards is a pretty darn good campaigner, with a record of winning in Republican turf. But in spite of (or perhaps because of) his broad appeal to Democrats as well as Republicans and Independents, he is well respected on Capitol Hill - with a wide range of support among liberals and conservatives. (An example: Congressman John Lewis, a liberal African American from Atlanta who fought beside Dr. Martin Luther King, Jr, has been known to campaign with Edwards in Central Texas).
While the appeal of picking a Texas Democrat, especially one who has beaten back adversaries like DeLay in past elections, is understandable, Edwards would be a poor choice. Not only did he vote for the Iraq war authorization in 2002, a vote which could undermine the Obama campaign's emphasis on foreign policy judgment, he has an, at best, mixed record when it comes to votes on withdrawal.

While he voted for the House leadership's Responsible Redeployment from Iraq Act in 2007, he also voted for a Republican resolution in 2006 rejecting an "arbitrary date for withdrawal or redeployment", and for a 2007 emergency appropriations bill for the war without a timetable for withdrawal (he even voted against an amendment adding such a timetable). The latter two votes, along with his votes in 2007 and this past week for telecom immunity have led to his inclusion on Matt Stoller and Chris Bowers' list of "Bush Dog Democrats".

His conservative record doesn't stop with national security issues; he voted to make permanent the repeal of the estate tax, in favor of the Bankruptcy Reform bill, for drilling in ANWR, and against the 2007 House renewable energy bill. Perhaps most egregiously, he was one of thirty-six House Democrats to vote in favor of the the Federal Marriage Amendment in 2004. Is it really too much to expect the Democratic vice presidential nominee to be, at least, not to the right of John McCain on LGBT equality?
In an interview Sunday, Pelosi said, "I didn't want to see a discussion of candidates for vice president without showing the House of Representatives... I just wanted people to be aware of the extraordinary credentials of Chet Edwards. And I hope he will be the nominee."

Pelosi told ABC's "This Week" that "for years, our colleagues have said to him, why don't you run for president? He is an extraordinarily talented person. He is a champion for veterans in the Congress. Under his leadership, we have passed, including just on Friday, the biggest increase in funding for veterans' health benefits and other benefits in the history of our country. "
Popular in the Community