The discovery of a pregnant schoolgirl's body under the patio of her boyfriend's family home in northeast Argentina has sparked a nationwide protest against "femicide," the killing of a woman because of her gender.
A post-mortem examination carried out on the victim, 14-year-old Chiara Paez, after her body was unearthed on May 11 showed she died from beatings to the head, face and body, local media have reported.
The post-mortem also found traces of a drug used in abortions, fuelling speculation that Paez's killing could have been the result of an argument with her boyfriend and his family over her pregnancy.
Media reports say the 16-year-old boyfriend has been charged with aggravated murder, femicide and forced abortion, and that he confessed to the killing when questioned by prosecutors, in a case that has dominated headlines in Argentina for weeks.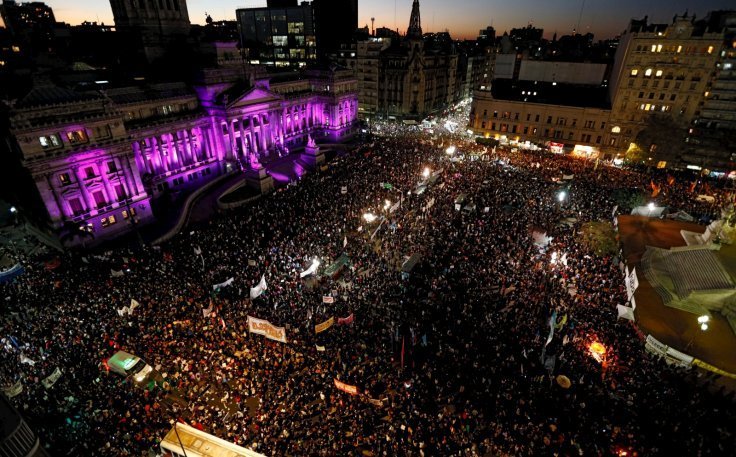 Thousands of Argentines gathered in front of the National Congress building in Buenos Aires on Wednesday.
"The evidence comes from Manuel's (the boyfriend) own statements, who accepted responsibility as being the perpetrator of the crime," Argentina's La Nacion newspaper quoted prosecutor Alejandro Sinopolis as saying.
The boyfriend's mother and stepfather have been charged with being accessories to the same crimes, La Nacion reported.
The International Business Times reports that Paez's murder -- on top of other recent high-profile cases of femicide -- was the last straw for Argentinians, and sparked a nationwide protest that saw thousands march across the country, holding signs that say "ni una menos," or "not one less."
Paez's family and friends took to social media to mourn decry her killing.
A pesar del dolor y la tristeza enorme que tenemos, Estamos trabajando para llegar a la verdad y esperemos que estos...

Posted by Fabio Paez on Thursday, May 14, 2015
Although femicides are most common in Central America, Argentina reported 277 femicides last year, according to The Meeting House, a local women rights group.
"The deplorable case of this young girl has triggered a reaction in society and has raised awareness about femicides in Argentina. People are saying that's enough, not one more femicide," said the group's head, Ada Beatriz.
In the town of Rufino, 400 km (250 miles) northeast of Buenos Aires, where Paez was killed, around 7,000 residents marched and held a vigil on May 12, holding photographs of Paez and placards saying "Rufino is in mourning."
Across Argentina, there have been 1,808 femicides since 2008 and the problem shows little sign of abating, according to The Meeting House. There have been more than 250 femicides every year since 2010, with a peak of 295 in 2013.
"We're saying femicide is not a private, hidden matter but something that affects all of society because when a woman is killed it affects the whole family and children," Beatriz said in a telephone interview with the Thomson Reuters Foundation.
Rights groups aim to introduce a bill that would strip men convicted of femicide of the right to care for their children after being released from prison.
Femicide is a widespread and growing problem across Latin America, which has the highest femicide rates in the world, the agency United Nations Women says.
More than half the 25 countries with the highest femicide rates are in the Americas, with El Salvador, Guatemala and Jamaica known as hotspots, according to a 2012 report by the Small Arms Survey, an independent research project in Geneva.
Victims of femicide frequently have a long history of domestic violence and the killers are often the victims' current or former partners, family members or friends, U.N. Women says.
Femicide stems largely from Latin America's 'macho' culture, which tends to blame women for the violence inflicted on them and to condone it.
"It's a cultural issue. The aggressor feels a woman belongs to him and he can do what he wants with her. We're talking about machismo that sees a woman as an object, as inferior and someone who has to obey. If she doesn't, disobedience is punished with beatings and even death," Beatriz said.
Argentina has passed a series of laws to protect women since 2009, but the government needs to increase funding to ensure the laws are put into practice, Beatriz said.
"More shelters for survivors of domestic violence are needed and a significantly larger budget to implement gender laws," she said.
Paez's killing has prompted women's rights groups to organise marches across Argentina on June 3 to protest against femicide.
Related
Popular in the Community