 It started early in the morning and crescendoed in the afternoon, with thousands upon thousands of teachers clad in red union shirts swarming downtown Chicago, snaking through its streets, and stopping only to rally in front of Chicago Public Schools headquarters.
The Chicago Teachers Union (CTU) is on strike for the first time in 25 years. After months of failed negotiations with Chicago Mayor Rahm Emanuel's administration, they're picketing instead of teaching. On Monday, they held signs that said "on strike," wielded a gigantic paper mache imitation of Emanuel's head, and chanted things like, "What do we want? A fair contract. When do we want it? Now."
But as the sun set over the Windy City, it was still unclear what tomorrow would bring. CTU President Karen Lewis reportedly stepped into negotiations as late as 11:30 a.m. Monday, a move that angered Emanuel. Lewis is expected to appear later on MSNBC's "The Ed Show," but CTU representatives did not respond to multiple requests for comment about the union's next steps.
"Do you know if the strike continues tomorrow?" asked Ansar, a restaurant server who has two daughters in the public school system. "How will we find out whether we should know whether we should send kids to the schools or not?"
His daughter, Bushra, had spent the day at a workshop created by the James Dyson Foundation and the Chicago Public Library. While the activities were fun, she said, it's not the same as school.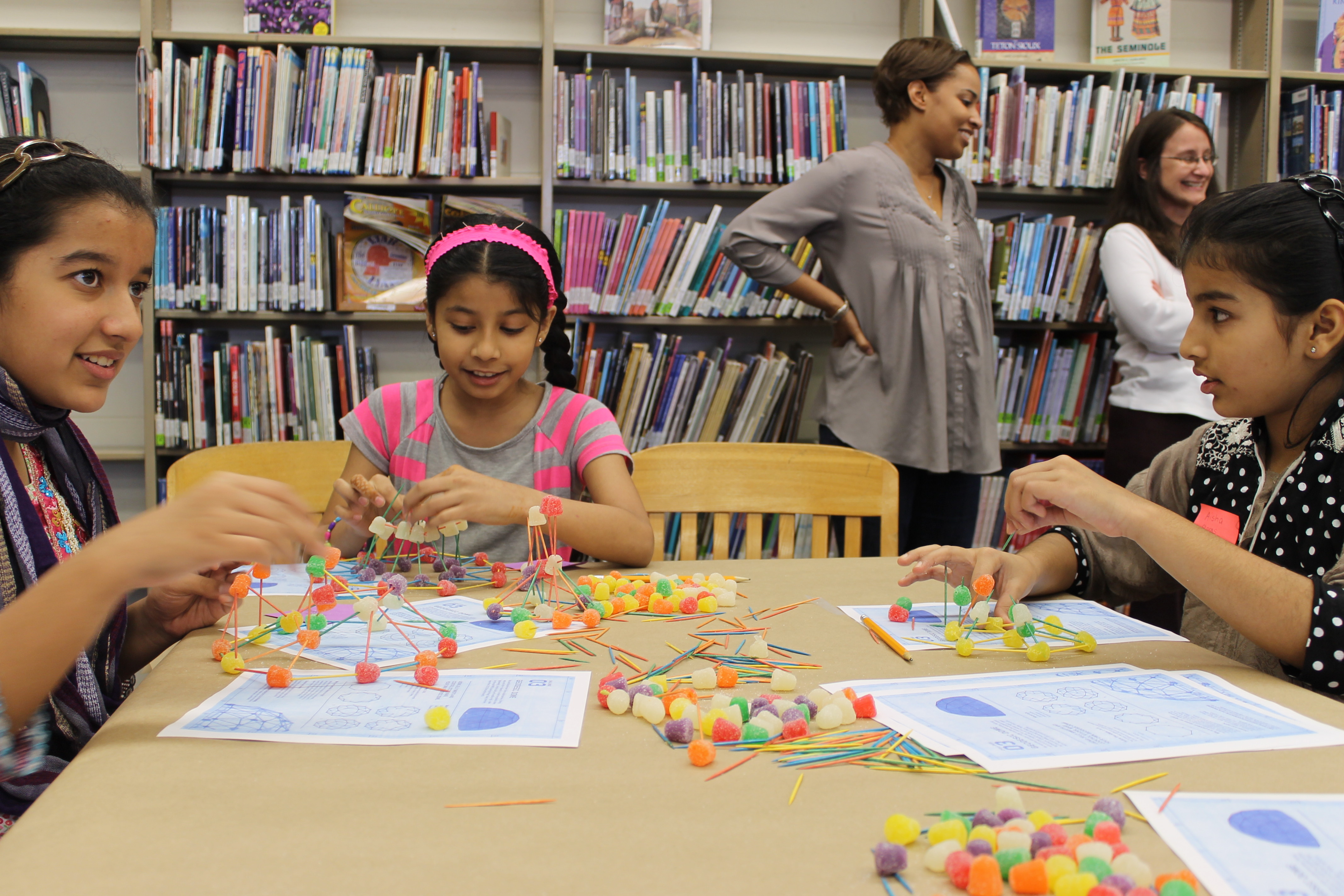 Aisha, Bushra and Aman had no classes to go to Monday, so instead, they went to a workshop where they made geodesic domes out of toothpicks and gumdrops.
Instead of learning things like multiplication and division in fifth grade, Bushra, 10, spent the day making geodesic domes out of candy. "There's a flag on top, it looks like a building a little bit," she said. "I think I used more popsicle sticks than gumdrops," she added quizically.
Bushra said her mother was sad when she learned late Sunday that school would be canceled. "No teachers would be there, and we wanted to come, but she was scared to bring us this," Bushra said.
Though Bushra's father said he doesn't much follow politics, Bushra had a pretty clear sense of what was going on around her. "The teachers aren't there because school starts at 7:45 and they want to change it to 8:30 again," she said. Bushra was referring to a tiff Emanuel had with the union -- one of many -- about how to make the school day longer.
But there was still little clarity as to what the strike was about at its core. Emanuel held his ground, saying the "avoidable" strike comes because the union and CPS still can't agree on how to implement teacher evaluations, and whether principals should be able to choose the teachers they can hire.
For his part, Ansar is torn by the situation. He moved from Sri Lanka five years ago, and he's not sure who to side with. Meanwhile, though, his kids aren't learning much. "They're falling behind on their studies if this lasts longer," he said. On the other hand, many of his colleagues at the restaurant are actually teachers. "It's a very sad thing -- they study for so long but have to do the same job I do."
On Sunday night, Lewis promised that teachers would not return until they got what they wanted. Chicago Public Schools appeared to have offered the union what it wanted financially on Sunday, but Lewis maintained that the strike was about broader pedagogical issues like working conditions and class size.
These issues are very real to Melanie Snow, a high school chemistry teacher. Snow taught in Atlanta for several years, and this is her first year teaching in Chicago. "In my school, the rooms are 90-plus degrees," she said. "Expecting students to sit through a 50-minute class and concentrate all day long when it's 90 degrees, that's kind of unacceptable." She added that her school doesn't have up-to-date textbooks -- not even enough old ones for all her students. "A basic thing that students need is a textbook."
Vanessa Shackelford-Goodar, a special education teacher at a Chicago middle school, had similar qualms. "It's hard to perform in classrooms that are ill-equipped with resources that are needed," she said. Her friend had 40 students in a kindergarten class. "I don't understand how any learning would take place like that," she said.
But not all of CTU's woes are strikeable issues, according to Illinois law, which only allows teachers unions to walk out over bargaining issues like pay or unfair labor practices. "It's mostly about teacher evaluation and recall rights," said Tim Daly, president of TNTP, a consulting group that places new teachers in urban school districts. His group's research on Chicago revealed that 99 percent of teachers were rated in two top categories, drawing national attention to the cause of revamping the way teachers are graded. "They're the standard example of a district where evaluation wasn't working," he said. "It surprises me that they would take on a strike issue like that ... It's very risky because they're asking the public to support them in a strike that is about whether they should be evaluated on how much students are learning."
Related
Popular in the Community