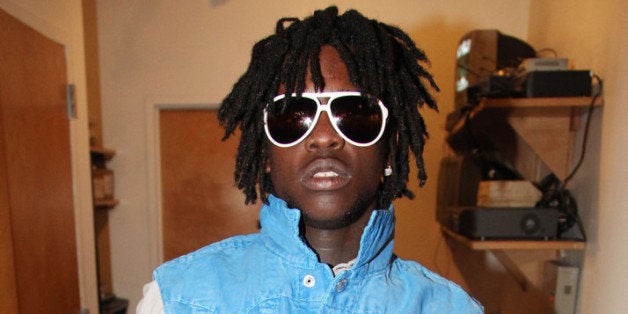 South Side POV (Evan F. Moore):
You can take someone out of the hood but you can't take the hood out of them. Or so I've been told.
Last year, Englewood's very own, Interscope Records recording artist Chief Keef, moved to the north suburban enclave of Northfield.
One of the teenage rapper's neighbors gave the Chicago Tribune a typical, delusional suburbanite response to Keef's presence in their neighborhood.
"We all knew that something bad was going to happen at that house, but I still can't believe it is happening in my neighborhood," said the neighbor who wanted to remain anonymous out of fear of retaliation.
Maybe the people in Northfield just don't understand their blunt-smoking, ATV-driving neighbor. I bet they haven't invited him to join their block club. Maybe he represents the innate fear white America has of black males.
Seattle Seahawks cornerback Richard Sherman, the guy who scared the s--t out of Middle America with his post-game NFC Championship game rant, has a must-read column with Sports Illustrated's MMQB. His latest column is called "Stardom Doesn't Change Where You're From." In case you didn't know, Sherman grew up with Washington Redskins wide receiver DeSean Jackson in southern California. Last week, Jackson was released by the Philadelphia Eagles for his alleged gang ties. Like Keef, Jackson continued to have a relationship with the friends he grew up with.
Sherman said this about the complex relationship people like Jackson and Keef have with the guys from their old neighborhood: "Was DeSean supposed to then say, 'Thanks guys, but now that I'm a millionaire, please leave me alone?' Even if he wanted to, he wouldn't have. In desperate times for people who come from desperate communities, your friends become your family."
Sherman's words are something that our friends in northern Cook County fail to understand. I guess having an "entourage" is much more fun when Vince Chase and Turtle are around.
The thing that might piss these folks off the most is that their kids love Chief Keef's music. White suburban kids' infatuation with rap music isn't exactly breaking news. Keef's music is a part of a sub-genre local artists call "Drill music." This type of music often paints a picture of Chicago that most shy away from. The violence that stems from the sub-genre has claimed the lives of several local artists in the past two years. Just yesterday, Chief Keef's own cousin, rapper Big Glo, was shot to death. You might have gotten the gist if you've watched the CNN docudrama "Chicagoland."
I'm going to let you in on a little secret. The violence here in Chicago isn't as bad as it used to be. It's better reported. That's the difference. I know it is easy to fall for the swindle when we've been fed skewed images by the media.
Honestly, what did everyone think was going to happen when you give a 16 year-old kid a $6 million record deal? He may not have seen that much money before in his relatively short life.
Lucky for Chief Keef's neighbors, he may not be around much longer after his latest arrest.
The sad part about all of this is that Keef got the most lucrative record deal any Chicago artist, in any genre, has ever gotten. Up until this point, one of Chicago's up and coming musicians has spent more time involved with the prison-industrial complex than he has in the studio. He's going to have to honor the contract his signed with the record label at some point. Interscope is going to want a return on their investment.
Regardless of how you feel about his music, Chief Keef might've turned himself into an all too familiar image of an African-American male behind bars.
That's the s--t I don't like.
North Side POV (Sheila Quirke):
I can't claim a North Shore address, but my kid goes to school in Wilmette and I float in and out of the area regularly. My inside joke is that I could "pass" for North Shore, which is really saying something given my humble South Side steel mill roots.
That said, I've wanted to write about Chief Keef for a couple of years now, but never thought a Lake Shore liberal like myself had the street cred to pull it off. I mean, honestly, who am I to have any sort of place to talk about the socio-political-economic obstacles that Chief Keef copes with on the daily? I'm a stay-at-home white mom who carts her kids around in a late model SUV. It's okay to say that I don't have a clue. Opinions, yes, but clues, no. That's fair.
But then Chief Keef's manager went and rented a McMansion in Northfield last year. And as was expected, Chief Keef brought that trouble that dogs him so completely right up there where the tony folks live. I finally found my "in" and you best believe I'm gonna take it.
After revealing that Chief Keef scared him, fellow Chicago musician Lupe Fiasco got a personal smack down from the Chief via Twitter. I'm Team Lupe on this one. Chief Keef scares me, too, when you consider that so many Chicago kids look up to him as a measure of success. It terrifies me to see photos of him, shirt off, brandishing automatics with such bravado. It terrifies me that his music catapulted when embraced by the school kids of CPS -- those same school kids getting gunned down by those very same automatics. It terrifies me that pop starlets engaged in the same romanticization of guns and drugs (Rihanna and Miley, I'm talking to you, ladies) see their record sales skyrocket with tweens across America belting out their choruses in the back seats of minivans. Gun and drug culture scares me, but never more so when it is so successfully packaged for our children.
The fine folks up in Northfield most likely had no idea who Chief Keef was before he started getting pinched for driving 100 MPH on the Edens and making the news. Those same socio-political-economic challenges that a black kid (even with a six million dollar record contract) deals with coming out of Englewood are like a parallel universe for the good folks of the North Shore.
If you live in the North Shore, Chief Keef and what he represents--urban gangs, drugs, and gun violence -- have always been someone else's problem. Not anymore. When the guns and the drugs and the gang bangers live three doors down from you, it's suddenly not so parallel. That shit is suddenly very much your business.
In some ways, I feel badly for those folks up in Northfield. Not only do they have the old money folks from the true North Shore (is there a Glencoe, Winnetka, or Lake Forest in the house?) tsk tsking their newest neighbor -- that is what happens when you start zoning McMansions, right? -- but you have these misperceived "urban" based problems literally on your door step.
I keep waiting for a dialogue to open up here, the opportunity to talk about the great divide that is Chicago. I keep waiting for an honest discussion about South and North, gangs and privilege, violence and drugs and guns to start. But it hasn't. Right now, Chief Keef is an easy target up there in Northfield. He is a public nuisance -- little more than an embarrassment and a punch line -- that threatens Northfield property values and that's about it.
What a wasted opportunity.