Across much of the developing world,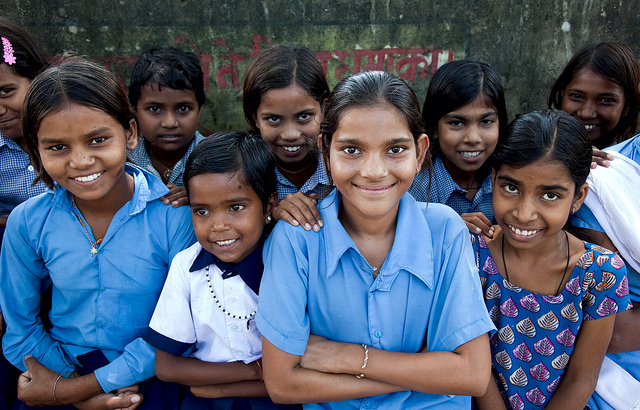 one out of every three girls is married before they turn 18. Yet they are, according to the U.N. Convention on the Rights of the Child, still children.
This week, at the 2011 meeting of the Clinton Global Initiative, The Elders, an organization of eminent global leaders first convened by Nelson Mandela, announced the launch of a major global initiative dedicated to ending this practice within a generation.
The Girls Not Brides campaign will organize a global coalition of organizations and agencies that are working to end child marriage and promote healthy lives of opportunity for the world's girls. The effort received early support from the NoVo Foundation, the Nike Foundation and the Ford Foundation, which joined The Elders in launching this initiative.
"We're saying we're going to end this in a generation," said Mary Robinson, former President of Ireland, former United Nations High Commissioner for Human Rights, and a member of the Elders. "We're really serious about it because it is not an issue we can tolerate in the 21st century."
A Serious Campaign for a Serious Cause
Girls this young are not physically, emotionally or psychologically equipped to handle the duties and dangers of marriage and childbearing. But just the same, 10 million more children -- some as young as 5 -- become wives every year.
Child marriage "robs millions of girls of their childhood, their rights, and their dignity," said Archbishop Desmond Tutu, Nobel Peace Laureate and chair of The Elders, in a statement. "Together, we and our partners commit to working together to end it."
The announcement involved a commitment by the four founding organizations to build the campaign into a fully-fledged partnership organization, with at least 150 members running programs in at least 20 countries by December 2012. They have promised to establish a network of other donors committed to this cause, and to raise $3 million to support the partnership, create a secretariat and seed activities in priority countries.
"Girls Not Brides will raise awareness globally and support activists and organizations that are already doing the hard work of fighting against this harmful practice," said Jennifer Buffett, president and co-chair of the NoVo Foundation. "While such efforts exist in many countries, they are mostly limited and lacking the critical mass to affect significant global change. The backing of this international coalition will make a profound difference in their ability to make an impact."
These international human rights agreements -- onto which most of the world's countries have signed -- specify, among many other things, that anyone under 18 is a child; that no one, regardless of age, can be forced to marry; and that everyone is entitled to health, education and security. The international community has agreed on these standards, but every year, millions of girl children are forced to marry against their will, and then often deprived of these basic rights.
Robinson points out how the low status of girls in many societies provides an excuse for people to disregard their rights. "If 25-year-old women abducted 11-year-old, 12-year-old, 15-year-old boys and said, 'Now that's my husband,' the world would go mad," she said in the video The Elders released to publicize the campaign's launch. "They'd say, 'This is absolutely outrageous.' And the fact that it happens for millions of girls is a very real indication of how low the status of girls is ... and that's what we have to combat."
Child marriage ravages the health and well-being of the most vulnerable among us. Young girls are many times more likely to die in childbirth than are women in their 20s. They are more frequently stricken with pregnancy-related injuries such as fistula, a gruesome internal tear with dire consequences. Child brides are more likely to contract HIV, as they have little power to refuse sex.
Girls who are married are invariably taken out of school, which circumvents their potential of developing the knowledge and skills to become independent actors and help pull themselves and their families out of poverty. And this problem has implications beyond the individual; educating girls has a widespread impact on the development of their societies, so child marriage that holds girls back from school hinders the progress of entire countries. Child marriage, in fact, prevents nations from moving toward six of the eight Millennium Development Goals.
As Secretary of State Hillary Clinton recently pointed out in remarks to the first-ever Asia-Pacific Economic Cooperation High-Level Policy Dialogue on Women and the Economy, "What is unhealthy is for women to be denied the chance to contribute fully ... [b]ecause that denies everyone -- and every country -- a chance at greater prosperity."
The connection between prioritizing females and raising living standards has gotten increasing attention in recent years. And those involved with Girls Not Brides see the fight against child marriage as central to the work of ensuring that women have a chance to contribute to the progress of their societies.
Bringing Needed Attention
"We want to put ending child marriage at the top of the international agenda," writes Mozambican social and political activist Graça Machel of The Elders. "I find it remarkable that so little attention has been paid to an issue that has a devastating impact on the life of an estimated ten million girls every year, and which is at the root of so many development challenges."
Thanks to the Elders and their partners on the Girls Not Brides campaign, that lack of attention ends now.
"This campaign, I'm going to be as committed to it as I was committed to the ending of apartheid," Archbishop Tutu said. "It's that kind of campaign for me. We're going for this."
Photo: Graham Crouch/The Elders
Popular in the Community