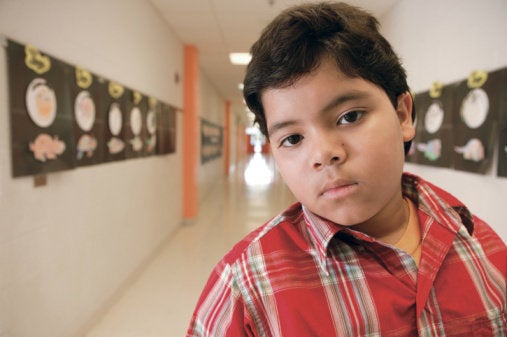 Jamie Oliver's Food Revolution, a reality television program, surprised critics with its higher-than-expected ratings when it premiered against the NCAA basketball finals and a popular food show on Friday, March 26. Even more surprising, the show's audience continued to grow, and over half a million people signed a petition in support of Jamie's revolution. The popularity of the program may reflect on the increasingly urgent public health issue of childhood obesity.
Shortly after Jamie's Food Revolution was launched, I attended a question-and-answer session with Jamie where about a dozen or so other journalists quizzed him on a range of issues. He responded with passion and authenticity, clearly demonstrating his commitment to changing how American kids eat, which is sparked by the alarming incidence of childhood obesity (and its attendant future medical problems) and his belief that children's bodies are being inadequately nourished.
Jamie was adamant about teaching children to cook. "If there's one thing that will save a family and save them money ... and reinforce family's health, the one thing that any family could do is learn to cook. If you know how to cook four, five, or 10 simple dishes that are affordable and nutritious, then you've got choices. And if you can't cook, you haven't got choices."
Jamie points out that parents are cooking fewer homemade meals, opting instead for the convenience of prepackaged and fast food. Compounding kids' nutritional deficit is the practice of eating processed, high-fat food for breakfast and lunch served in schools. Strapped for cash, many schools are forced to resort to United States Department of Agriculture subsidized meals that are cheap and easy to prepare.
These two trends are fattening up children whose palates are being trained to prefer french fries over fresh food. Most telling is one episode where the majority of children in an elementary school class did not recognize a potato or tomato and another scene where children are trying to use unfamiliar tools―silverware.
Jamie's revolutionary purpose is clear. Jamie wants to teach children to identify and eat healthy food and prepare their own meals. His efforts are in tune with First Lady Michelle Obama's national task force, whose goal is to "end the plague of childhood obesity," and its initiative, Let's Move.
In a sense, both First Lady Michelle Obama and Jamie Oliver have become the PR people for ChopChop, The Fun Cooking Magazine for Families, a new quarterly food magazine for kids age five through 12.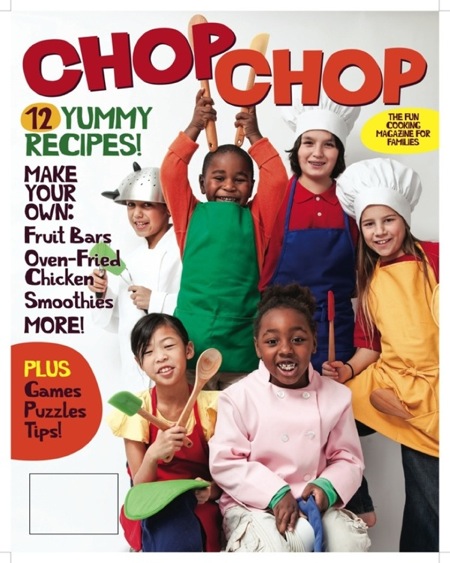 Photo courtesy of ChopChop magazine
Quite coincidentally, ChopChop arrived in my mail the same day as the monthly issue of Cooking Light magazine. The articles in ChopChop were cleverly written and the recipes so inviting that I continued reading until I had devoured the entire issue.
Sally Sampson, the magazine's founder and author of 21 cookbooks, has assembled a high-powered advisory board to help execute her vision. Besides being filled with nutritious, great-tasting, ethnically diverse and inexpensive recipes, ChopChop contains games, a question-and-answer section and interesting and little-known food facts.
The magazine has distributed 150,000 copies of the first issue to homes, schools and physicians' offices in 50 states. The annual subscription rate is $9.95 and, since I want to send a subscription to my grandchildren in France, I did some research and found that the magazine can be mailed internationally.
Through ChopChop magazine and its Web site (currently being expanded), Sally wants "to educate kids to cook and become nutritionally literate, to empower them to actively participate as health partners with their families and to help establish and support better eating habits for a lifetime of good nutrition." As a by-product, Sally hopes that her efforts will aid in preventing or reversing the current crisis in childhood obesity.
Part of the task of both Jamie Oliver and Sally Sampson is to encourage parents to address their children's need for healthy food that won't pack on pounds. With one out of three children either overweight or obese, parents need to become involved. Medical professionals, educators and others involved with children report, however, that parents of overweight children seem unaware of the looming crisis.
What causes parents to turn a blind eye to their child's surplus pounds? Is it because they don't want to change their own habits? Do they feel guilty? Are they unaware of the potential health issues? Do they not see the padding on their child? Do they have an idealized version of their child that reality doesn't intrude on?
For the answers to these questions, I turned to Dr. Edward Abramson, author of a soon-to-be-released book, It's Not Just Baby Fat. Dr Abramson explains:
There are several reasons why a parent might not recognize a child's excess weight. It might be cultural. For example, Europeans who grew up in the aftermath of World War II having experienced deprivation might see excess fat in their kids as desirable. Likewise, among Hispanics and African Americans, a fat child might be seen as a healthy child. In some minority groups, the prevalence of childhood obesity is significantly greater, so a mother comparing her child to other kids in the neighborhood might not see her child as too fat.

Another possibility, as you suggest, is that focusing on a child's weight requires that an overweight parent examine his or her own weight issues. With the stigma and guilt associated with obesity, a parent might just want to avoid the whole issue and assume that the child "will grow out of it."

Also, the criteria for adult obesity are more easily defined. There are body mass index (BMI) charts or even other adults that an individual can use as a yardstick. Kids are still growing, and they grow at different rates, so the criteria for determining when a child is too fat aren't as obvious.
Obviously, the issue is a complex one and requires all the input we can muster. The three resources we've highlighted here--Jamie Oliver, the Let's Move campaign and ChopChop magazine―are wonderful places to begin.