The rescue team in Chile is relying on Oakley eyewear to protect the miners' eyes when they are brought back to the surface.

A few weeks ago, Oakley was approached by a Chilean journalist who was covering the rescue efforts and had recommended Oakley to the Chilean private health insurer, known as ACHS "Association Chilena de Seguridad", for eyewear protection for the miners once they surfaced.

Based on their requirements and full product specifications, Oakley donated 35 pairs of Oakley Radar® with Black Iridium® lenses in Path™ and Range® lens shapes for the miners who will need the protection of Oakley sunglasses as their eyes return to normal. Minister of Mining Laurence Golborne (who is leading the rescue) has asked to wear one of the extra pairs to show solidarity.

About the product:

* Oakley Radar sunglasses feature a single-lens shield that wraps around the eyes. This will give the miners optimal protection from sunlight — not just straight ahead but at the sides of their eyes.
* The Radar frames will be matched with Oakley's darkest lens. A Dark Grey base is combined with Black Iridium lens coating that balances light and reduces glare. The miners' color perception may be reduced after the long period in dim light, and this lens is designed to maintain accurate color perception.
* Two lens shapes ("Path" and "Range") will be included with the interchangeable lens design. Both shapes provide excellent coverage, and the difference in shape will allow for variances in facial anatomy to give each miner the best possible sun blockage.
* The miners' eyes will be dilated, and this brings the risk of added UV exposure to delicate structures within the eye. Oakley Plutonite® lens material filters out 100% of all UVA, UVB, UVC and harmful blue light up to 400nm.
* Radar lenses are enhanced with a hydrophobic/oleophobic coating that prevents water from leaving sheens that can obstruct vision. It also sheds mud and repels oils and dust. This will help keep the miners' vision clear during rescue operations.
* It will take extended time for the miners' eyes to return to normal, and ordinary activities will come with added risk. For high-velocity and high-mass impact resistance, Radar sunglasses meet the uncompromising standards of the American National Standards Institute's Z87.1 testing series.
* Radar exceeds the Z87.1 standards for visual clarity and fidelity, so the miners will have the best possible vision as their eyes return to normal.

Our hearts are with the rescue team and the miners as we hope for a joyous end to the crisis.
Update #2: A spokesperson from Oakley told the HuffPost that the miners are wearing two different sunglasses models and that each one retails for $180.
Update #1: MSNBC reports that the sunglasses cost $280 a pair, but other outlets, including CNBC report $450. Also from CNBC:
In worldwide television impact alone, Oakley garnered $41 million in equivalent advertising time, according to research done for CNBC from Front Row Analytics, a sponsorship evaluation firm.

[...]

Front Row broke the exposure down by country. Oakley will get the most exposure in China ($11.7 million), $6.4 million in the United States, $898,000 in the United Kingdom and $703,000 in Chile.
The Telegraph reports that the sunglasses were all "donated by the American company, Oakley, which will provide 100 percent protection from ultraviolet light. Medics have warned of damage to the miners' retinas when they reach daylight after so long underground."
Yes, in fairness, Oakley is being somewhat charitable here -- but news of its eyewear donation was leaked to the media well before the actual rescue, and we're willing to bet that leak was no accident. The worldwide media is riveted to Chile right now, offering an unprecedented amount of media attention -- which means millions of eyes on the Oakleys these miners are wearing. And any positive association with this heart-warming event could certainly benefit a brand.
What do you think? Are Oakley's actions in good taste?
Chilean miner Mario Gomez waves upon exiting the Phoenix capsule after being brought to the surface wearing his Oakleys: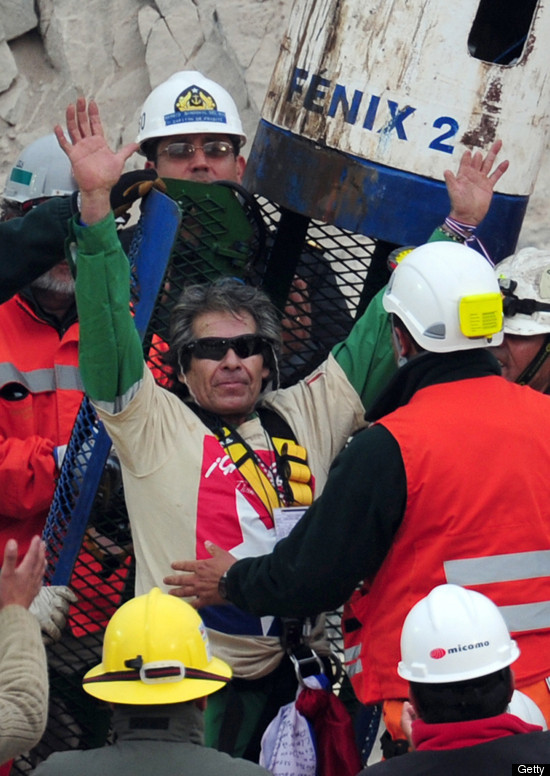 Related