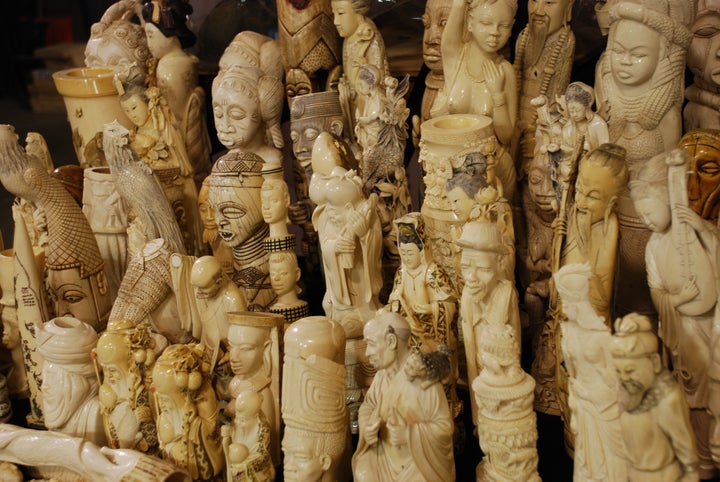 Recognizing that consumer demand is driving the extinction of wild elephants across Africa, the Chinese State Council has pledged to halt the commercial sale and processing of ivory and ivory products over the next year. This historic announcement, which moves forward commitments made by President Obama and President Xi Jinping in September 2015, will contribute significantly to protecting elephants in the wild and stopping the scourge of ivory trafficking. By March 31, the government will shut down a significant number of ivory outlets and businesses, and by December 31, China's ivory market will be closed.
I can't overstate the importance of this action. Halting commercial ivory trade in China will not only make it difficult for consumers to obtain ivory, it also sends a clear message to the citizens of China that ivory is no longer a socially acceptable product. That will not only make it difficult for consumers to obtain ivory. It will also go a long way toward reducing the demand for ivory ― and its desirability as a status symbol among millions of consumers.
Elephants remain in jeopardy. But history shows that restricting trade in ivory works. When the United States and other signatory nations to the Convention on International Trade in Endangered Species of Wild Fauna and Flora (CITES) ― the world's largest international treaty dedicated to regulating wildlife trade ― banned international trade in ivory in 1989, elephant populations in the wild began to rebound. Over the next two decades, populations in Asia and Africa expanded steadily, helped by the trade ban and international efforts to provide protected areas for elephants and otherwise reduce conflicts with local communities.
However, this progress has been significantly reversed in recent years, as rising affluence in Asia and other parts of the world has led to increasing demand for ivory and other illegal wildlife products. Poachers have killed more than 100,000 elephants over the past five years, threatening wild populations with extinction.
This recent surge in elephant poaching and trafficking made it clear that restricting international trade wasn't enough. The nations of the world also had to act to close their domestic ivory markets. The United States did so in July 2016 and now with China's commitment, two of the world's largest ivory markets will be closed by the end of this year.
Shutting down domestic ivory markets, as the world called for at both the IUCN World Conservation Congress and the 17th Meeting of the Conference of the Parties to CITES, will make it far easier for law enforcement agencies to prosecute and jail criminals who continue to trade in ivory.
On behalf of the U.S. Fish & Wildlife Service, I want to thank and commend the People's Republic of China for taking this bold and consequential step. Chinese leadership is essential to global wildlife conservation, and we are proud to stand with the Chinese people to support elephant conservation across Asia and Africa.
I'm more optimistic than ever that we will succeed in sustaining wild elephant populations for generations to come.
Related
Popular in the Community