This post is co-authored by Jonathan Poon
The period 2015/2016 is unique and remarkable for the development prospects of China. First, last week China took part in the UN global summit regarding the adoption of 17 sustainable development goals for the next 15 years. In June, in Paris the Chinese Prime Minister Li Keqiang made several commitments on emissions of carbon dioxide (stop growing by 2030) and carbon intensity (cut to 60 to 65 percent by 2030). Second, 2016 marks the beginning of China's 13th 'Five Year Plan', which will be the first time that sustainability becomes a key target for Chinese cities. Third, the State Council released its first ever 'big data' policy framework earlier this month as crucial support towards the above policy goals.
China's steady decline in GDP growth since 2010 - the lowest since 1990 - and the increased domestic pressure for a better environment and air quality are pushing decision makers and industries to (re)allocate resources more strategically and pay a much stronger focus on efficiency and sustainability. Data, metrics, and technology will be absolutely critical for smarter decision-making in China. My student Christopher Lewis recently defined 'smart city' as "the growing ecosystem of networked devices that supports responsive governance and improves urban life." Open source data along with publicly available government data provide the necessary information needed to run groundbreaking prediction models, knowledge management tools and data miners. Together they allow Chinese decision-makers to focus on service-delivery, oversight and accountability in a 'smarter' way.
For example, the intra-city transport system in many Chinese cities could be revolutionized with enhanced data collection and analysis. While China's advanced train network operates 16,000 kilometers of high-speed railways covering the most challenging terrain, intra-city connections for commuters have been far more hectic than the swift long-haul rides.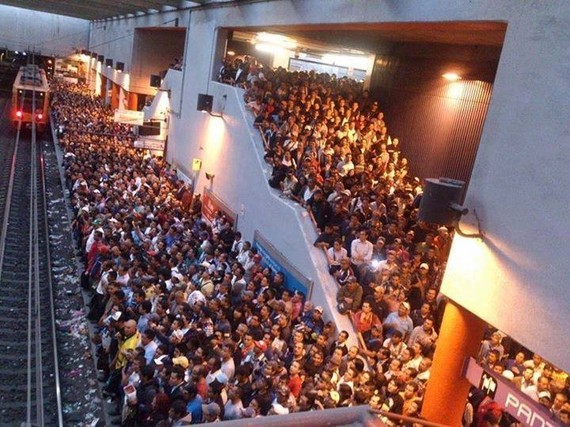 The capacity of existing train stations is insufficient to handle the ever-increasing transport needs. Hence, many high-speed trains need to stop at newly-built stations located in the outskirts with limited public transport options. For instance, the Bus-Rapid-Transit ride from Xiamen North Station to the city center 26 kilometers away would require over an hour and a half, considering also the time to navigate through the hustle and bustle at the station. More extreme cases can be seen in smaller cities, where the roads to their train stations are almost unpaved, with local buses and unmetered taxis the only choices.
Indeed, many Chinese cities are facing hardship in tapping the intra-city public transport needs from their boom. The lack of comprehensive analyses on transport data has led to irresponsive policies, thus delay in introducing well-planned transportation infrastructure in these urban areas. This incentivizes growing dependence on private cars, which aggravates the economics of committing to new infrastructure or policies; and further jeopardizes public transport development and air quality.
The Ministry of Housing and Urban-Rural Development estimates that, from 2010 to 2025, 300 million of its residents will relocate to cities. Facing its ultimate goal of a 70% urbanization rate by 2025, China desperately needs a paradigm shift in its urban transport regime; and its State Council's latest policy on advocating big data application would be a perfect leverage point. More systematic collection and application of transportation data would facilitate coordination between ministries and possibly avoid disconnected policymaking, the root cause for unparalleled developments between high-speed rail and urban transport networks.
An improved capability to collect and integrate new raw data - service accessed, commute patterns, location and time of use (usage patterns), number of passengers, potential delays, journey time, traffic peaks, routes, maintenance schedule, environmental data and geospatial information - would allow Chinese authorities to create new information products and reduce costs of delivery, improve service-delivery and improve crime response rate. All of these affect perceptions on public transport and thus, are key determinants of the commuters' decision to ride on public transport against driving.
China could refer to Hong Kong's success in promoting dependence on public transport through a set of integrated policies on its urban transportation network, which is largely framed by the city's well-regarded metro system; and a competitive bus and minibus network. A well-integrated transportation system would enhance the overall ease of commuting with public transport. And such consideration should extend out of the transportation vehicles to all related infrastructure, which shapes the landscape.
The Central Elevated Walkway system in Hong Kong's Central Business District (CBD) is a perfect example of government's possible responsibility in coordinating the macro transportation landscape in the city. Being built jointly by the government and private developers, the extensive footbridge system connects over 25 office buildings and brings workers in the area invaluable convenience, especially during the monsoon seasons. It also adds vivid appeal to public transport, by creating covered or even air-conditioned links between offices, metro station exits and bus stops.
Successful planning and implementation in the urban transportation network should be based upon a robust scrutiny on the various information concerning commuters' preference, ridership pattern, road space consumption, etc. Indeed, the ability to make the most-informed decisions is the fundamental motivation for employing ICT, or the 'smart city' approach in modern policymaking.
But how to implement it in China? Using urban rail as an example; currently, all urban rail development proposals must be endorsed by the National Development and Reform Commission, which maintains a conservative, strict national standard for giving green lights to such capital-intensive projects. The standard is calibrated by 74 indicators covering demand, technicality, safety, costs, etc. However, none of them concerns data collection on usage patterns or rider preference. If such criteria had been formalized under the guidelines, the 94 metro lines that are currently built in over 30 Chinese cities would be able to integrate better within each cities' transportation regime; and positively influence commuter's preference to a greater extent.
Notwithstanding the constant worry about the slowdown, the economy of the dragon nation is still expecting an annual growth of 7%. If both the base effect for the second largest economy and the rapid urbanization are considered, massive work could possibly be done on improving China's urban transport system over the coming decade. It is crucial to develop mass transport as the prime choice for urban commuters in the country. While the dynamics in China and Hong Kong are different, the reference from Hong Kong in promoting its public transport system is still a global best practice; and thus should still be taken into consideration when drafting the master plan, if any, on intra-city transport for every Chinese city.
Jonathan C Y Poon is a class of 2016 master candidate at the Columbia University's School of International and Public Affairs, concentrating on energy markets, energy policy, and urban infrastructure development.
Calling all HuffPost superfans!
Sign up for membership to become a founding member and help shape HuffPost's next chapter