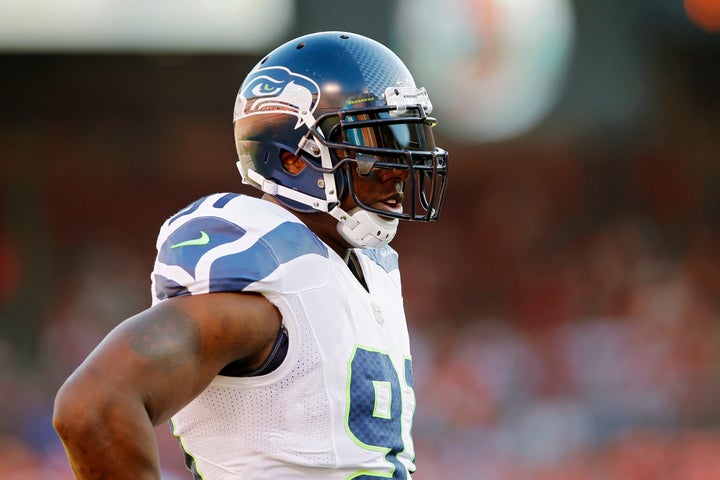 WASHINGTON -- There has never been an openly gay player in the NFL, and Seattle Seahawks defensive end Chris Clemons thinks it might be best if it stays that way.
In a series of tweets on Tuesday, Clemons said he didn't think it would be a good idea for a player to come out of the closet while playing professional football, although he insisted he wasn't homophobic.
"Who on Gods earth is this person saying he's coming out of the closet in the NFL?" tweeted Clemons.
"Based on interviews over the past several weeks with current and former players, I'm told that a current gay NFL player is strongly considering coming out publicly within the next few months -- and after doing so, the player would attempt to continue his career," wrote Freeman.
He added that the player believes it is "now time for someone to take this step" but is worried about the reaction of homophobic fans.
Clemons then explained that he wasn't against playing with a gay teammate, but he thought coming out of the closet would be a "selfish act" by the player in question.
He also said that one's sexuality should be left "at home" -- even though heterosexual players are able to be very public about their relationships.
"I know there may be players who share Clemons' sentiment but asking a player to remain closeted is the only selfish act in this situation," Hudson Taylor, the executive director of Athlete Ally, said in a statement. The group works to end homophobia in sports.
"No one should ever have to hide who they are," Taylor said. "It is time for all of us to commit to making sports a better place. We need to standby the lessons of sportsmanship and camaraderie. Let's learn from the experiences of Jackie Robinson and be on the better side of history."
In a Wednesday interview on ESPN Radio New York, New England Patriots tight end Rob Gronkowski expressed a very different viewpoint than Clemons, saying it would be completely fine for the NFL to have a gay player.
"You've got to accept the player," said Gronkowski. "Everyone has their own ways to live their life and as long as he's respecting me, keeping distance, respecting myself, I'll respect him back. If he's being a great teammate and he's a guy on the field doing a great job, well then you've got nothing to complain about. He's another teammate and another friend."
Baltimore Ravens linebacker and outspoken LGBT ally Brendon Ayanbadejo said this week that he believes the NFL will have an openly gay player by 2015. He believes, however, that a major league baseball player will come out first.
LGBT allies have already started preparing for an NFL player to come out, making sure he will have a solid support system if he chooses to do so. Athlete Ally and other groups are meeting with NFL officials next week in an attempt to create a more inclusive climate within professional football.
REAL LIFE. REAL NEWS. REAL VOICES.
Help us tell more of the stories that matter from voices that too often remain unheard.
BEFORE YOU GO
PHOTO GALLERY
Straight Professional Athletes Who've Come Out In Support Of LGBT Rights