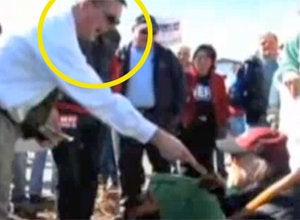 Chris Reichert, a Republican against the health care reform law, says that he is ashamed of himself for berating a man with Parkinson's disease at a Columbus, Ohio rally a week and a half ago.
Reichert was captured on video outside the offices of Democratic Rep. Mary Jo Kilroy, screaming and throwing dollar bills at Robert Letcher, a supporter of the Democratic health care reform who was seated before him. Reichert shouted "If you're looking for a hand-out, you're on the wrong end of town."
Earlier this week, Reichert denied that was the protester on the tape, according to the Columbus Dispatch. The newspaper shot the video.
But Reichert has since recanted and admitted that he was the protester in the video. He described his behavior as "shameful" and told the Dispatch that he "absolutely snapped." Reichert said that he hasn't slept since the episode. The Dispatch reports:
"I wanted this to go away, but it won't and I'm paying the consequences," Reichert said.

He said he's fearful for his family after reading comments about his actions on the Internet.

"I've been looking at the web sites," he said. "People are hunting for me."
Reichert told The Dispatch that the protest was his first and that he'll never go to another. He said that he donated to a Parkinson's disease group to start "the healing process."
While Letcher, the target of Reichert's words and dollar bills, told The Associated Press that he's skeptical of the change of heart, he said that he was worried by threats of physical violence against the man who yelled at him. The Associated Press reports:
Letcher told The Associated Press that he is "totally sympathetic" and offered to join Reichert in a public service announcement making a plea for the Reichert family's safety.

"I feel the urgency of freeing him from the same sort of fear of physical violence that he and other ... people attempted to induce in me," Letcher said.

He said, however, that he remains skeptical of Reichert's change of heart and that the contention that he snapped is "totally lacking in merit and credibility."

...

Letcher, a former engineer and university lecturer, asked: "Shouldn't the aggrieved have a say in what might start a 'healing process?'"
Both supporters and opponents of health care reform attended the rally on March 16. While the video showed many contentious scenes, Reichert's actions stood out and were replayed on cable news.
Calling all HuffPost superfans!
Sign up for membership to become a founding member and help shape HuffPost's next chapter