Most of us have just taken down our Christmas trees and welcomed in the new year. But as I am just now getting around to writing about my fantastic trip to Berlin this past Christmas, you'll have to bear with my holiday cheer a bit longer. I don't think it's ever too early to start planning for next Christmas. So if any of you have dreamt of spending Christmas in a winter wonderland, then read on and start planning for a German Christmas next year!
I have been curious about the city of Berlin since I watched the fall of the Berlin Wall on television back in 1989. That fall we intently followed the changes in Berlin, and throughout East Germany, in my German class at school. When I first visited Germany in 1990 with my father, there were conversations about the end of an era, the end of "the haves and have-nots." Coming from America, the land of freedom and opportunity, it was hard for me to imagine such a divided world, especially when that other world was in your own backyard. Almost 25 years later, there is little evidence of the former divide within the cosmopolitan city of Berlin. This is especially true at Christmas time, when the entire city comes to life in a blaze of twinkling lights. On top of all the lights and decorations, Berlin hosts over 60 Christmas markets annually, making it one of the top cities for tourists to visit during the Christmas holiday. Before I headed to Berlin this past Christmas, I emailed Berlinerin Luisa Weiss to get a few of her tips on where to eat and what to see when visiting the city. If you aren't familiar with Luisa, she writes one of my favorite blogs,The Wednesday Chef, and is also the author of My Berlin Kitchen. Here is a list of my favorite Christmas markets and restaurants in Berlin, plus a couple of great local spots recommended to me by Luisa. I think even Ebenezer Scrooge would be feeling festive after visiting a few of these holiday hot spots!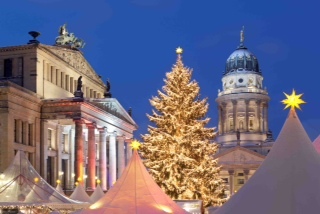 Gendarmenmarkt - Located between the Deutschen and Fransözichen dome, the Gendarmenmarkt is open daily from November 25th-December 31st. This is probably one of Berlin's most famous Christmas markets, and in my opinion, one of the most beautiful too. The market is filled with stands selling everything from Christmas ornaments to hand-knitted scarves. There are plenty of food stands as well, selling mulled wine and a variety of culinary delights. Behind a large statue in the middle of the Gendarmenmarkt is a stage where fire jugglers, singers and a variety of other performers keep audiences entertained.
Berliner Weihnachtszeit - Located near Alexanderplatz and the Rathaus, this market is open from November 25th-December 29th. It offers visitors a variety of Christmas stands, selling everything from wooden ornaments to gingerbread cookies. There are spirits to sample and purchase from the Fitzke distillery in the Black Forest, as well as festive treats, including roasted chestnuts and mulled wine. The 50-meter high ferris wheel looms over the Christmas market, offering market goers a birds-eye view of the festivities. In addition, the Berliner Weihnachtszeit has an ice skating rink built around the Neptune Fountain, and a stable offering pony rides for small children.
Schloss Charlottenburg - Known as the most romantic Christmas market, the Charlottenburg Christmas market, located on the grounds of the old palace, offers a picturesque setting. The market is open every day, except Christmas Eve, from November 25th-December 26th. Visitors can enjoy both permanent and temporary exhibits within the castle, plus 150 stalls and glass pagodas nestled throughout the grounds. There are also three restaurant tents, offering local dishes from Brandenburg, as well as a variety of duck and goose-based Austrian dishes. For the children there is a separate market, which includes a carousel and a petting zoo.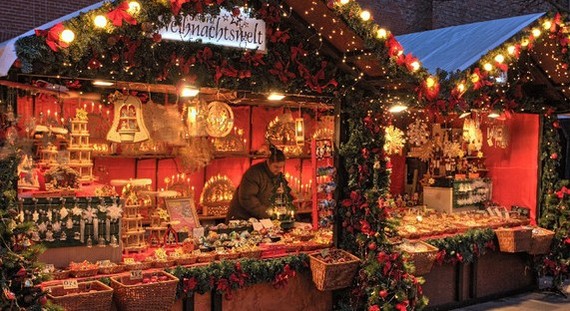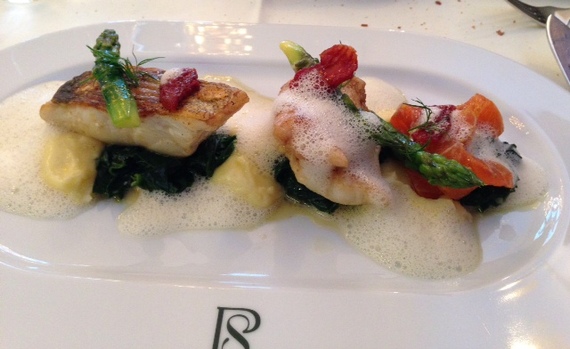 Pauly Saal (Auguststrasse 11-13) - Located in the popular neighborhood of Mitte, Pauly Saal is in an unassuming building that was once the sight of a Jewish girls school. It now houses two spectacular restaurants and a high-end art gallery. Pauly Saal is a wonderful restaurant for holiday celebrations. The decor is minimalist with alpine green fabrics and hints of leather, meant to evoke the 1920s Golden Era of Berlin. The reasonably priced menu combines classic German cuisine with innovative new twists. All items are made in house, including their baguettes. They were like no baguette I'd eaten before. The crust was richer and sweeter, with a more dense texture and earthy flavor. Be sure to try the artichoke soup with skate and sun choke chips. The fish tasting plate was as beautiful as it was flavorful. If you want something a bit heartier, try the filet mignon with braised cabbage, caramelized onions and mushrooms.
Mogg & Melzer (Auguststrasse 11-13) - The sister restaurant to Pauly Saal is located in the same building. The casual Mogg & Melzer is the perfect place to stop for a quick bite while out doing some holiday shopping. The menu consists mostly of sandwiches and soups. The pastrami sandwich, a simple sandwich of rye bread, coarse mustard and freshly shaved pastrami is a must. It's even better than any pastrami sandwich I've had in New York!
Literaturhaus (Fasanenstrasse 23) - Located in the affluent neighborhood of Charlottenburg, Literaturhaus was one of the spots suggested to me by Luisa Weiss. Lucky for me it was also two blocks from my hotel, making repeat visits a breeze. The café is actually part of a private foundation that is devoted to the promotion and preservation of German literature. Aside from the café, the building also houses a lovely bookstore and lecture halls. But you don't have to be an academic to enjoy Literaturhaus. The Tuscan style villa and lovely winter garden make it a perfect spot for both tourists and locals (there are plenty of both) to start their day. Be sure to try the potato pancakes with apples, the breadbasket with jam and lovely German cold cuts, and a strong cup of coffee.
Engelbecken (Witzlebenstrasse 31) - Another fantastic recommendation by Luisa Weiss was Engelbecken. The relaxed atmosphere and classic Bavarian cuisine brought back memories of family vacations in Germany with my father. This is the perfect spot to enjoy a German beer along with a platter of schnitzel and potato salad. The portions are huge (this photo is of a split portion), but try to save room for their apple strudel for dessert!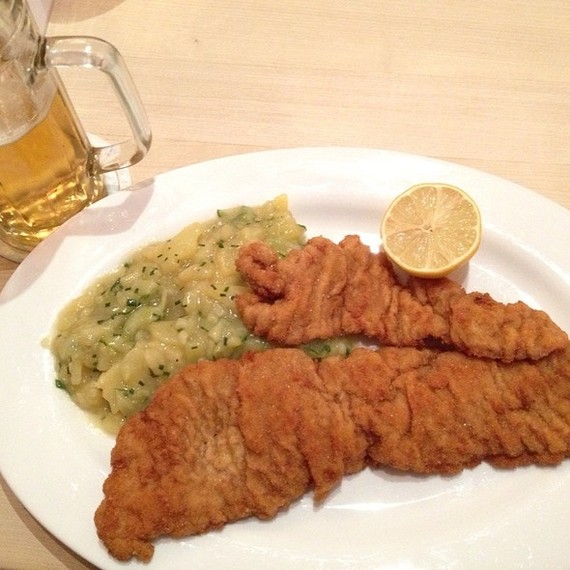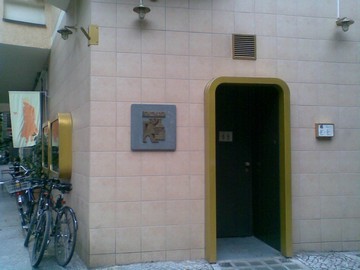 Rum Trader (Fasanenstrasse 40) - Located further down the same block as Literaturhaus sits a small door in a residential neighborhood. The sign outside the door is so small that you could easily pass by this tiny bar run by local taste maker Herr Scholl. They specialize in rum and gin based drinks, and serve their cocktails in vintage glasses that conjure up images of a pre-war Berlin. The bar is tiny and seating limited, but it's worth squeezing in to sample one of Scholl's concoctions. Be sure to try a cocktail made with Monkey 47. As the bartender explained to us, it's a gin made with 47 botanical extracts from the Black Forest. The gin was first created by a British fighter pilot. The pilot was drawn to the Black Forest and spent his time studying the botanicals of the region while staying at the "Wild Monkey" guest house. Rum Trader is a small scale operation that's big on history.
The Absinthe Depot (Weinmeisterstrasse 4) - The first time I tried absinthe was years ago when I worked at the restaurant Rubicon. I drank the absinthe like a shot, the ultimate faux pas. My imprudent act would have made Oscar Wilde shudder, and left me quite senseless. I swore I would never touch absinthe again. Fortunately, as absinthe has once again become popular, the masses (by masses I mean me) have become educated about how to properly drink it. So Berlin's Absinthe Depot seemed like the perfect spot for me to give the green ferry another try. The beautiful bottles of absinthe (they offer about 150 different bottles), reservoir glasses and absinthe spoons line the walls and decorate the windows of The Absinthe Depot. The classic décor sits in stark contrast to the young Berlin hipster crowd that fills the small bar. Cameras are frowned upon, but dogs are welcome. The atmosphere is cheerful and the staff knowledgeable. The absinthe is served in the traditional fashion, with a sugar cube and ice water being slowly dripped into the glass. It's certainly a more sophisticated and intact way to enjoy the controversial spirit.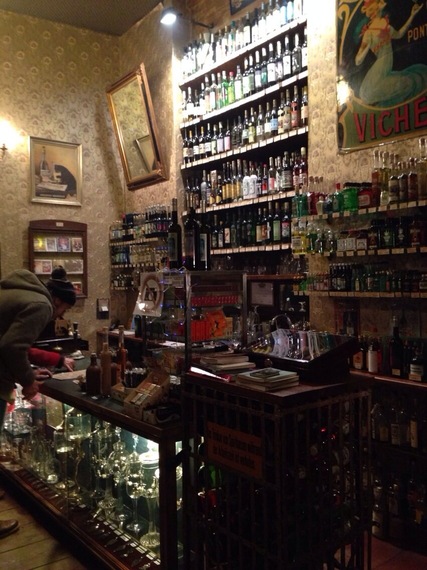 Concorde Hotel (Augsburger Strasse 41) - There are plenty of quality hotels to choose from in Berlin. I was particularly pleased with our selection, partly because the rooms were so spacious and the staff so friendly. But for me, when I am on vacation it is all about location, location, location. As previously mentioned, the hotel was a few blocks from Literaturhaus, as well as walking distance from Rum Trader. This hotel is walking distance from the major shopping area (which includes KaDeWe) and across the street from the subway station. Berlin is a huge city. Being able to easily hop on the subway is a must. It should definitely be considered when selecting a hotel, especially during the winter months.