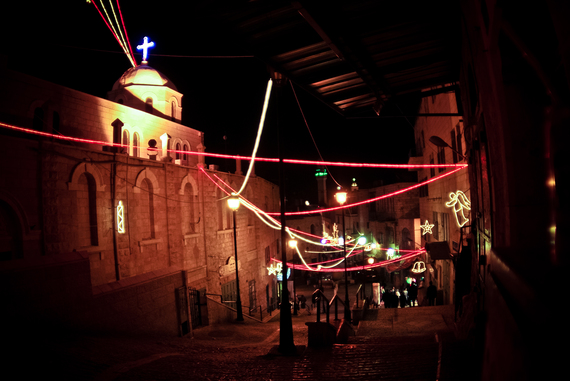 This year the main Christmas tree in Bethlehem shines brightly. In years past, though, it was sometimes a struggle to light it up because the city couldn't devote the funds to it. It's a shame, because this historic and spiritual city could be doing so much better.
Bethlehem is a UNESCO world heritage site, and it's also an example of a place where Christians and Muslims live side-by-side and are proud of their shared history.
I always make sure to visit Bethlehem on my frequent trips to Palestine. As the birthplace of Jesus, its Church of the Nativity is a must-see stop each time I go. Tourism, as you might imagine, is the main source of income for Bethlehem's economy. But in recent years, tourism has dwindled.
The separation wall cuts it off from the flow of commerce and tourism. And as a result, the city budget is tighter than ever. Hospitals and schools are deteriorating, and water access is limited. Its land area is constantly shrinking, as the few plots of greenery get built up.
City officials face many competing priorities. The city, for instance, has always had an issue with water access, and the situation does not improve. What little water the city is able to access is often of poor quality and poses a health hazard to residents. Things are made worse by population growth, and there are not enough funds in the municipal coffers to invest in the extensive repairs needed for long-term improvements.
The city of Bethlehem holds a special place in the hearts of so many people around the world. We need to ensure that it survives, and that its residents fulfill their basic needs for things like water, education and health care. As president of American Near East Refugee Aid (ANERA), I am proud to be part of an organization helping to improve conditions in Bethlehem - and Palestine more broadly, of course.
ANERA has implemented many successful water projects in the Bethlehem governorate, focusing on access, pollution and sewage management. In the village of Dar Salah, for example, our engineers installed a water network connecting 100 homes to clean water. The town's old water network was unreliable, with access getting cut sometimes for up to a week. This project is an example of a small town success story that can have enormous impact on people's lives. And it shows that even in a place as famous and important as Bethlehem is, there are still people who have a shocking lack of basic necessities.
Schools are also in need of care. The public schools run by the Palestinian Authority suffer from overcrowding, crumbling facilities, and lack of equipment like computers. They often don't have important facilities like science labs and libraries. Many schools are in desperate need of renovation and repair.
To learn how to improve the situation, we can look to one of my favorite projects: the Bethlehem Governmental Kindergarten, a model preschool we renovated five years ago. The school is a hallmark of our early childhood development program. Not only does it provide the community with an exemplary preschool, with all the necessary facilities, but it also serves as a training center for local teachers who want to learn new teaching methods.
For decades, ANERA has renovated schools throughout Bethlehem and its environs. From building new classrooms and bathrooms to providing equipment, we work to create stimulating learning environments. There is still much to do to serve the growing population of children and we persevere in our commitment to keeping dreams alive for the young people of that historic city.
The same can be said for Bethlehem's hospitals and clinics. One of ANERA's biggest achievements here was the renovation of the Beit Jala hospital several years ago. As the biggest hospital in the governorate, it serves almost 200,000 residents from the surrounding villages. ANERA renovated its ICU and administrative areas, among others.
The Beit Jala hospital is also the only facility in the West Bank serving cancer patients. Palestinians from all over the West Bank come to the hospital for cancer treatment. However there is still more maintenance and renovation needed to ensure the hospital can provide sufficient services. The old hospital, built almost a century ago, is deteriorating by the day.
So, as you and your loved ones gather for the holidays and imagine the Christmas tree shining in Bethlehem, don't forget about the need that persists there in that fragile and special place. It's important that we not let this city, an emblem of world history and a microcosm of Palestine itself, crumble into disrepair.
Since 1968, the US non-profit has provided health, education and development services to improve the lives of people in the West Bank, Gaza and Lebanon.
Calling all HuffPost superfans!
Sign up for membership to become a founding member and help shape HuffPost's next chapter