As the holidays approach, for those celebrating Christmas, the season of giving and receiving is upon us. I love traditions and certain pastimes are ingrained in me and, hopefully, my kids. For example, that they always get to open one present on Christmas Eve, and -- surprise! It's pajamas again! But most of the traditions I cherish do not involve gift giving or receiving. They involve meaningful time, or presence (not presents), with others such as cookie decorating, tree hunting, cross country skiing, puzzles, board games, and visiting with friends over some homemade eggnog (it's quietly aging now).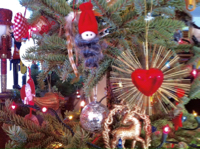 Often there is stress over the holidays about getting the right gift, the dreaded shopping, and overstretched finances. But another big stressor and potential torture test is spending time with relatives that you may not see often (or even those you do). Holidays are a breeding ground for hurt feelings. (No one understands me! Why does my uncle always ask me the same rude questions? And my mom treats me like I'm two!) Alcohol is often involved, which fuels the fire, and past hurts come to the surface. It is almost predictable how some gatherings will play out: We all show up with the same expectations as last year and we are still suffering the same hurts from the past, while we haven't spent any time together to work on or heal any of it. To avoid the odd dinner roll from flying across your table, I challenge you to try something different this year.
Prepare yourself.
How? By digging deep and opening your heart to feel love for those around you. Think of yourself as a radiator: a radiator emitting love. Try smiling frequently throughout the day, even when you don't feel like it. As a reminder, smile every time you look in the mirror. Smile while you are grocery shopping (or gift shopping -- an even bigger challenge). Smile at your spouse when you come home. All this love and smiling may sound corny, but it works! It is also contagious! Just by smiling you can change someone's day. We are all simply people learning how to express our true selves in this world. We are going to make mistakes, and we will need to be forgiven for these mistakes. We are learning, just as a baby learns to walk! Those around us are also learning and need to be seen with compassion and forgiveness. By opening up your heart you can make others feel better about themselves. And guess what -- they become nicer!
Drop your usual guards and defensive reactions and let your light shine through.
By being truly present with the people you love you are giving AND receiving the best gift. Sharing your loving energy with others is a powerful thing. Do you realize how big this gift is? When you feel love in your heart for others, whether in their presence or across the miles, you are giving them a gift of healing, unconditional love, and kindness. You are also giving them a gift of support. Support for them to feel able to express their true selves, to be who they really are, to let their inner light shine. By feeling love for others you are supporting them to feel love for themselves. To love oneself is the ticket to happiness! Think about what the future may bring when we change our current patterns. When you can love yourself, you see not only your beauty, but also the beauty in everything around you. When you love yourself, you spread your loving energy to others, providing support for them to express their true selves. And further spreading the love! Wowza! Watch out for world peace people!
By changing your response, or thinking with an open heart before you respond, you will change everything and everyone around you. It is magical, and it's your gift to offer to others. I would love to hear in the comments any experience you've had where opening your heart resulted in a positive outcome.
Happy holidays to you all! Spread the love and be the light!
Love and light,
Sue
Holistic Healer, Intuitive Guide, Nutritionist
Helping you balance and heal, creating space for happiness, connection, and love.
Exuberant Lives
Want to join me in finding gratitude everyday of December (and beyond)? Join the Gifts of Gratitude Challenge here and share three things you are grateful for everyday until December 31. Practice on your own or in our group.
A variation of this post was originally posted here.
Calling all HuffPost superfans!
Sign up for membership to become a founding member and help shape HuffPost's next chapter