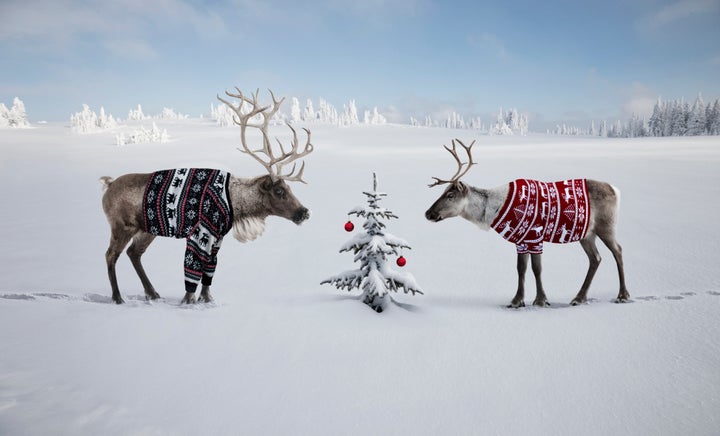 Democrats and Republicans have different ideas about the reason for the season. A significant minority of Americans are having trouble making ends meet. And opinions on the next administration remain deeply split. This is HuffPollster for Tuesday, December 20, 2016.
CHRISTMAS IS POLITICALLY DIVISIVE - Daniel Cox and Robert Jones: "Democrats are more than twice as likely as Republicans to say that stores should use more general greetings such as 'Happy Holidays' (66% vs. 28%, respectively). Two-thirds (67%) of Republicans say stores and businesses should greet their customers with 'Merry Christmas.' Political independents are about evenly divided with 44% preferring 'Happy Holidays' and 48% preferring 'Merry Christmas.'...Republicans and Democrats currently approach the Christmas holiday in significantly different ways. Among those who celebrate Christmas, Republicans are nearly twice as likely as Democrats to say they have strongly religious celebrations of Christmas (60% vs. 32%, respectively), while Democrats are more than twice as likely as Republicans to say the holiday is not too religious (36% vs. 14%, respectively).There is a widening partisan rift between Democrats and Republicans in the degree to which they celebrate Christmas as a religious holiday. In 2005, 60% of Republicans and nearly half (46%) of Democrats who were celebrating Christmas said it was a strongly religious holiday." [PRRI]
HuffPost Pollster wishes you whichever seasonally-appropriate greeting you prefer! We'll be back next year.
MORE THAN A THIRD OF AMERICANS ARE HAVING TROUBLE MAKING ENDS MEET - Marist Poll: "Americans paint a bleak economic picture, but there is growing optimism that Americans' financial picture will improve. However, for more than one in three Americans, the reality is they either have just enough money to pay for their expenses or cannot make ends meet. Many Americans believe that even if people work hard, it is difficult to maintain their standard of living. They also think the next generation will need to put in more effort to get ahead and believe that the deck is stacked against those without wealth and connections….65% of Americans say that, financially, they either live comfortably, 39%, or meet their basic expenses with a little left over for extras, 26%. However, a notable 34% of U.S. residents report they just meet their basic expenses, 24%, or do not have enough money to meet their basic needs, 10%...Optimism among white Americans has grown. 36% of whites, up from 18%, expect their family finances to improve in the next year and fewer white Americans, 10%, down from 19%, report a deterioration in their family finances. However, the proportion of African Americans who think their family finances will get worse, 19%, is up from 11% with little change in the proportion who say they expect an improvement, 46% compared with 48% in July." [Marist]
TRUMP VOTERS THINK 'AVERAGE' AMERICANS, BUT NOT 'BLACK' AMERICANS, GET LESS THAN THEY DESERVE - Michael Tesler, writing on a new HuffPost/YouGov survey: "We asked half of our respondents if they agreed or disagreed with the following statement: 'Over the past few years, blacks have gotten less than they deserve.' The other half of the sample was provided with the exact same statement, except we changed 'blacks' to 'average Americans'—a group that psychology research shows is implicitly synonymous with being white. The results show a very strong public divide in the perceived deservingness of average Americans and African Americans...A clear majority (57%) in the survey said that average Americans aren't getting their fair share in society. But only 32% agreed when that same statement applied to African Americans….Almost two-thirds of Trump voters said that average Americans aren't getting as much as they deserve; only 12% of Trump supporters said blacks have gotten less than they deserve….It appears, then, that Trump voters weren't simply motivated by their widespread belief that average Americans are being left behind. Rather, their strong suspicion that African Americans are getting too much—a belief held by the overwhelming majority of Trump voters—was a much stronger predictor of their vote choices in last month's election." [HuffPost]
AMERICANS ARE STILL SPLIT OVER TRUMP'S TRANSITION - Carrie Dann: "As President-elect Donald Trump prepares to be sworn in as the country's commander-in-chief next month, a majority of Americans say they are either uncertain or pessimistic about his presidency, even as the country is sounding a more optimistic tone about the future of the economy and Trump's ability to bring positive change to Washington D.C….The data show the extent to which the nation remains unusually divided even though Election Day is in the rearview mirror, said Democratic pollster Fred Yang….Those partisan differences are particularly stark when it comes to public approval ratings of the way Trump is handling his transition. Half of the country overall gives Trump high marks so far, compared to 41 percent who give him a thumbs down. But among Hillary Clinton's voters, only 12 percent approve of how he's handling the transition, compared to 92 percent of Trump voters. Back in 2008, 50 percent of John McCain's voters approved of Barack Obama's handling of his presidential transition, and in 1992, 63 percent of George H.W. Bush's voters backed Bill Clinton's early moves as president-elect." [NBC]
WHY DID THE ELECTORAL COLLEGE FAVOR TRUMP? - Nate Cohn: "Mr. Trump won for a simple reason: The Electoral College's (largely) winner-take-all design gives a lot of weight to battleground states. Mr. Trump had an advantage in the traditional battlegrounds because most are whiter and less educated than the country as a whole….It's the Electoral College's most straightforward bias: The battleground states count the most. Mrs. Clinton did well in noncompetitive states and 'wasted' popular votes that didn't earn her any more electoral votes, while Mr. Trump did just well enough in competitive states to pick up their electoral votes….For lack of a better word: Mr. Trump had some very good luck….The point is that the main bias of the Electoral College isn't against big states or regionalism; it's just toward the big battleground states. If they break overwhelmingly one way, that's who wins." [NYT]
HUFFPOLLSTER VIA EMAIL! - You can receive this daily update every weekday morning via email! Just click here, enter your email address, and click "sign up." That's all there is to it (and you can unsubscribe anytime).
TUESDAY'S 'OUTLIERS' - Links to the best of news at the intersection of polling, politics and political data:
-Dan Hopkins sees evidence for a last-minute swing toward Donald Trump in the election. [538]
-Margie Omero (D) asks whether America was "ready for Hillary." [HuffPost]
-Yphtach Lelkes and Paul Sniderman argue that while Democrats' policies are more popular, Republicans are more ideologically unified. [WashPost]
-An Ipsos survey shows Americans find happiness in friends, family, and the fact that the election's over. [DieHappy]
-New data shows immigrant deportations are at a low since 2007. [Pew]
-PPP (D) finds declining faith in Santa Claus. [PPP]
Popular in the Community