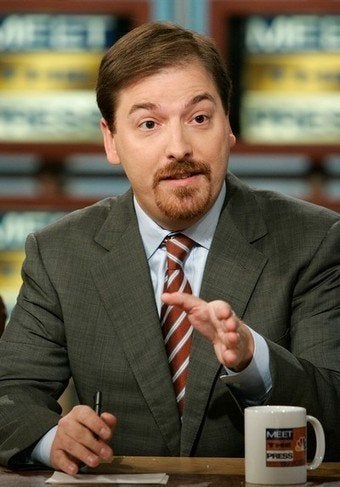 UPDATE: Chuck Todd is keeping the goatee, after all.
Todd has chosen instead to donate $1,000 to both his charity — Samaritan Inns — and Tapper's, Dr. Shershah Syed.
"The good news is we have a couple of charities that are going to benefit from my squeamishness," Todd said on the "Today" show Friday morning.
White House Press Secretary Robert Gibbs appeared with Todd, razor and shaving cream in hand, while the "Today" hosts pressured Todd — to no avail — to give up the goatee on live TV.
Original Post: Chuck Todd has lost the "Goatee Gamble."
The NBC News White House Correspondent entered into a bet with ABC News White House Correspondent Jake Tapper: if the Dodgers won the NLCS, Tapper would have to grow a goatee; if the Phillies won, Todd would have to shave his.
The alternative would be to donate $1,000 to the other's favorite charity, with Tapper supporting Dr. Shershah Syed — who he described as "an ob/gyn devoting himself to saving impoverished women in his native Pakistan" — and Todd supporting Samaritan Inns — which he described as providing "housing and recovery services to homeless and addicted men and women."
The Phillies beat the Dodgers 10-4 Wednesday night to clinch the National League pennant and move on to the World Series.
"So the last time I shaved the goatee, it took a while. First a close trim, then the electric, finally, the straight razor," Todd Tweeted shortly thereafter. "So maybe I need a professional. Old school barber? Ideas?" he followed-up.
Tapper, for his part, gloated on Twitter Wednesday night, sending the following Tweets related to the Goatee Gamble (in chronological order):
Related
Popular in the Community