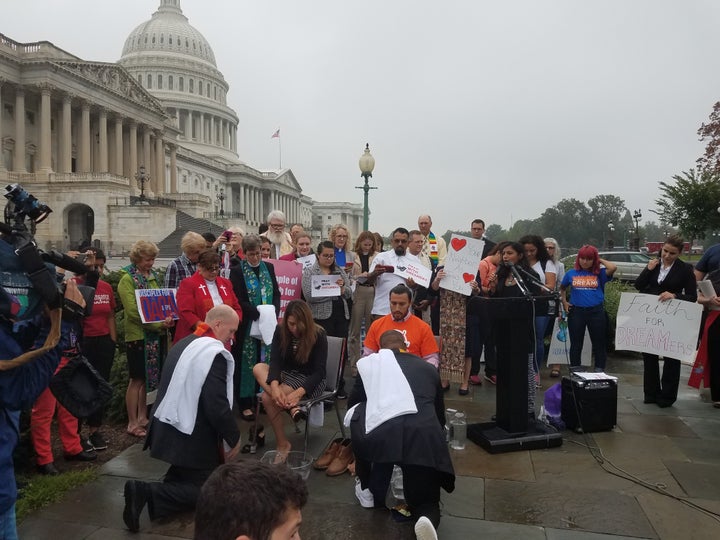 Christian leaders and activists gathered Wednesday on Capitol Hill to urge Congress to protect young undocumented immigrants.
Falling almost two weeks after President Donald Trump announced that he would terminate the Deferred Action for Childhood Arrivals program, the event aimed to shine a light on Christian ethics while putting pressure on Congress to pass legislation to protect young immigrants from deportation.
"As this president has abandoned DACA recipients, as people of faith we are calling on Congress, the administration and the broader public to pass the Dream Act," the Rev. Reuben Eckles, a pastor with Church World Service, told NBC News at Wednesday's gathering. Eckles was referring to a bill first proposed in 2001 that would grant legal status to undocumented immigrants who came to the U.S. as children, the so-called Dreamers.
To demonstrate their conviction, clergy members knelt on the concrete outside the Capitol and washed the feet of DACA recipients, mirroring a moment in Christian Scripture in which Jesus washed the feet of his disciples before the Last Supper.
To turn your back on the Dreamers is to turn your back on Christ.

Rev. Jennifer Butler
"We gather this day to bear witness to God's command to love others as we love ourselves, especially the immigrant and refugee," said Kentucky-based pastor Laurie Brock in a statement. "May our leaders restore our faith in the promises our country has made for decades… to transform this country in love, justice, and welcome."
Rev. Jennifer Butler, CEO of Faith in Public Life, commented: "The Bible says that which we do to the most marginalized among us, we do to Christ himself. To turn your back on the Dreamers is to turn your back on Christ."
Deyanira Aldana, a DACA recipient from New Jersey who participated in Wednesday's event, said: "I came [to the U.S.] when I was 4 years old to reunite with my family and received DACA when I was 16. It allowed me to get a job that did not mistreat me and did not underpay me. It helped me support my family financially and protected me from deportation. But I worry that without protection for immigrant youth, my younger brother and sister will now be deportable and that our family will be torn apart. Congress must pass a clean Dream Act to protect our communities."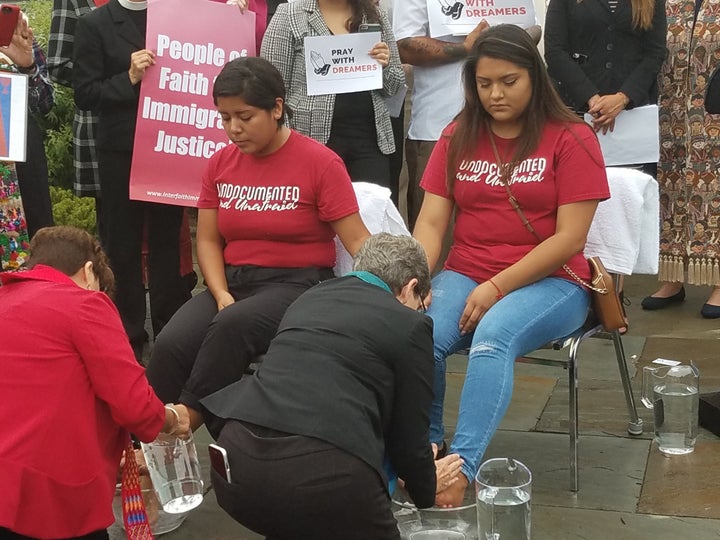 Since the Trump administration announced earlier this month that it would end DACA in six months, punting the issue to Congress to resolve, many religious leaders have spoken out on the urgency of protecting the nearly 800,000 young undocumented immigrants who could be at risk of deportation.
Pope Francis drew a comparison between immigrant rights and the anti-abortion movement, saying in an interview with reporters aboard the papal plane: "A good pro-lifer understands that family is the cradle of life and that its unity must be defended."
"I believe that this law comes, I think, not from Congress but from the executive branch of the government," the pontiff said, according to a translation by Crux. "If it is so, I have the hope that it's re-thought, because I heard the president of the United States introduce himself as a 'pro-life' man."
"This has been an ongoing effort to make sure we're being a voice for the voiceless," said Rev. Tony Suarez.
BEFORE YOU GO
PHOTO GALLERY
Immigrants Proudly Share Their American Stories On Twitter With #ImAlreadyHome