Members of Cleveland's largest police union have backed out of plans to hold the American flag for a pregame ceremony at the first Browns football game of the NFL season this month, a decision union leaders say is a response to a protest by the team's players in August.
A dozen Browns players kneeled last month during the national anthem ahead of a preseason game against the New York Giants. Although the group said they had gathered to pray, they appeared to be showing solidarity with former San Francisco 49ers quarterback Colin Kaepernick. It was one of the largest such demonstrations since Kaepernick began the controversial ritual in 2016, in protest of the continued oppression of people of color in the U.S. He later called specific attention to the high-profile killings of black men by police officers.
Kaepernick is now a free agent, and many believe his inability to find a spot on an NFL roster has more to do with his outspoken advocacy for justice than his talent.
The hazards of mixing sports and activism are now on display in Cleveland, where members of the city's Police Patrolmen's Association have opted out of an NFL pregame tradition in which an assortment of law enforcement, military personnel and first responders typically unfurl a gigantic flag across the field during the playing of the national anthem.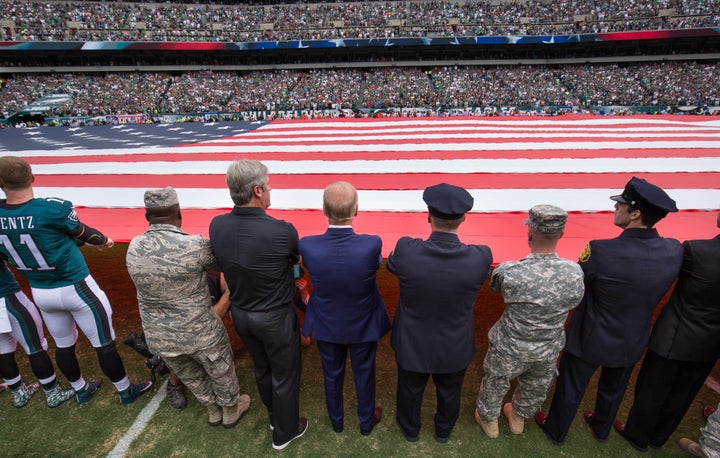 Cleveland Police Patrolmen's Association president Steve Loomis suggested leaders with the Browns and NFL were to blame for not taking a more aggressive stance against the types of demonstrations exhibited by Browns players and Kaepernick.
"[I]f the ownership of the Browns and the league are going to allow that type of stuff to happen, and then come to us and say, 'We want you to help us with the flag,' that's hypocritical," Loomis told Cleveland's Fox 8. "We're not gonna participate."
In a statement addressing the players who kneeled before the game against the Giants, the Browns organization said it had "profound respect" for the national anthem, flag and U.S. service members, but also respected "the great liberties afforded by our country, including the freedom of personal expression."
But the union had informed the Browns of its decision ahead of that game, and Saturday's display hasn't changed their mind, Thomas Lascko, second vice president of the Cleveland Police Patrolmen's Association, told HuffPost.
The president of a union that represents EMTs and other first responders has also pulled out of the event, citing similar reasons.
"The NFL brags about how they love the military and safety forces and everything that we do for this country, but obviously they don't show it because they're not setting forth any rules about [the national anthem]," Daniel Nemeth, president of a local branch of the Cleveland Association of Rescue Employees, told HuffPost.
Nemeth went on to say he'd be "an ignorant fool" to deny that racial injustice and police misconduct were legitimate issues. But he doesn't support professional athletes using their platform to shine light on "politics."
"I don't believe in using your position and where you're at to make it a big thing," said Nemeth. "From what we came from, what this nation came from, to what is now, is it a better place? Heck yeah."
City officials have reportedly weighed the possibility of finding military personnel to replace the protesting members from the police and EMS unions, according to Fox 8. But officers from the Cleveland Police Department may still end up taking the field on Sept. 10, regardless of the union's position.
"The union does not speak for the Division," public information officer Jennifer Ciaccia told HuffPost. "The Division of Police is in no way boycotting the Browns, nor denying participation in events with our officers."
Popular in the Community