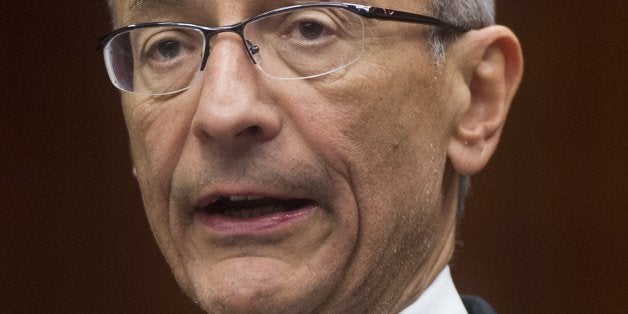 WASHINGTON -– The Obama administration's Climate Data Initiative unveiled on Wednesday uses "maps and apps" to help convince Americans to make climate change a high priority, White House senior counselor John Podesta said.
Podesta said the administration believes the effort will help make climate change more tangible for Americans. He pointed to recent polls showing that while the majority of Americans think climate change is real, they say it's not a high priority.
"I think if you're thinking about it from the perspective of the way your life, community and local environment would be affected, that's likely to change that question of salience as people really begin to understand that this can have a real impact, in the near-term, on the way the economy is built and on the structures that their lives depend on," Podesta said in a meeting with reporters Wednesday afternoon.
The initiative may raise the pressure to act in places that have so far been reluctant, said presidential science and technology adviser John Holdren. He was responding to a question about places like North Carolina, where lawmakers have passed legislation that would bar the inclusion of climate-change factors in sea level rise projections. "The more people that have information, the harder it is for a few to block action," said Holdren.
The initiative includes a collaboration with Google, which is contributing data storage and processing resources. Google has pulled together 40 years of archival information from the government's Landsat satellites to create the Google Earth engine. Now the search giant's engineers want to do more of that with climate.
"What if we could strive to make info about sea level rise, flood risk, or extreme heat and drought as simple to digest, interact with, and visualize as using Google Maps?" said Rebecca Moore, who leads Google's Earth Outreach program. While it's not yet possible, she said, "we think it is possible to get a lot closer to that than we are today."
While environmentalists endorse the White House's latest climate effort, they might be less enthusiastic about Podesta's comments on natural gas. Environmental groups have increased their opposition to the administration's policies on natural gas, which they argue generates high methane emissions, and to the construction of liquefied natural gas terminals that would be used to export it.
"I think if you look at this from the perspective, particularly of electricity generation, there's still a strong net benefit from a shift to natural gas," said Podesta. "And so we remain committed to developing the resource and using it."
"I would say the basic story on methane, including from the LNG sector, is that the emissions are definitely big enough to be worth reducing, but they're not big enough to imperil the advantage that natural gas has over coal as a way to generate electricity," said Holdren.
Podesta said that the administration is "in the throes of finalizing" a strategy on methane emissions. "I think you can expect announcement in not-too-distant future," he said.
Podesta, who said he is spending about half of his time on climate policy, declined to weigh in on perhaps the biggest climate-related decision the administration faces: the proposed Keystone XL pipeline. Podesta recused himself from Keystone considerations shortly after joining the White House from the Center for American Progress, which opposes the pipeline.
"The president knows my views on Keystone," said Podesta. "I said I wouldn't work on it. I'm not working on it."
Calling all HuffPost superfans!
Sign up for membership to become a founding member and help shape HuffPost's next chapter
BEFORE YOU GO
PHOTO GALLERY
Connect The Dots On Climate Change