The first exclusively Spanish language series, shot entirely in Mexico and conceived/created in the United States, Club De Cuervos, Netflix's brand new series is not only this summer's most binge-worthy delight, but should be applauded as a game changer in the burgeoning world of globally-designed entertainment. The series, in which billionaire Mexican siblings feud over the family-owned soccer team (The Cuervos, Spanish for "the Crows") was designed not just for a Mexican audience, but for the entire soccer-loving world, which let's face it, is almost the entire world. Much like the Spanish cousin to Netflix's current Emmy darling, Orange Is The New Black, Club De Cuervos oscillates brilliantly from laugh-out-loud comedy to poignant drama, while never dipping into Latin stereotypes or telenovela melodrama.
Created by former USC roommates, Gaz Alazraki and Michael Lam, Club De Cuervos' small, diverse writing staff, were Los Angeles based, and flown to Mexico for an extensive research trip and production shoots. A unique and unprecedented approach. Alazraki, well established in Mexico for his mega-successful film, Nosotros Los Nobles, insisted on Hollywood-trained comedy room writers who were familiar with the kind of scripted, appointment television that he liked to watch. Something that doesn't exist in quite the same way in Mexico. He cast a wide net in Hollywood. Alazraki wasn't necessarily even looking for Spanish speaking writers, he was just looking for the right writers.
One of those writers was Alessia Costantini, who became the only female on the staff and the show's Co-Executive Producer. Costantini began nearly ten years ago as a television production assistant, earned her stripes in many writers rooms as a writers' assistant, and was staffed on the final season of Scrubs. She also wrote for Everybody Hates Chris, and has sold original comedy pilots, including Building Slut to Sony. She is currently the head writer and Co-Executive Producer of CMT's scripted debut series, Still The King, with Billy Ray Cyrus.
I had the pleasure of chatting with Costantini, whose previous career was industrial engineering in her native Detroit - worlds away from the Hollywood comedy writer's room.
Xaque Gruber: You are one of five writers on Club De Cuervos. Did you feel you had a certain role in the writers' room being the only female in the bunch?
Alessia Costantini: This writing team -- Gaz, Jay Dyer, Mike Lam and Russell Eida -- was phenomenal. We were such a family. Because I was the only female in the room, part of my marching orders were to keep an eye on the way that women were depicted on the show. I was honored to have that responsibility. It was challenging because I knew we were facing a culture that had certain stereotypes in place. At the core of the show is a brother and sister - with the sister (Isabel) being the hard working one in the family. Because she is a woman, she is completely overlooked when it comes to being the president of the soccer team. Having worked in rather "male-dominated" fields such as engineering and comedy, this was something I could relate to. The perception of the main characters is that "soccer is not for girls." So the expectations are very low for Isabel. So in terms of a story that I wanted to be a part of, that was deeply meaningful for me.
Mariana Trevino as Isabel Iglesias, and Stephanie Cayo as Mary Luz Solari (photo courtesy of Netflix):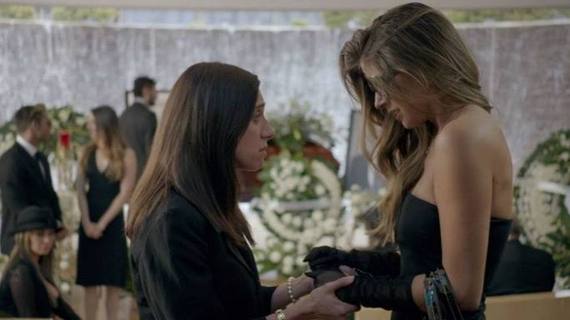 XG: How many strong female characters are there in this series?
AC: Certainly Isabel, the sister, is the central character, and then there is the recently deceased patriarch's mistress, Mary Luz. These two women want the same thing but go about it in vastly different ways and that was fun to explore. And then there are other female characters who are the former wives of the late patriarch and they have their own agendas and baggage.
XG: As an American who doesn't speak Spanish, how did you manage writing humor for a Spanish-speaking audience?
AC: What we found was that it was not as challenging as we thought. We quickly learned that we couldn't rely on clever wordplay, or turns of phrase, because those would be lost in translation. It forced us to dig deeper and write character-driven humor that resonated from a story perspective, more than the classical set-up/punchline construction. The result, we hope, connects with international audiences because it hits on universal truths.
XG: You clearly avoid the telenovela style of storytelling.
AC: It was very important to us not to resemble or spoof the telenovela style. We did not want it be melodramatic or broad. Every step of the way we were careful to keep it grounded, and realistic. When the writers first began on the show, we took a huge research trip to Mexico because we knew we had a ton to learn. We had hours and hours of interviews with Mexican coaches, players, former team owners about championship games, going to the World Cup, challenges faced in running the team. We just soaked it all in. We use real names in Mexican politics and sports to add to the realism and relatability - not just for Mexicans, but for global fans of soccer.
The Club De Cuervos writing staff (from L to R): Russell Eida, Gaz Alazraki, Alessia Costantini, Mike Lam and Jay Dyer (photo courtesy of AEFPR)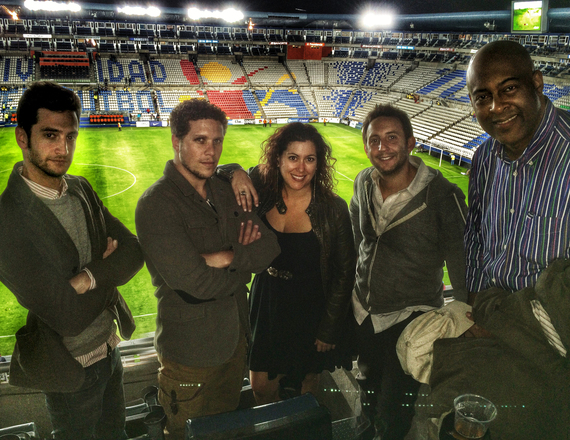 XG: Is it an all Mexican cast?
AC: No, Mary Luz, for example, played by Stephanie Cayo, is a huge star from Peru. There was a real effort made to cast Brazilians and all different Latin people - because that's how a soccer team is. We wanted it to be authentic for the global soccer stage. Also, most of our primary cast is bilingual, and this was important because the writing was done in English and was only translated at the final stage. The cast was great because they took the time to cross-reference the translated scripts with the English versions to make sure the right intentions were getting across. Gaz, the show's creator, is Mexican, and he was always present in the room, keeping us on track from a cultural perspective.
XG: And though it's all set in Mexico, you wrote the whole series in Los Angeles?
AC: Yes, we worked out of the third floor of a house in Santa Monica, and then when Gaz had to go back to Mexico for production, our writers room moved to a garage - a converted garage. But hey, Apple computers started in a garage, right? (laughs) And we were so committed to this show, we could've been doing it in an alley and loved the whole thing.
XG: How does your engineering background help you as a Hollywood writer?
AC: I think it really helps me break story and solve structure problems in the writers' room, and especially lends itself to the intricacies of TV seasons that rely on complex season arcs and inter-woven storylines. You can take a girl out of engineering, but you can't take the engineering out of a girl. (laughs) I'm definitely the room nerd! I love my story grids and character matrixes.
The Club De Cuervos writers at the show's premiere in Mexico City (from L to R): Russell Eida, Mike Lam, Gaz Alazraki, Jay Dyer, and Alessia Costantini. (Photo courtesy of Netflix):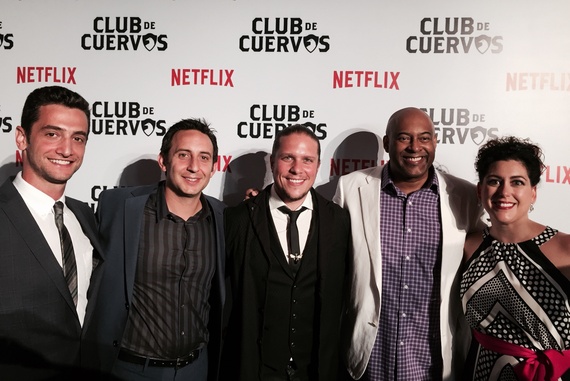 XG: Tell me about how writing for Netflix is different than writing for a network series.
AC: One thing so unique about this experience was we wrote all thirteen episodes prior to shooting. Usually in my experience writing for television, you write, shoot it, it's gone. It was so thrilling to get an idea when we were developing the finale, and be able to go back and add a hint to it in the pilot! I think that helped us write the kind of binge-worthy, complicated storytelling Netflix is known for. This show is available with subtitles in the over 50 countries where Netflix exists, and will expand to all the new territories as they launch. And this is what is making Netflix so unique. It is a global brand for content and not just a regional one. Writing "globally" is so exciting - it's a real paradigm shift for TV writers.
XG: So do you have a new love for Mexico as a result of your visits there for the show?
AC: Oh I LOVE Mexico. I have had the best time. And every time I go I fall in love with it a little bit more. We had the show's premiere in Mexico City and it was an absolutely incredible experience. Such a fascinating, beautiful city and culture.
XG: So for anyone considering a visit to Mexico, you would say --
AC: Go. The people are so warm and happy to have you there. Or watch our show and it'll feel like you've been there!
Photo courtesy of Netflix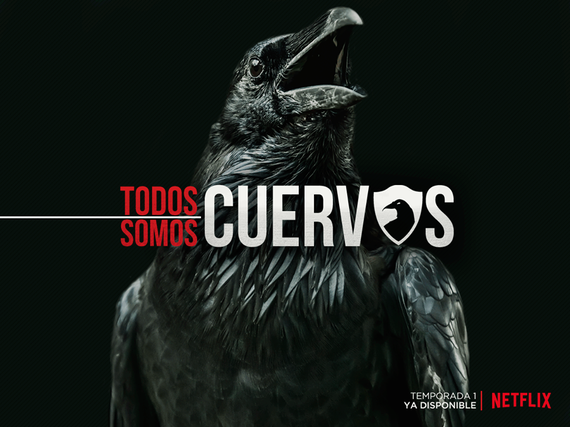 Popular in the Community