(Blogger's note: I'm part of an advisory group helping Princess Rym Ali set up the Jordan Media Institute in Amman, but ever the journalist, I couldn't resist a request to interview her, notably since CNN viewers remember her as Rym Brahimi, who covered the start of the Iraq war in 2003 and was expelled from Baghdad with colleague Nic Robertson when they ruffled Saddam Hussein's feathers).
Rather than curse the darkness, the princess who cut her teeth as a CNN war correspondent in Iraq, is serving her adopted country by setting up a media institute in Jordan similar to her alma mater, Columbia University's Graduate School of Journalism, in a bid to raise professional standards and become a regional beacon.
It's another way of keeping Princess Rym Ali, known to countless CNN viewers as Rym Brahimi, involved in her life-long passion for journalism.
"I do miss telling stories," she reflected. "What I miss is meeting all these people from different backgrounds and not being able to tell their stories. That's really frustrating."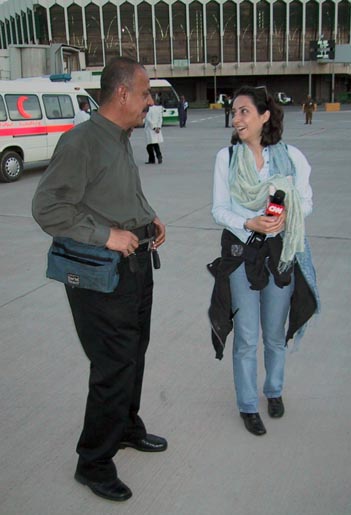 CNN's Rym Brahimi at Baghdad Airport in 2003 (Arraf)
She had endless stories to tell in Iraq, where she worked as a CNN producer and reporter for two years before the war broke out in 2003, her first experience with conflict coverage.
Asked how she felt, she replied: "I was definitely scared. I thought the main war would be quick, but I did think it would drag on with minor conflicts going on. I didn't think to that scale."
It was no easy ride given her experience speaking with, and getting to know, Iraqis. Although Iraqis were afraid to talk to other people, they felt comfortable conversing with her, and being an Arab helped, the princess said.
Princess Rym is a shy modern royal with a common touch, despite her diplomatic pedigree, cosmopolitan background and the obvious trappings of security, protocol and obligations.
She was born in Cairo in 1968 and spent her early years hopping capitals thanks to her father, veteran Algerian diplomat, Foreign Minister and UN special envoy Lakhdar Brahimi. Although diplomacy and politics weren't her cup of tea, covering them was.
"My parents had a lot of journalist friends and they would come over at the house and they always had those incredible stories of historical events they'd covered and things they'd seen," she recalled about what first inspired her as a teen to pursue that career, little realizing that travel and adventure also involved hard work and risks.
After a BA from the Sorbonne, and an MA from Sciences Po (a French Ivy League-type school) in Paris, Brahimi got another master's from Columbia's Graduate School of Journalism and began working for different news organizations, including UPI's UN bureau in New York, before moving to CNN, where she stayed for six years. It helped being conversant in English, French, Arabic and Italian.
She could take the pressure and like most journalists felt the adrenaline rush, but found "absurd competitiveness" in some situations counter-productive. In Baghdad she was upset at how certain foreign individuals in different media organizations were unfair to their local Iraqi staffers by not providing them with flak jackets and adequate protective gear.
The rush ended suddenly when Brahimi and CNN colleague Nic Robertson were expelled from Iraq in the war's early stages. They landed in Jordan and a new adventure began.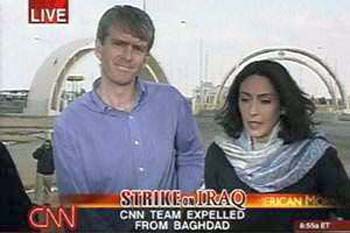 CNN correspondents Nic Robertson and Rym Brahimi expelled
from Baghdad following the start of U.S. war on Iraq
Enter Prince Ali bin Al Hussein, Jordanian King Abdallah II's half-brother who then commanded the royal guard and had asked to see Brahimi to debrief her on the situation in Baghdad, as Jordan shares a border with Iraq and has hosted thousands of Iraqi refugees.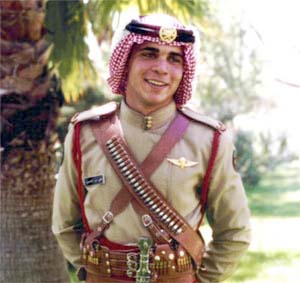 Prince Ali bin al Hussein, Princess Rym's husband
(www.princesshaya.net)
Brahimi never imagined she'd be related to Queen Rania by marriage when she interviewed the king's wife for CNN in 2003, or that she'd also end up as a royal.
"A very unexpected outcome of my being kicked out of Iraq," she said of her 2004 marriage to Prince Ali.
Since then her professional energy has been focused on the Royal Film Commission (www.film.jo) -- she's the executive commissioner - that promotes Jordan as a location for films and develops Jordan's film industry.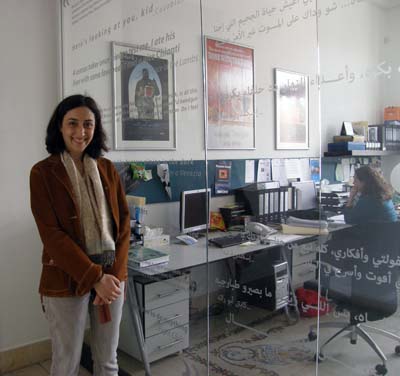 Princess Rym Ali at Jordan's Royal Film Commission (Abu-Fadil)
"We have to develop a sense of who we are through film storytelling," she explained, noting that the aims included talking to other cultures and bridging cultural gaps.
Equal enthusiasm is going into the Jordan Media Institute funded by Jordanians, the European Union, Zain telecom, advertising agency Saachi and others who have contributed money and in-kind services to establish an Arabic-language program tailored to the highest international standards.
It's a niche Princess Rym is building, coupled with an edge in technology by providing new media training in what she called Jordan's "enabling environment" and support from brother-in-law King Abdallah and Queen Rania.
Asked whether schools of journalism were a must given the changing media landscape and who a journalist is today, Princess Rym said there was a need for a process that structured learning techniques and skills as well as hammered ethics into practitioners, since ethics were a problem worldwide.
The ethics dimension came courtesy of mentor and veteran Le Monde correspondent Francoise Chippaux, a close friend who helped her as an intern at the paper in Paris and set a good example.
Another mentor was former CNN Iraq bureau chief Jane Arraf who generously shared airtime when Brahimi was transitioning from producer to reporter. "I don't know many reporters who would do that."
The princess still draws inspiration from Arraf's guidance and wealth of experience.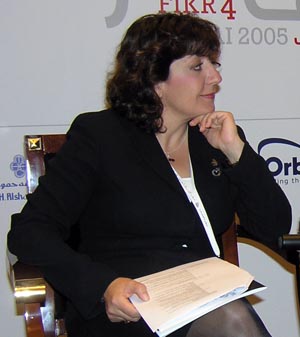 Former CNN Baghdad bureau chief
Jane Arraf (Abu-Fadil)
Multitasking and a hectic schedule also require energy to be with daughter Jalila (3½) and son Abdallah (2) before they go off to school and time together becomes more limited. Squeezed in is staying in touch with old journalist friends through email, Facebook, and phone calls.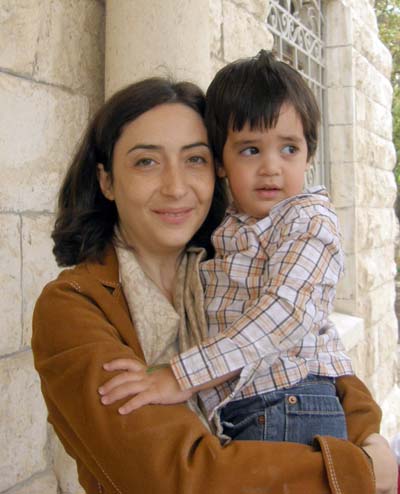 Princess Rym and Prince Abdallah, 2 (Abu-Fadil)
Her advice to young journalists today is: "Be persistent. Don't take no for an answer. Remember why you're doing this. It's not about you, it's about the story."
To her, proper journalism is a major part of a healthy society and a public service, without being tied to the government.
Related
Popular in the Community