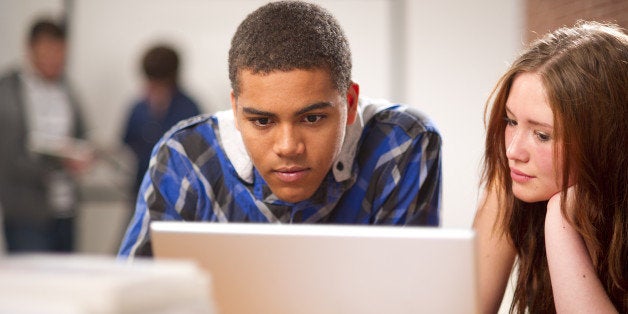 This article was written by teen reporters from The Mash, a weekly publication distributed to Chicagoland high schools.
By Bizzy Emerson, Glenbard West and Marisa Cullnan, Walter Payton
"I'm a junior and it's been a dream of mine to go to Notre Dame. Although I feel like their credentials might be a bit too overwhelming for me. If you have an idea of whether or not I'd stand a chance it'd be nice to get some feedback. Here is some of my personal credentials. Thanks!!
-Varsity soccer 3 years -3.88 GPA (un-weighted) -top 5% of my class -SAT 1900 -a lot of community service -active member of NHS -active member of ROTC -have a part time job -take all honors and AP classes."
You would think that this message is the body of an email from a college hopeful to their guidance counselor, but it's not. It's a post on collegeconfidential.com, the self-proclaimed "world's largest college forum." User jakedonn created the post to seek advice and ask others to "chance" him: weigh his chances of being accepted to the University of Notre Dame based on a snapshot of his high school resume.
"Quick glance tells me your SAT is too low. Other than that you are in the ballpark," user EJCCLC responded.
College Confidential allows prospective students to ask questions about anything from campus vibes to admissions chances. And the website's open forum isn't just for college-bound students—parents populate the site too. In fact, the "parents" forum is the sixth most popular. If you've ever logged on to the site, you know it can be highly addictive.
Sometimes, though, it offers more stress than it does support; and other times, the people dishing out advice might not have a clue about your real prospects.
"The responses people get on forums can be all over the board," said Mike Moyer, creator of college counseling site collegepeas.com and author of the book "How to Make Colleges Want You: Insider Secrets to Tipping the Admissions Odds in Your Favor." "Some people have a good reputation on forums because they provide reliable advice, (while) many people are just guessing. In many cases, however, one person's guess is as good as another."
But for many high school students, the lure of someone having "the answer" keeps them coming back for more.
"Applying for colleges is confusing, the stakes are high, and there is an acute lack of reliable information because most people don't have a lot of experience applying to college," Moyer said. "They do it once in a lifetime."
Glenbard West senior Caroline Trant first logged on to College Confidential when she was a sophomore. Her two older brothers encouraged her to check it out after using it to console their own college woes.
"You get the inside scoop. You feel like you're one of the college kids if you know the ins and outs that aren't blatantly printed on the things you get in the mail," Trant said. "It's like gossiping about college. Everyone wants to be in the loop about the 'truth.' "
Grace Chapin, the senior assistant director of admissions at the University of Chicago, agreed that there are benefits to interacting anonymously with other users through the college-themed message boards.
"College Confidential can be a good place for people to connect over the shared topic of college," Chapin said, "especially in instances where students may not have a peer group looking at the same college options that they are, or when a parent or student is a lot more into the college admissions and search process than others they usually hang out or talk with."
Chapin added that she used the site for her own college search.
The forum doesn't just connect students with common interests—it's also a place where parents can seek and provide help. College Confidential user Atlmom (real name Susan Hankins) created the forum "in loco parentis," which is Latin for "in the place or role of a parent." The purpose of the page is to give students living far from home a parental figure who can answer any questions they might have.
She provides a nearby outlet for college students who are dealing with emergencies: "auto accidents, injuries, illness, arrests or other legal situations," she wrote in a 2007 post.
"I live in Atlanta with many colleges, so a parent on the West Coast, or the student, could call me to find anything out from doctors to other issues—the same stuff I had questions about," Hankins said.
Some students use College Confidential to have other users "chance" them, which typically entails posting all of their test scores, extracurricular activities and anything else that would make its way onto a college application.
The "college chances" forum is the site's most popular with more than 1,500 threads. The forum's most popular thread has more than 1.2 million views and more than 1,700 replies.
Despite College Confidential's massive audience, many students think the "chance me" threads only enhance the anxiety felt during admissions season.
Walter Payton senior Becca Rose first checked College Confidential to monitor her dream school's early action results thread, but was turned off by some of the posts. "There are some really impressive people, but it's definitely being used (as a platform) for bragging, so I never posted. It just feels weird," she said. She's since stopped checking the website, calling it a "waste of time."
Payton senior Erick Masias was drawn to the site because users were posting their admissions letters, but the "chance me" threads only made him more anxious about his application. "I tried to not look too much because I knew that there's no formula for the admissions process and that each file is looked at differently with different contexts," he said.
Glenbard West senior Madison Chandler admitted that she uses College Confidential as a confidence booster—but even that can backfire. "I use it to compare my stats to everyone else that applied in hopes that it will make me feel good about myself," Chandler said. "But it ultimately caused me to come to terms with reality, which was both helpful and hurtful, considering I applied to very competitive schools."
This false sense of reality goes past the admissions process too. "After cyber-stalking a lot of my schools, I was sort of turned off by 'student reviews' that made it seem like this wasn't the place for me," said Trant, the Glenbard West student. "However, when I visited a lot of these campuses, (my mind) completely changed. You can't take the posts too seriously."
Users' advice, however well-meaning, can be misleading, Chapin said.
The people who dispense your "chance" grades, for example, rely heavily on scores and their own interpretation of how heavily your essays, extracurricular activities and other factors weigh on your application.
But to many colleges these days, "you're not just numbers," Chapin said. "Your application is evaluated on a variety of different merits, many of which are not easily judged in a nuanced fashion by people who do not work for that school."
The most accurate way to check your chances, Chapin said, is the old-school method: chatting with your counselor or checking out the resources your dream school has available, such as the average ACT score of admitted students.
Moyer added that colleges publish information about their incoming classes—called the Common Data Set—which allows you to see how you stack up against others who were admitted.
Bottom line, if you still want input from someone who's been there, you have to consider the source who's giving advice.
"In cases where you're asking questions and receiving answers from someone who is not verified as from the school, you should take all advice with a grain of salt," Chapin said. "It can be hard to tell if someone providing a response is a helpful source—such as a current student or an alum—or someone who perhaps wasn't accepted in a past year, a student from a different school, or even a well-meaning current student who simply doesn't have correct or up-to-date information."
Chancing is the act of asking someone—or a group of people— "What are my chances of being admitted to this school?" In many cases, the student who's asking will provide detailed information about their test scores and academic standing.
REAL LIFE. REAL NEWS. REAL VOICES.
Help us tell more of the stories that matter from voices that too often remain unheard.