Months into the COVID-19 pandemic, my brain flags it as weird whenever I see television characters getting close to each other on the screen. Party sequences, sports scenes, romantic moments ― these all cause alarms to go off in my head, and I have to actively remind myself that these characters exist in the beautiful world of the before times. And then my mind accepts the value of getting lost in these stories.
I have been using television shows as a means of escape. Recently, I watched an old Anthony Bourdain episode of "The Layover" that took place in my own city of Chicago, just to remember what it was like to go somewhere.
But the kinds of shows I find myself returning to again and again are something I'll call comfort comedies.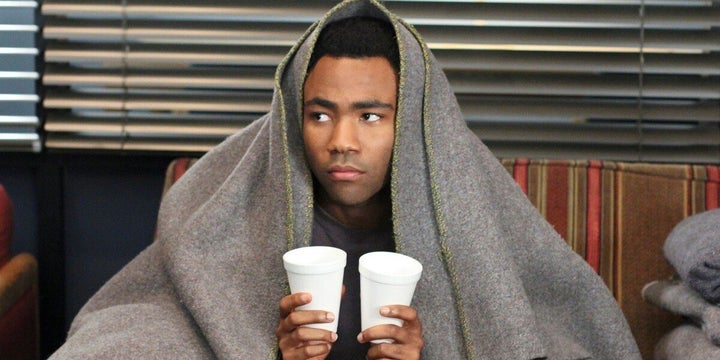 Netflix seems to be pushing these sorts of shows on the homepage lately, at least for me. Shows like "The Office," "Parks and Recreation" and "New Girl" all fall in this category. I think it's safe to say many subscribers are returning to these sitcoms.
All the way back in March of this very year, though it seems like many decades ago, I pulled together the comfort show recommendations of HuffPost staffers. This list included shows such as "Schitt's Creek" and "The Good Place," staples of the genre.
For this list, however, I refrained from including the Netflix homepage perennials and shows already featured on that other list. A few of the eight shows below are already very popular and probably need no recommendation from me. A couple shows are more obscure, and I hope you'll check them out. Either way, these shows might help you escape this very weird time, if even in 30-minute increments.
And if you want to stay informed about everything joining Netflix every week, subscribe to the Streamline newsletter.

Premise: Dan Harmon created this take on the classic sitcom about community college students. The show centers around a core group of friends from disparate walks of life and the other students who wish to be in their orbit. Attending class rarely happens while hijinks abound.
Setting: Community college in Colorado during the early 2010s
Particularly good for this moment: While colleges have varying plans for reopening in the fall, there's a strong likelihood that campus life will not resemble the typical semester. "Community" may be one of the few ways to experience a large group of friends hanging around a campus.
Notable cast: Alison Brie, Yvette Nicole Brown, Chevy Chase, Donald Glover, Gillian Jacobs, Ken Jeong, Joel McHale, Danny Pudi and Jim Rash
Premise: Jordan Peele co-created this comedy about a Brooklyn man who went to prison for 15 years and returns to find his neighborhood and the mother of his children in very different places than he left them. The man tries to rehabilitate his life, finding the pitfalls that often befall formerly incarcerated people and Black men in general. He bumbles through many pursuits, but his heart and drive keep him going in his goal of recreating a sense of family.
Setting: Contemporary Brooklyn
Particularly good for this moment: The show focuses on balancing reconnecting with family and finding new adventures. While seeing family is now risky and going on adventures is near-impossible, this can be a proxy path to those essential sources of happiness.
Notable cast: Cedric the Entertainer, Tiffany Haddish, Allen Maldonado, Tracy Morgan
Premise: Fred Armisen, Carrie Brownstein and Jonathan Krisel co-created this sketch show set in Portland, Oregon. The sketches focus on different aspects of the cliche Portland lifestyle, such as environmentalism, bougie pursuits and indie rock. Over the various seasons, certain characters recur and have story arcs beyond the one-off sketches.
Setting: Portland during the 2010s
Particularly good for this moment: While a heat wave has baked much of the United States of late, the Pacific Northwest and Portland have continued having a ... chillwave (watch a few episodes and maybe you'll get this joke).
Notable cast: Fred Armisen, Carrie Brownstein and Kyle MacLachlan
Premise: Phoebe Waller-Bridge created this British show about young people living in a condemned hospital together. Given the building's size and the lack of need to protect it, the group can trash the place through parties and other reckless behavior. The story is anchored by two friends who have a will-they-or-won't-they romantic relationship.
Setting: Condemned hospital in London during the mid-2010s
Particularly good for this moment: This show features large parties and strangers becoming fast friends. That's not going to happen with social distancing anytime soon.
Notable cast: Phoebe Waller-Bridge
Premise: Jerry Seinfeld created this interview series in which he drives comedians in fancy cars and takes them to hip coffee shops. The comedians don't talk too much about the fancy cars ― that element is mostly there for the eye candy aspect. The interviews also don't tend to get too deep, but Seinfeld draws out admirably funny material from his subjects.
Setting: Cars and coffee shops
Particularly good for this moment: The show always had an element of living vicariously through Seinfeld as he hangs out with a cool comedian, driving a cool car to go to a cool coffee shop. You're not doing any of those things in 2020, so the living vicariously aspect is even more central.
Notable cast: Jerry Seinfeld and the rotating guest stars
Premise: This Canadian sitcom focuses on a Korean Canadian family that runs a convenience store in Toronto. The parents have a traditional mentality that revolves around safely earning money through hard work. The kids have more rebellious passions, with the daughter studying photography in school and the son trying to turn his life around after spending time in juvenile detention.
Setting: Convenience store in Toronto
Notable cast: Andrea Bang, Simu Liu, Paul Sun-Hyung Lee, Jean Yoon
Premise: This comedy had a reset after a mess of a first season that earned a 25% rating on Rotten Tomatoes, but the second season is much better. The show focuses on a group of "friends from college" who get into shenanigans together during their 40s. The group has a mix of inherited wealth and well-paying jobs, both scenarios allowing for high-priced hangouts.
Setting: Wealthy strata of New York City in the late 2010s
Particularly good for this moment: The show features rich adult slackers partying and moping around New York City. The impetus for any of the characters' existential sadness now seems quaint and is a reminder that things will at some point get less dark.
Notable cast: Billy Eichner, Nat Faxon, Keegan-Michael Key, Annie Parisse, Fred Savage, Cobie Smulders and Jae Suh Park
Premise: Lisa Hanawalt ("BoJack Horseman") created this animated comedy about anthropomorphic birds who juggle their friendship with career and romantic aspirations. The friends have reached their 30s, and life is starting to naturally pull them apart, leaving both more alone than they'd like. The animated world is full of magical, animal-themed touches (such as snake mass-transit trains and slug trains depending on their speed), but the characters experience relatably human ups and downs.
Setting: An animated bird city
Particularly good for this moment: The story takes place in a magical bird world. Although this setting has its own occasional sources of grief, who doesn't want to leave Earth to go to the magical bird world right now?
Notable cast: Tiffany Haddish, Ali Wong and Steven Yeun