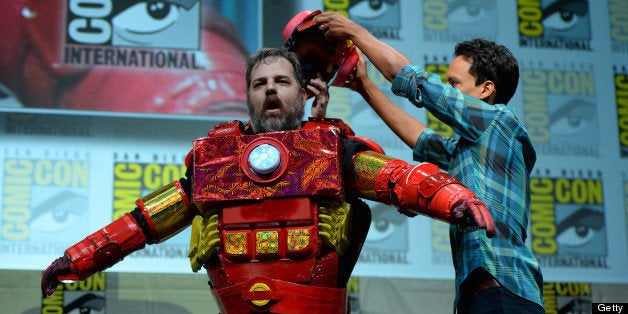 "Community" made its triumphant return to Comic-Con on Sunday afternoon in the San Diego convention center's largest venue, Hall H. The panel kicked off with a retrospective video comparing Dan Harmon's return as showrunner to the resurrection of the McRib, old Coke and Twinkies, followed by a "Star Wars"-esque title crawl featuring fan reactions from Twitter after "Community" was renewed for Season 5.
The "Community" Comic-Con panel featured stars Jim Rash, Yvette Nicole Brown, Alison Brie, Ken Jeong, Danny Pudi, Gillian Jacobs, executive producer Chris McKenna and Harmon. To introduce the panel, Harmon strolled out on stage in a cardboard Iron Man costume, which Rash and Pudi then dramatically removed.
Harmon was holding court with typical flair, introducing himself as a billionaire playboy and joking about ushering in a new era of quality TV with his return. "It's about legacy," he intoned. "It's about what we leave behind. It's about six seasons and a movie."
Harmon admitted that he does feel anxious about embarking on a new season of the show after a year away: "I feel a tremendous amount of pressure that will hopefully translate into [a good] show. I really have to make these 13 count. I don't consider them the last 13. I'm going to do everything I can to get that sixth season," he promised.
Harmon did have plans for Season 4 before being fired from the show, but admitted that for Season 5, "in an absolutely healthy way, [those plans] are out the window now." "We have to get back to the emotional basics and have the most fun we can have," he added.
In response to the comments he made about not exactly loving Season 4, Harmon apologized again to the Comic-Con crowd of "Community" fans: "I was talking about my own experience watching it and was talking about it in my own very petty, dirty world on my podcast ... I apologize to you guys who stood in line until four in the morning. if I hurt your feelings in any way with my comments ... A fan of 'Community' does not have to be a fan of Dan Harmon and vice versa. I'm a creepy jerk."
The biggest change for Harmon in approaching the new season stems from the writers' room. "We're breaking all the stories first so we know what we're doing in general for each episode," he said. "And we have a couple of blank slates in the schedule that say 'normal episodes.'"
Harmon promised that the first couple of episodes of Season 5 would be very character-based in order to reorient fans and reestablish the tone he set in Seasons 1-3.
Although the script for the premiere is not yet complete, one spoiler Harmon was willing to share was that the series would feature an animated episode. "I don't want to plan too hard. If I made mistakes in Season 3, it had a lot to do with over-planning, thinking about the finale during the filming of the premiere. We want to get back to the Season 1 and Season 2 feel and make it organic."
As for whether Harmon planned to "fix" the direction of the show after Season 4, he said he didn't feel it was necessary. "I'm going to follow the trajectory established by last season," he said.
The creator also said that while the show has a troubled past, its behind-the-scenes struggles ultimately make for good scripts and add another layer of poetic symmetry. "The harder it gets [in real life], the funnier the show gets -- the misfortune, the pain ... I get really excited about it, because stories within the show begin to resonate with stories about the show. Bring on the nut kicks!"
"Community" will return to NBC some time in 2014. The show begins its syndicated run on September 20, when it will air Fridays from 9-11 p.m. on Comedy Central, and five nights a week on local channels. Check CommunityOnTV.com to find out which network is airing the show in your area.
PHOTO GALLERY
'Community' Season 4
Calling all HuffPost superfans!
Sign up for membership to become a founding member and help shape HuffPost's next chapter