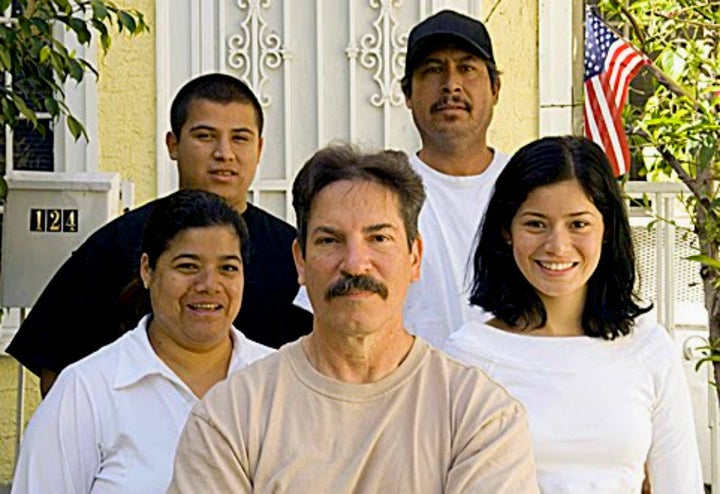 While "La Migra" agents are often demonized as heartless or unfeeling, in a series of interviews with HuffPost LatinoVoices, a more diverse picture of their ranks emerges.
"I was twenty-two years old, and I have never had more fun in my life," said Kent Lundgren, Chairman of the National Association of Former Border Patrol Officers. Lundgren loved the years he spent patrolling the El Paso border. "You think of yourself as a man-tracker, a man-catcher. And you try not to let it go to your head, but that's how young men think. And then you grow up, and you realize it's serious stuff," he said in a phone interview with The Huffington Post.
If Lundgren was born in Mexico, he'd try to cross the border illegally, he said. He believes the vast majority of the immigrants who cross our borders are good and hard-working people. He has a profound sympathy for the men and women he once chased, but simultaneously a determination to keep them out of his country. Lundgren believes illegal immigration is not in the national interest, and spends his days of retirement pushing for harsher enforcement policies-- such as the strengthening of pending E-Verify legislation.
Lundgren's case exemplifies a tension inherent to the experience of many border patrol agents. On a day-to-day basis, patrol agents get to know those they chase, learn their language and often come to sympathize with their plight.
Steve Cribby, a spokesperson for the U.S. Customs and Border Protection agency, told HuffPost that having compassion, is part of the skill set necessary to being a good border patrol agent.
For certain agents, having compassion has meant having a change of heart. John Randolph became a border patrol agent when he was 27 because the job paid well and allowed him to speak Spanish. But Randolph's experience as a border patrol agent led him to become an immigrant rights activist. He wrote about his change of heart in a blog post for The Huffington Post last week:
In my 26 years as a U.S. Border Patrol/ICE Agent, I caught many people. At the time, common sense told me that the vast majority of the people who I caught were good, hardworking people. I began to wonder why immigrants had to be chased like animals, and why I was being paid to chase them.
Randolph quickly realized there were big problems with his position. "It was a hard job, because I knew I was hurting people," he said. Interacting every day with border-crossers made him question the entire premise of the immigration system. "It just didn't make any sense to me why we'd be punishing people who were here to pick our vegetables," he said.
Randolph describes most of his fellow agents as "compassionate people" who felt bad for those they were chasing. He says a few agents had "power trip stuff with racism mixed in," but the vast majority got into their line of work because they wanted a secure job. "We'd go do it for the whole day and then go home and try to forget about it," he said.
Randolph, now retired, spends his days playing music and speaking out against the governments he believes are responsible for a flawed immigration system. By his estimate, he spends nearly four hours every day reading immigration news. "It's taken me a long time to put my finger on it. But, I'm retired now, and I've had time to investigate it further to see why our system is fundamentally broken," Randolph said.
Randolph's longtime friend and fellow retired border patrol agent, A.J. Irwin, has also changed his stance on the border and immigration enforcement system. He said empathy for those who cross the border has led him to advocate for alternatives to forced deportations. He claims to have convinced judges to spare many immigrants from deportation, even flouting his chain of command in order to do so. Most border agents, he said, don't let themselves experience compassion in the way he does.
"I think most border patrol agents have compassion, but a large number of them overcome those feelings or have masked them so that they can do their job -- but only because they have to," he said. "They deal in such large numbers, it would be difficult if you didn't mask those feelings."
Irwin describes himself as a "hard-core agent". After getting his start patrolling the border in New Mexico, he hopped around various federal enforcement agencies for more than 20 years. In 1999, he led a task force that targeted and successfully prosecuted the "the largest alien smuggling organization ever dismantled in United States history," as former U.S. Attorney General Janet Reno described it.
Irwin believes that above all, the tenets of compassion, common sense and discretion should be at the core of a healthy immigration policy. "The small percentage of the aliens who illegally enter the country or enter legally and become illegally present are not a threat to anyone," he said in an email. "Let's focus on the criminals, terrorists, and bad people."
Irwin, like half of all border patrol agents, is of Latino descent -- a fact which he believes has informed his sympathy for undocumented Latino immigrants, as well as an understanding of racial profiling. "If someone named A.J. Irwin is stopped without a [driver's] license, I get a ticket," he said. "But if A.J. Martinez [his mother's maiden name] is stopped under the same circumstances, I go to jail for two months before even seeing trial. That's two months in a jail for not having their driver's license. Would that ever happen to a white person in this country? I doubt it," Irwin concluded.
One might guess that Frank Jorge, a naturalized U.S. citizen originally born in Cuba, would be an advocate for immigrant rights. He is not.
Jorge used to be a member of the vigilante group, the Minuteman Project, and patrolled the U.S.-Mexico border in his spare time. Then he was recruited to spend a month living with illegal immigrants as part of a documentary series called "30 Days" produced by Morgan Spurlock.
For 30 days, Jorge, referred to as "Frank George" in the episode, lived in cramped quarters with seven members of the Gonzalez family, who came to the United States illegally to find work. Every day, Jorge accompanied Mr. Gonzalez, the breadwinner of the household, to work as a repairman. Jorge even made a trip to Mexico to visit the Gonzalezs' hometown to see the conditions in which the family used to live.
The episode depicts a change in Jorge's once stringent views on illegal immigration. In the opening of the episode, Jorge says he had thoughts about calling an ICE bus to come pick up the family within 30 seconds of his arrival. By the end of the episode, Jorge looks into the camera and says, "Perhaps what we learned is that first and foremost, we are human beings, and that's the thing that overrides politics and everything else." He tells the eldest Gonzalez daughter Arminda, who is undocumented, that he will not return to the border as a Minuteman. He says he has gained "another perspective," and agrees to help the family members gain legal residence by attesting for their character.
But, Jorge now maintains that his change of opinion was mostly fabricated by the television show's producers. In a phone interview with HuffPost, he said he still considers himself a Minuteman and is now the co-host of "The Frank and Shannon Show," a radio show that advocates mass deportations and "securing that border militarily, with armed soldiers, with orders to shoot."
What was not fabricated, he claims, was his affinity for the undocumented family he lived with. "They were really lovely people, I loved them -- rather, I love them," he said.
Although Jorge himself is an immigrant and insists that he would "be trying 10 times a day to get over here" if he were on the Mexican side of the border, he says his intellect has driven him to be an advocate of harsher enforcement policies against illegal immigration.
He called the "30 Days" experience "heartbreaking."
"Emotionally, I felt very divided. I really love these people [the Gonzalez family]. It's a battle between my emotions and my intellect," he said. "Some of us are fortunate enough to have a good brain, and intellect tempers our emotion."
Jorge is able to separate his emotions from his politics. But for Irwin and Randolph, and other immigration agents, those borders are more difficult to maintain.
Popular in the Community