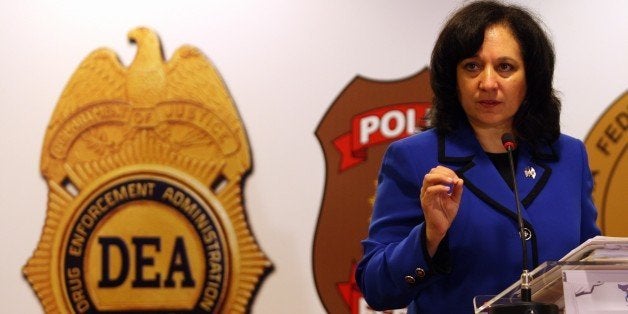 WASHINGTON -- Members of the House of Representatives from both parties took aim at the Drug Enforcement Administration on Thursday, even as the House voted to give the agency $35 million more than it requested.
Members from both parties were set to offer amendments on an appropriations bill that would restrict the DEA from obstructing state industrial hemp programs, and from cracking down on medical marijuana facilities. As of Thursday evening, the only amendment that would have curbed DEA spending was defeated by a vote of 339-66. The amendment by Rep. Jared Polis (D-Colo.) would have reduced DEA's budget by $35 million, to the amount of the agency's original request.
"What has the DEA done to deserve a $35 million raise?" Polis asked on the House floor Thursday afternoon. "Why are we singling out the DEA to receive funds above what the DEA itself requested in the president's budget? The DEA has demonstrated time and time again that it can't efficiently manage the resources it already has. It's diverting funds to ridiculous things like impounding industrial hemp seeds, which have no narcotic content, intimidating legal marijuana businesses in states like mine, wasting money on marijuana infractions that are legal in states where they occur."
Polis called DEA chief Michele Leonhart "a terrible agency head" who has embarrassed herself and her agency.
But the DEA has a strong defender in Rep. Frank Wolf (R-Va.), who chairs the House appropriations subcommittee that funds the agency. Wolf, who is retiring from Congress, gave the DEA a boost it didn't ask for on his way out the door.
In a House appropriations subcommittee hearing last month, Leonhart said the agency was "on track" after a hiring freeze and would add agents graduating from three training academy sessions this year. Wolf asked whether she could use additional funds, telling Leonhart he "would like to [help]" increase the budget. After consulting with an aide, Leonhart tossed out a $175 million figure that would allow the DEA to expand, saying the agency was only hiring one agent for every two who retired or left.
On the House floor on Thursday, Wolf suggested that House members questioning the DEA budget sent the wrong message to a hypothetical DEA agent watching on C-SPAN in Afghanistan. Wolf also gave personal support to Leonhart, saying she "has given her life to law enforcement for the last 30 years."
"I think she's represented the DEA well," Wolf said. He previously defended Leonhart in a letter to her boss, Attorney General Eric Holder, after HuffPost reported that Holder had asked Leonhart to clarify a previous statement that seemed to be out of line with the administration on sentencing reform.
"I think there's been an effort by some in the administration to attack her in a way, it almost reminds me of the Nixon administration," Wolf said Thursday. "I was in the Nixon administration, they had policies whereby they would go after civil servants and career people."
The House is likely to vote on three other amendments Thursday night, including those that would prohibit the DEA from spending money to arrest state-licensed medical marijuana patients and providers, and to block states from importing hemp seeds for industrial hemp research programs made legal in the latest federal farm bill.
UPDATE: 12:40 a.m. -- The House voted early Friday to restrict the Drug Enforcement Administration from using funds to go after medical marijuana operations that are legal under state laws. The House also approved two amendments to the DEA budget preventing the agency from using funds to interfere in state-legal industrial hemp research.
Calling all HuffPost superfans!
Sign up for membership to become a founding member and help shape HuffPost's next chapter
BEFORE YOU GO
PHOTO GALLERY
27 Reasons Why The U.S. Shouldn't Lead The War On Drugs