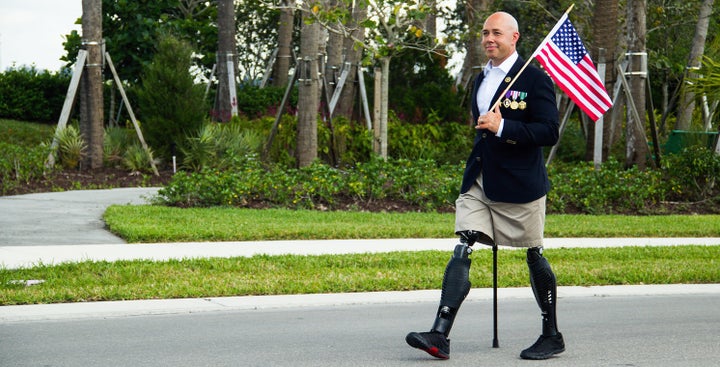 WASHINGTON — Lying in a hospital bed in Walter Reed Army Medical Center in Washington, D.C., Brian Mast had a lot on his mind.
It was September 2010, and he had just woken up to find that both of his legs — along with plans to spend his career in the military — were gone.
At the time, Mast had been serving in the Army for 12 years. "I was at the top of my game, and I loved what I was doing," he told The Huffington Post. But when a roadside bomb in Afghanistan tore through his body and nearly ended his life, Mast knew his military days were over.
Six years later, Mast, now 36, said he is both relieved and ready to be serving his country again — only this time, it's not on the battlefield. Mast, a Republican, was sworn in Tuesday to represent Florida's 18th Congressional District in the U.S. House of Representatives.
The newly elected congressman is fulfilling a goal he set for himself in a recovery room at Walter Reed. He had talked with his wife of almost 10 years and his father, who had also served in the Army, and they encouraged him to overcome the devastation of his situation and find a new way forward.
My purpose in life — and I say this quite literally — was serving and defending our country."

Brian Mast
One of the most poignant moments of that period, Mast said, was a conversation he had with his dad during the recovery.
"He looks at me and says very sternly and very seriously, 'Brian, you cannot let this keep you down. You have to find a way to get out there and pull yourself up,'" Mast recalled. "And he said very specifically, 'You have to find a way to get back to work.'"
Mast internalized that conversation. He promised himself, his wife and his 6-month-old son — their only child at the time — that he would fight every day for them and that he would not let his injury or his new reality keep him down. He refused to let the best example he set for his kids be something that happened in the past.
"I think everybody has a purpose in life," he added. "My purpose in life — and I say this quite literally — was serving and defending our country." After his injury, he came to the conclusion that "in order for the best defense I could give, for that to be in front of me, I thought it would be maybe as a member of Congress."
To do that, he first had to learn to walk again, adjusting to his new prosthetic legs. He sought to find a normal routine for himself and for his family, which now includes three children under the age of 6. Then, he got back to work.
In the Army, Mast had helped detect and destroy improvised explosive devices. In civilian life, he was able to apply his military skills at several federal agencies on counterterrorism. He worked for the National Nuclear Security Administration; taught classes on post-blast analysis and homemade explosives at the Bureau of Alcohol, Tobacco, Firearms and Explosives; and worked as an explosive specialist for the Department of Homeland Security. Meanwhile, Mast was also finishing up a degree at Harvard.
In the August primary for Florida's 18th District, Mast defeated five other Republican contenders, and in November, he ran against businessman and Democrat Randy Perkins. (The seat is being vacated by Democrat Patrick Murphy, who lost a Senate race to Republican Sen. Marco Rubio in November.)
On Nov. 8, Mast defeated Perkins by more than 10 percentage points, clinching a seat in the battleground district in southeastern Florida.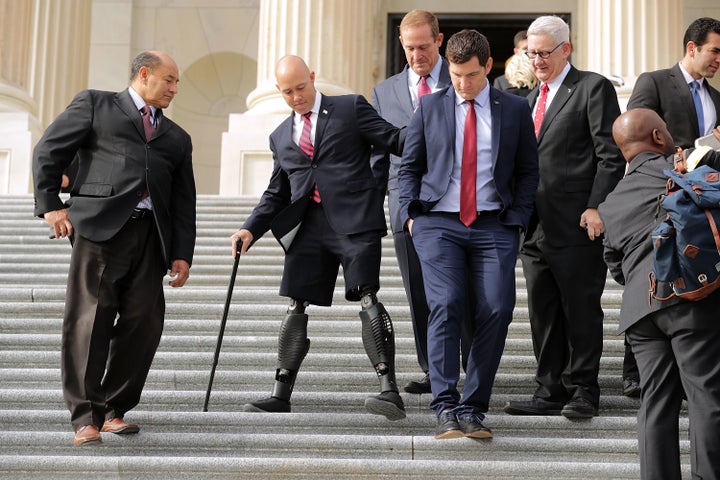 Since Election Day, Mast has visited Washington, D.C., several times for new member orientation and training — or as he calls it, "kindergarten for Congress." Much of that time is spent learning the fundamentals of the office, from hiring a staff to learning how to balance time between your district and the Capitol, but Mast said one meeting in particular stood out to him.
One week after the election, each party held a closed-door, general committee meeting, he said. Mast said he was energized by what unfolded during the Republican Party's meeting.
"If it had been broadcast on C-SPAN, Americans would have been tuning in to see it," he said. The delegation was debating what it meant to "drain the swamp" — a promise President-elect Donald Trump made during the final month of his campaign to clean up the establishment base, lobbyists and special interests in Washington.
"It wasn't about doing something for themselves. It was about fulfilling this mandate to the American people of 'draining the swamp,' getting to the root of what that really means, what each individual, each representative, thought that meant, and it's inspiring," he added. "I wish people could've seen it. It was encouraging, to hear people argue that way. It's what people want to happen in Washington, and it's what people miss seeing."
Locally, Mast said he will prioritize an everglades restoration program to repair the "dysfunctional" relationship between Lake Okeechobee and Florida's coastal areas ― one that is contaminating the waterways and destroying the coastal estuaries. It's an issue he says is extremely important to his constituents.
Nationally, the young congressman plans to tap into his military background and advocate for veterans at the Department of Veterans Affairs, specifically by ensuring veterans have quick, easy access to health care at all times.
"Our veterans that were willing to risk their life for our country — they deserve the best possible care, the best possible treatment and the best possible attitude," Mast said. "Every time they go to a VA medical center, they should be treated as though they're the president walking in the door. If they're treated any other way, then they're not given what they earned."
Finally, Mast hopes to have continued involvement in counterterrorism efforts, whether it be through a committee seat or in another capacity.
"The defense of this homeland is ... very, very close to my heart," he said. "It's how I spent my life, it's how I nearly gave my life, and I don't want anybody else to have to witness the kind of [violence] that I've witnessed."
This post was updated after Mast was sworn in Tuesday to reflect that had happened.
Calling all HuffPost superfans!
Sign up for membership to become a founding member and help shape HuffPost's next chapter
BEFORE YOU GO
PHOTO GALLERY
Scenes From 114th Congress And Capitol Hill